Trader Joe's Is Selling Olive Trees Right Now
We independently select these products—if you buy from one of our links, we may earn a commission. All prices were accurate at the time of publishing.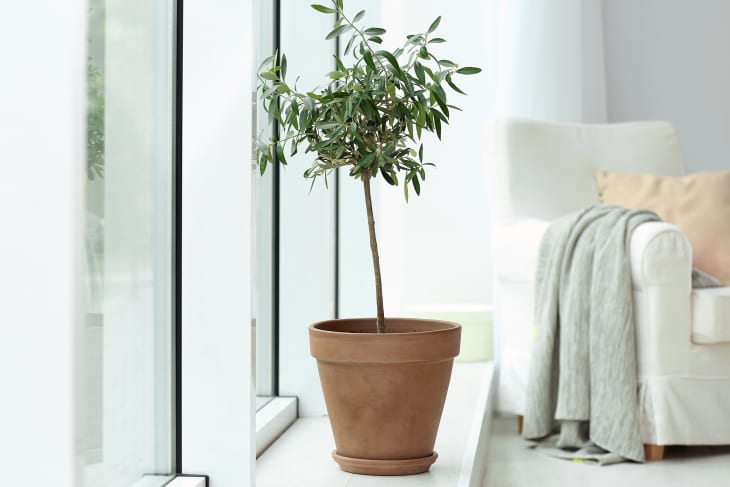 Looking to expand your indoor garden now that the summer is winding down? Then you need to head over to your local Trader Joe's because the grocery chain is selling indoor olive trees right now. 
Follow Topics for more like this
Follow for more stories like this
The Instagram account @TraderJoesPlants spotted a huge display of Mission olive trees at a Los Angeles Trader Joe's. "I love seeing edible plants at @traderjoes and loved seeing this big tangle of #olivetrees!" Dommy G of @TraderJoesPlants wrote in the caption of their Sept. 5 Instagram. "These pop up at least once a year and I am always so tempted, but have yet find a good place for them in my garden. However, they will take a good while to get to full blown tree and can be tamed into a bush during that time or nurtured in a large pot.
They continued, " Either way … If you bring one home … be sure to look at the stem … be sure to get a nice hearty one. That will [ensure] the best start for you and one of these little ones."
Mission olives are usually used for pickling or for cold-pressed olive oils and can be harvested when either they are partially ripened to green or fully ripened to black, depending on the recipe.
According to SFGate, Mission olive trees eventually develop a gray bark trunk and do well in both hot outdoor conditions that experience a moderate winter chill, as well as indoors in a warm, sunny area. Though, it should be noted that indoor olive trees will not produce as much fruit as their outdoor cousins.
But if you're looking to put your green thumb to work and take on a new challenge, check out your Trader Joe's to see if Mission olive trees are in stock. They're just as beautiful as they can be bountiful, so grabbing one is a win any way you slice it.