The $4 Laundry Staple I Always Pack in Every Suitcase
We
independently
select these products—if you buy from one of our links, we may earn a commission. All prices were accurate at the time of publishing.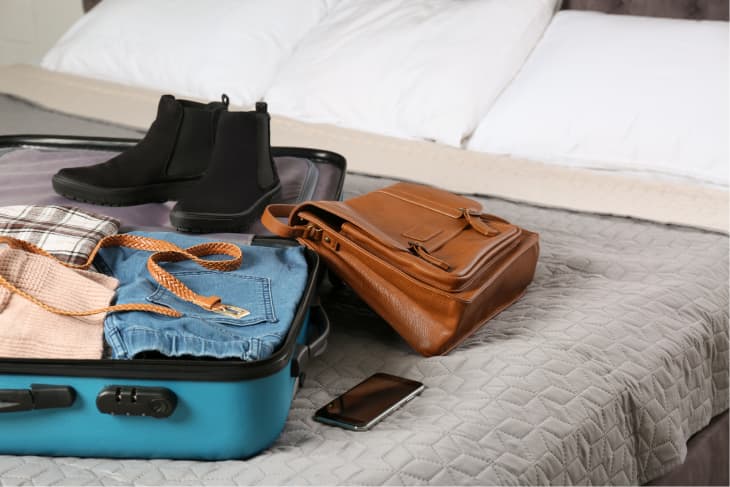 I don't consider myself someone who brags about their accomplishments or proudest achievements often, but if there's one thing I do brag about its my ability to pack a carry-on suitcase instead of checking a bag. In fact, I've made it my personal goal to never check a bag on a plane ever again if I can help it. This isn't because I'm a minimalist (far from it), but simply because there's an odd type of satisfaction that comes from fitting a certain amount of things on one tiny suitcase. It's always a challenge, especially if the trip is longer than a week or so, but it's also always worth it. And, hey, there's the added benefit of the fact that I've never, ever had an airline lose my luggage. 
The strategy part of packing all your vacation must-haves (and a few things you always pack but never end up wearing anyway—looking at you, high heels) in a small suitcase is probably why I find it particularly rewarding, though. I love packing cubes and space-saving hacks and I love going on a trip and knowing exactly what I'm going to wear every single day. One thing I don't love? Having to keep all of my clothes jam packed in an old, often musty suitcase. 
What's even worse than an old, smelly suitcase, though, is having to pack clean clothes with dirty clothes, as often happens when going on a trip with multiple locations. Needless to say, everything ends up smelling slightly less than fresh. Luckily, though, I recently figured out a solution to all of this that costs almost nothing (It's like $4 for more than a hundred of them) and can probably be found in your own laundry room: Dryer sheets.
Why I Pack Dryer Sheets in My Suitcase
Whenever I'm packing a carry-on, I try to remember to pack a handful of dryer sheets in my suitcase along with all my other essentials. I line my suitcase with them if I'm trying to keep everything smelling as fresh as possible when I land. I bring extras to stash in my dirty laundry bag at the end of a trip (or in the middle if you're stopping in multiple destinations). I stick them in shoes or boots that are a little on the smelly side. They take up virtually no room and smell amazing, so it's a win-win. 
I tend to not bring exercise clothes or shoes on vacation (I know myself too well for this), but if you do, the dryer sheets would be the perfect antidote for smelly workout clothes, shoes, or socks. While I always suggest bringing multiple, separate canvas totes or other reusable, washable bags on trips to separate dirty laundry from clean, sometimes this isn't enough to keep things smelling like they just got out of the dryer. 
Though I would happily argue with anyone that bringing a carry-on suitcase is always the way to go, I will admit that this dryer sheet hack would work with full-size, checked luggage as well.