Tuva & Lars' Super Sunny Norwegian Apartment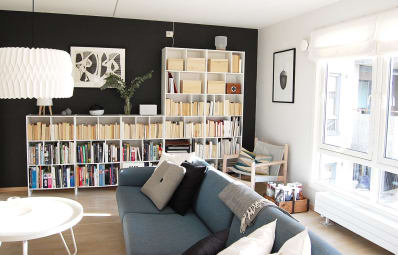 (Image credit: Submitted by Tuva)
Name: Tuva & Lars
Location: Tøyen — Oslo, Norway
What we love most about our apartment, and one of the main reasons we bought it four years ago, is the light. It's a third floor south-west facing apartment with windows on three sides. Lots of windows. And lots of light throughout the day. It makes the apartment feel airy and fresh.
(Image credit: Submitted by Tuva)
When we moved in we spent two months sanding floors, painting all the walls, building a new kitchen and removing a huge built-in aquarium from the bedroom wall(!). Now the apartment feels completely us.
(Image credit: Submitted byTuva)
The kitchen is from IKEA, but we've given it more character with self-made leather handles and a whitewashed poplar veneer backsplash. The poplar matches the birch countertop and makes it look like the countertop continues up the wall. It's our favorite feature in the kitchen.
(Image credit: Submitted by Tuva)
Veneer reappears several places in our apartment; as closet doors in the nursery and as a custom cabinet for our washing machine in the bathroom. Veneer works for lots of things!
The dining table and chairs is by HAY and the Half Moon wallpaper is by Ferm Living, both Danish design. The sideboard is a 50s design piece headed for the dump, but rescued in the last minute by Tuva's mom. We restored it and painted it the same color as the wall, a super light grey.
The blue couch in the living room was a 5-minute impulse buy. We still love it (and sadly so does the cat so it's gotten a little scruffy around the edges). The dark grey wall helps define the living room area of the main room as well as mask the TV and provide a good backdrop for the art on the wall.
The bookshelf is by Bolia and the graphic print above the shelves is by Tuva's great uncle. The acorn print is by Norwegian ert&ris.
(Image credit: Submitted by Tuva)
Whitewashed wood and light walls feature throughout our apartment, and the dark grey wall color in the living room reappears in our son's room and in our bedroom. It ties the apartment together and makes the bedroom areas feel more sheltered and warm.
Thanks, Tuva & Lars!
• Interested in sharing your home with Apartment Therapy? Contact the editors through our House Tour & House Call Submission Form.