6 TV Shows to Watch After Binging Netflix's "Behind Her Eyes"
We
independently
select these products—if you buy from one of our links, we may earn a commission. All prices were accurate at the time of publishing.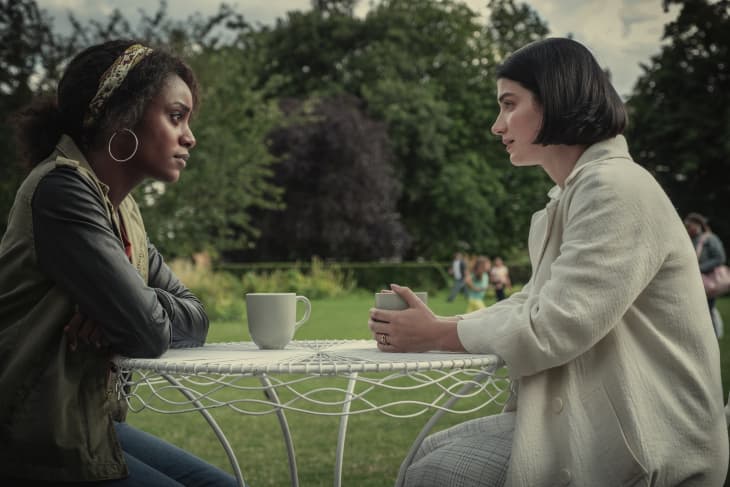 If you watched Netflix's "Behind Her Eyes," there's a good chance your mind is still spinning, and your jaw has yet to be picked up off the floor. From episode one, you knew something wasn't quite right, and maybe about halfway through you had an inkling of what the twist might be. But those last 20 minutes? That was a left turn nobody expected.
Luckily, the streaming world is having a psychological thriller moment, so there are plenty of other options to turn to if you're craving that same sort of "What!?!" ending. Here are eight TV shows that ought to do the trick, all of which are available to stream ASAP.
Based on a Gillian Flynn novel (so you know it's good), "Sharp Objects" follows crime reporter Camille Peaker, played by Amy Adams, who goes back to her hometown where she investigates the strange murders of two young girls. Camille is wrought with her own demons, including self-harm, alcoholism, and estranged relationships, which really endears you to her character. That makes the jarring ending all the more shocking. 
Featuring queen of horror Lily Rabe, "Tell Me Your Secrets" is a brand new series on Amazon Prime that might just give you mental whiplash. It tells the story of three characters: a young woman who was nearly murdered, a former serial predator who's desperate to redeem himself, and a grieving mother on a mission to locate her missing daughter. Rich with moral complexities, it'll have you questioning even yourself.

Streaming on Amazon Prime
The Haunting of Hill House
This chilling, 10-episode ghost story is unlike any you've heard before and delivers a mind-blowing conclusion you won't see coming. It depicts the Crain family in both 1992 — when they bought a dilapidated, once grand mansion they'd hoped to renovate — and present day. Each episode is told from different family members' perspective, and the twists and turns — ripe with the paranormal — will have you guessing what in the world is going on. 

Streaming on Netflix
Life is perfect for Adam Price until a mysterious stranger reveals a secret that has devastating rippling effects in his family. This twist is only the beginning of a series of sharp turns, which is just as much of a rollercoaster for the viewer as it is for the Price family. By the end of this eight-part British miniseries, though, answers will be revealed. You'll be left shocked and wanting more.  

Streaming on Netflix
This British miniseries will sate your craving for a supernatural storyline. Set in the late 1800s, the story begins with husband and wife Nathan and Charlotte Appleby inheriting a farm. The couple is determined to make the most of the situation, but they quickly realize that there are supernatural forces working against them. It's only six episodes, and it'll leave you shook.

Streaming on Amazon Prime
Eerie from the get-go, "I See You" is equal parts crime, horror, mystery, and domestic drama. After a 10-year-old boy's unsettling disappearance, detective Greg Harper is assigned to the case alongside his partner, Spitzky. Figuring out what happened isn't so easy, and to make things more complex, Greg is dealing with his own set of complications at home, including an unfaithful wife and aggressive teenage son. You'll be surprised at how this story unfolds, so hold onto your popcorn.

Streaming on Amazon Prime