5 Shows to Watch if You Love "Heartstopper"
We independently select these products—if you buy from one of our links, we may earn a commission. All prices were accurate at the time of publishing.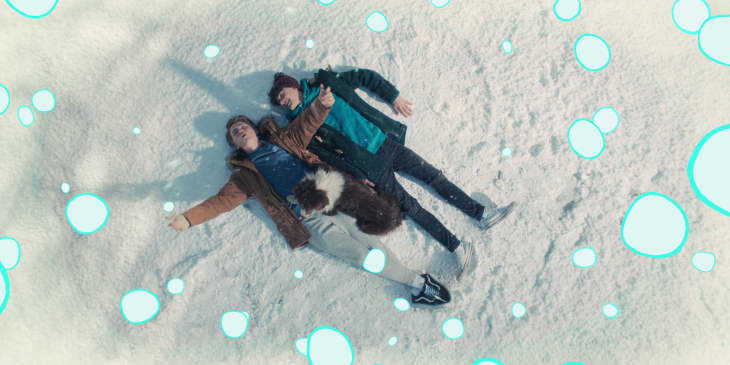 If you've watched Netflix's teen rom-com series "Heartstopper", then you understand the rollercoaster of emotions: The joy you get from watching the sweet love story blossom between bullied outsider Charlie and thoughtful jock Nick (but seriously, this show will make you so happy) and then the gut-punch of sadness you feel when you realize you have no more episodes to consume. But don't worry, if you're looking to infuse more happiness into your life by way of a teen dramedy series, you have options! Below, find five more shows set in high school that are funny, smart, and have great romantic storylines.
If you're looking for more sweet, queer teen love stories, you'll want to give Hulu's "Love, Victor" a go. The series — whose third and final season will air in June 2022 — is a spin-off of the YA movie "Love, Simon" (also worth a watch!) and follows Victor Salazar as he navigates a new high school while also trying to figure out his sexuality. Season one sees Victor falling for a guy in his class and season two deals with the ramifications of coming out to his family. 

Available on Hulu
Mindy Kaling and Lang Fisher's coming-of-age series "Never Have I Ever" expertly toggles between laugh out loud comedy and heart-wrenching emotion. It tells the story of Devi Vishwakumar, a nerdy teen with an anger problem following the sudden death of her father who is obsessed with resident cool jock Paxton Hall-Yoshida. The series features an excellent love triangle at its center, as Devi develops real feelings for both Paxton and her school rival Ben and a great group of supporting characters led by Devi's best friends Fabiola and Eleanor, but where it really shines is with the complicated relationship between Devi and her mother Nalini, both trying to deal with their grief in ways that are sometimes at odds with one another.

Available on Netflix
Sure, this was a one-season Christmas Netflix series, but it is one of the streamer's hidden gems. Based on a series of novels by David Levithan and Rachel Cohn, "Dash & Lily" has an adorable YA romance, an ode to the magic of New York City during the holidays, and two excellent lead performances from Midori Francis as bubbly, optimistic Lily and Austin Abrams as cynical Dash. The two fall for each other by way of a game of truth or dare in a notebook they leave for one another around the city. Improbable? Yes. Cute? Also, yes. 

Available on Netflix
Teen Otis Milburn goes from bottom of the food chain at his high school to sought-after classmate when he begins dispensing sex advice to other students having issues. How does he have all this useful knowledge? His mom, played by Gillian Anderson who looks to be having a fabulous time, is a licensed sex therapist. It's got a great mix of characters that populate Otis's world and It's funny and irreverent but always feels grounded. 

Available on Netflix
The "Saved by the Bell" reboot is an unexpected delight. The late 80s/early 90s sitcom about a group of friends at Bayside High gets new life thanks to showrunner Tracey Wigfield ("30 Rock", "Great News") and a game young cast. Here, a group of students from a nearby low-income high school are transferred to Bayside, located in a much wealthier district (a program spearheaded by Governor Zack Morris, that is not a typo). This set-up allows the show to tackle socio-economic, race, sexuality, and gender issues along with its rapid-fire, self-aware, sometimes absurd brand of comedy. Oh, and fans of the original rejoice: Jessie and Slater are both teachers now and there may or may not be some lingering feelings going on there. 

Available on Peacock