7 TV Shows to Stream if You're Caught Up on 'Insecure'
We
independently
select these products—if you buy from one of our links, we may earn a commission. All prices were accurate at the time of publishing.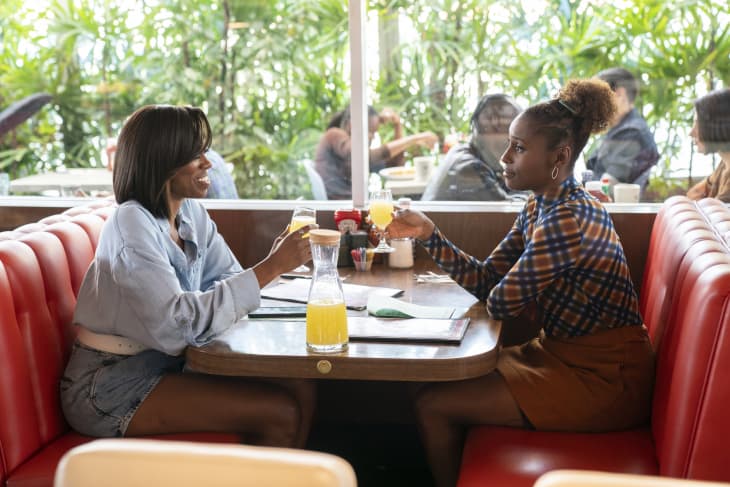 The fourth season of HBO's "Insecure" has officially wrapped, and Sundays just won't be the same without it. The past few months have been incredibly difficult due to the coronavirus pandemic and the senseless killings of Black Americans at the hands of police, but Issa Rae's comedy series has been offering tiny doses of sweetness, 30 minutes at a time. 
Season 4 of "Insecure" was arguably the best so far. This season, Rae focused quite a bit on Black joy and Black love. Each episode was filled with beautifully captured scenes brought to life with palpable pauses and perfectly placed lyrics. Throughout the season, viewers were given a deeper look into the friendship between Issa and her best friend Molly, played by Yvonne Orji, as things began to fall apart for the duo. In the midst of dealing with the BFF drama, Issa found herself reconnecting with an old love, Jay Ellis's Lawrence, and the two spent most of their time relearning each other and marveling at how much they'd both grown. There were also mental health discussions, an unexpected pregnancy, and much-needed celebrations of Blackness at every turn.
So, what do you do now that it's over? That's easy: you dive into similar binge-worthy shows like the ones I've curated here.
If you've ever wondered what Issa and the gang would be like as teenagers in college, then you should absolutely check out "Grown-ish." The series is a spin-off of ABC's "Black-ish" and follows Yara Shahidi's Zoey Johnson and her group of friends as they move through some of the most important moments in their lives while trying to maintain solid GPAs.
Streaming on Hulu
"Chewing Gum" follows Michaela Coel's Tracey, a 20-something-year-old woman who spends most of her time plotting the best way to lose her virginity. Tracey has a boyfriend, but he's a devout Christian and refuses to have sex with her before marriage. Her family also adds a layer of complication with their religious beliefs, but Tracey remains determined and driven by her own faith…in Beyoncé. Coel's character definitely gives Issa a run for her money in the awkward Black girl department with her ridiculous schemes and hilarious self-motivational speeches.
Note: The show left U.S. Netflix in April. It's currently available on All4 in the U.K.
Molly and Issa definitely struggled to make it work this season, but the ladies of "Broad City" are totally inseparable. If you're looking for a hilarious series about best friends in their 20s living, working, and dating in New York City, then look no further. 
Streaming on Hulu
"The Game" is a major throwback series, but it made the list because it shares a significant plot twist with this season of "Insecure." The series follows a group of wives and girlfriends of professional football players. After moving to San Diego to support her boyfriend, Derwin Davis, and his football career, Melanie quickly realizes she may have bitten off more than she can chew. You'll also notice a familiar face; "The Game" was the first major television role for actor Jay Ellis.
Streaming on Hulu
"Ramy" tells the story "a first-generation American Muslim who is on a spiritual journey in his politically divided New Jersey neighborhood. The series "explores the challenges of what it's like being caught between an Egyptian community that thinks life is a moral test and a Millennial generation that thinks life has no consequences." The character of Ramy reminds me of Issa in the earlier seasons of the show. The series is funny and everyone should witness Mahershala Ali as a sheikh.
Streaming on Hulu
If Issa, Molly, Tiffany, and Kelli worked at a major women's magazine,  there would be a lot of "The Bold Type" vibes going around. The series follows a group of friends, Jane Sloan, Sutton Brady, and Kat Edison, who work at Scarlet Magazine. "The Bold Type" tackles everything from the #MeToo movement to conversion therapy to cancer while allowing the characters to stay true to who they are. There's also a bisexual main character, something that's lacking on "Insecure."
Streaming on Hulu
"Brown Girls" has already been unofficially dubbed the next "Insecure" so it was only right to include it on this list. The show started as a web series before it was picked up by HBO, much like Rae's experience with "The Misadventures of Awkward Black Girl." "Brown Girls" focuses on best friends, Leila and Patricia, as they go through the ups and downs of day-to-day life while trying to date and navigate their careers. Leila is a Muslim South Asian writer who is struggling to come out as queer to her family, while Patricia is a Black singer who tries to avoid intimacy in her relationships after watching her parents' marriage fall apart.
Streaming on browngirlswebseries.com