6 Shows To Stream If You're All Caught Up on 'The Marvelous Mrs. Maisel'
We
independently
select these products—if you buy from one of our links, we may earn a commission. All prices were accurate at the time of publishing.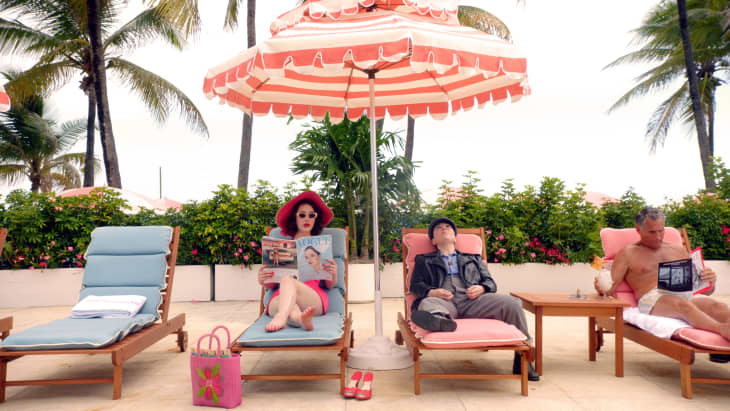 For the past two years, every December has graced the world with a new season of Amy Sherman-Palladino's "The Marvelous Mrs. Maisel." But with production delayed this year, you might be looking for the next Maisel to fall in love with (or at least to hold yourself over until season four comes out). 
If you're having trouble figuring out where to go that's comparable to spending a copious amount of time with Maisel, Susie, and their cohorts in the late '50s and '60s as they attempt to make Maisel a star of the comedy circuit while Maisel tries to hold her personal life together, here are a few recommendations that might feel a little familiar, while introducing you to an entirely new world to explore.
Sure, the go-to Amy Sherman-Palladino show has always been the beloved "Gilmore Girls," but if you're watching "The Marvelous Mrs. Maisel," chances are you've already seen it or have actively avoided it all these years for whatever personal reasons you may have (to each their own, people!). So, might I recommend that instead of a trip to Stars Hollow you spend some time in Paradise, California with Michelle Simms (Sutton Foster)? Michelle is a former ballerina-turned-Vegas showgirl who impulsively marries a fan, only to have him suddenly die, leaving her in his hometown with his mother Fanny (Gilmore Girls's Kelly Bishop) and no choice but to begin teaching at Fanny's dance school. You'll immediately recognize "Bunheads'" fast-talking banter and the story of a woman trying to rewrite her story.
Streaming on Hulu
Speaking of Sutton Foster and a woman trying to reinvent herself, why not give TV Land's "Younger" a whirl? Here Foster plays Liza Miller, a woman trying to re-enter the world of publishing after her marriage implodes, only to find that no one will hire a 40-year-old in an entry level position. So, she passes herself as 26 (just go with it), gets the job, and drama and comedy and so much stomach-flipping romance ensue. Like Maisel, "Younger" also gives us a vivid and colorful look at life in New York City, albeit in a very different time, and fantastic, sometimes ridiculous, clothes to ogle. "Younger" is snappy, romantic, and honestly, just a whole lot of fun.
Streaming on Hulu
If you're looking for shows about hilarious women in the comedy world who aren't afraid to own just how funny and smart they are, please meet Andrea Warren (played by show creator Andrea Savage). Sure, Andrea's home life is much more together than Midge Maisel's (actually, Andrea's lovely marriage in which she's the wild card and her husband is the straight man who adores her is one of the main draws of this show), and she's living a pretty drama-free life in California as a comedy writer, but the banter is just as fast and funny and the show isn't afraid to go there with it's observational humor. To be honest, in the middle of all this craziness, it's the one show that's made me laugh until I cry in the very best way.
Streaming on Netflix
"Crazy Ex-Girlfriend's" premise — high-powered lawyer Rebecca Bunch flees New York City after a chance encounter with her childhood love Josh Chan and follows him to the small town of West Covina, California—is worlds away from Maisel. The tone—"Crazy Ex-Girlfriend" is a musical dramedy in which our heroine processes her feelings by imagining elaborate musical numbers—also couldn't be more different. Yet still, there's something so quirky, surprising, and charming about both of these shows that it seems like a no-brainer to tell any fan of Maisel to give Rebecca a try. Both women are trying to figure out how to get the life they want, both have to wade through some complicated personal lives to do that, and just like Maisel and Susie's relationship on Maisel, Rebecca's friendship with paralegal Paula on "Crazy Ex" is just as central to the story. 
Streaming on Netflix
While it takes place on the opposite side of the country and in modern day, the plot of "Insecure" is similar to "Mrs. Maisel" in one major way: reinvention of oneself. In this three-season series, Issa Rae plays protagonist Issa Dee, a woman in her late 20s who has an epiphany that she's not happy with her job, partner, and herself—so she seeks to shake it all up. Similar to Maisel, Dee takes matters into her own hands and starts changing her life up to become someone she's always wanted to be, with plenty of jokes involved.
Streaming on HBO Max
"GLOW" follows the life of aspiring actress Ruth—played by Alison Brie—who wants more out of her career than booking a secretary character role (even though she has a hard time getting that anyway). The story basically begins with Ruth being in the same headspace as where Maisel was when she messed up onstage for the first time. She's living pay check by pay check in a tiny apartment in Los Angeles when she lands a gig in a new wrestling show, and that's when everything starts shifting. Not to mention it takes place in the '80s, so you still get to admire another decade's style. 
Streaming on Netflix