5 Shows Like "Our Flag Means Death" That You Should Watch Next
We independently select these products—if you buy from one of our links, we may earn a commission. All prices were accurate at the time of publishing.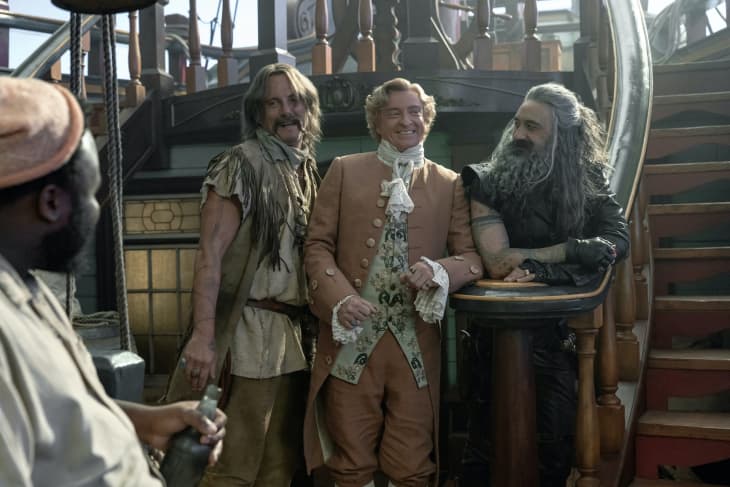 HBO Max's "Our Flag Means Death" instantly became a fan favorite after its first season on the platform. The pirate comedy series stars Taika Waititi and Rhys Darby as Blackbeard and Stede Bonnet, respectively, and recreates the duo's pirate adventures together in true romantic comedy form.
If you're missing "Our Flag Means Death," the good news is the show has already been renewed for a second season. Unfortunately, there has been no word on when that new season will air. But in the meantime, there are many equally amazing and similar shows out there. Consider checking out these five options.
Follow Topics for more like this
Follow for more stories like this
What We Do in the Shadows
If you enjoy seeing Taika Waititi on your screen, then you'll enjoy "What We Do in the Shadows." The mockumentary is based on the 2014 movie of the same name and features Waititi throughout the season. Instead of pirates, this show focuses on the hilarious adventures of four vampires who share a house in Staten Island.

Stream on Hulu
"The Great" is a historical comedy-drama series that documents the rise of Catherine the Great, played by Elle Fanning. As you may or may not know, Catherine went from being an outsider to become the longest-reigning female ruler in Russia's history. The series isn't entirely accurate and even states that it's an "occasionally true story" during Season 1 and an "almost entirely untrue story" in Season 2.

"The Great" explores Catherine in her youth and also focuses on her marriage to Emperor Peter III of Russia (Nicholas Hoult), who she's actively plotting to murder. Fans of "Our Flag Means Death" will definitely enjoy the humor sprinkled throughout the season.

Stream on Hulu
"Ghosts" focuses on married couple Samantha and Jay, played by Rose McIver and Utkarsh
Ambudkar, respectively. The couple moves upstate New York after learning they've inherited a mansion from Samantha's relative. However, things take a creepy turn after Samantha wakes from a near-death experience to realize she now has the ability to see and speak to ghosts and that the mansion is actually haunted. As the couple tries to renovate the old structure in an attempt to create a cozy B&B, the ghosts become increasingly agitated and attempt to sabotage every step of the way.

Like "Our Flag Means Death," "Ghosts" also has a historic element as each ghost is from a
different time period. There's a Viking, a closeted gay American Revolutionary officer, and even an early-2000s finance bro.

Stream on HBO Max
Both series combine historically accurate settings with modern humor. As the title suggests, "Dickinson" focuses on the life of Emily Dickinson, played by Hailee Steinfeld. Romance is also a huge part of both shows, so if you're a sucker for a good love story then look no further. The one key difference to note though is that while the romance in "Our Flag Means Death" is fictional, the ones occurring in Dickinson are more accurately represented.

Stream on Apple TV+
If you enjoy watching beautiful stories featuring well-written characters falling in love with each other then "Yuri!!! on Ice" might be your new obsession. It's an animated series focused on figure skaters. The main story unfolds between Yuri and his coach, Victor, and it'll probably be one of the most heartwarming things you've ever witnessed.

Buy on Amazon