6 Shows to Watch If You Love "Outlander"
We independently select these products—if you buy from one of our links, we may earn a commission. All prices were accurate at the time of publishing.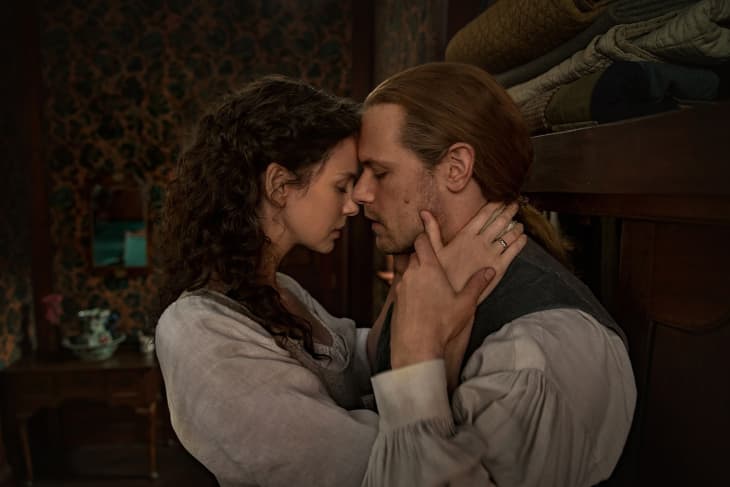 People love the Starz time-traveling historical romance series Outlander so much that fans invented a term for when they've run out of new episodes to watch: Droughtlander. Droughtlander angst is real, and if you're waiting for the next installment of the adventures that await our 20th century war nurse-turned doctor and her 18th century highlander love, well, there's not much you can do about it. Claire and Jamie are one-of-a-kind! But there are lots of other series that might fill the gap.
Whether you're looking for more steamy historical romance, ways to revel in the Scottish countryside, or some straight-up time travel, here are six shows to hold you over until Outlander returns on June 16.
Also based on a series of beloved novels, Julia Quinn's regency era romance Bridgerton got the Shondaland treatment and the bright, fizzy, sexy Netflix show is a great place to go if you're looking for attractive people in historical garb that'll make you sweat (I mean, who isn't looking for that?). Each season of the show focuses on the love story of one of the eight siblings of the well-to-do Bridgerton family as they, and those in their orbit, navigate the always treacherous marriage season in early 1800s London. Expect lots of sexual tension and décolletage. 

Stream on Netflix
For another lush romance told on an epic scale, watch Pachinko. Based on Min Jin Lee's best-selling novel of the same name, there's no time travel here, but the story of one family over multiple generations, all tied to one woman, Kim Sunja. We meet Sunja as a young girl in the early 1900s Japanese-occupied Korea and follow her story all the way to the late 1980s, where she's a grandmother in Osaka, Japan. It's gorgeous, romantic, and has a stellar cast led by Academy Award winner Youn Yuh-jung.

Stream on Apple TV+
If you're looking for a wild take on history that includes a healthy dose of sex and corsets, you'll like The Tudors. The Showtime series ran for four seasons and starred Jonathan Rhys Meyers as King Henry VIII and Henry Cavill as the king's right-hand man, the Duke of Suffolk. The series runs through all of Henry's six wives, but as you might have guessed, the most interesting part has to do with Anne Boelyn (Natalie Dormer). The lavish sets and costumes might be worth the watch alone.

Stream on Paramount+
If Jane Austen is more your speed, try Sanditon. Loosely based on Austen's unfinished manuscript of the same name, the series follows Charlotte Heywood (Rose Williams) as she arrives in the seaside town of Sanditon and finds all the drama and romance you'd expect from an Austen story, and then some. In addition to Williams, over the show's two seasons (with a third on the way), the cast has included Theo James, Crystal Clarke, Kris Marshall, and Kate Ashfield. 

Available on PBS and for purchase on Amazon Prime Video
Simply craving more time in the Highlands with your favorite Scotsman Jamie Fraser? Sam Heughan has you covered. Heughan is joined by his friend and former Outlander co-star Graham McTavish for this fun, breezy travel show that highlights the food, history, people, and places of Scotland from the point of view of two people who love their homeland. Plus, Heughan and McTavish have a great rapport that makes this road trip an easy watch.

Stream on Roku
Let's be honest, for a time travel show, Outlander is a little light on time travel shenanigans. But if you're all in on the genre, might I suggest Timeless? The canceled-too-soon NBC series is about history professor Lucy, elite soldier Wyatt, and tech guru Rufus, who are all recruited to travel through time to stop a shady organization trying to rewrite history. It doesn't take itself too seriously, has more than one romantic story line to get invested in, and the main trio, played by Abigail Spencer, Matt Lanter, and Malcolm Barrett have an easy, compelling chemistry. 

Stream on Hulu