4 Shows to Stream If You Love "Stranger Things"
We independently select these products—if you buy from one of our links, we may earn a commission. All prices were accurate at the time of publishing.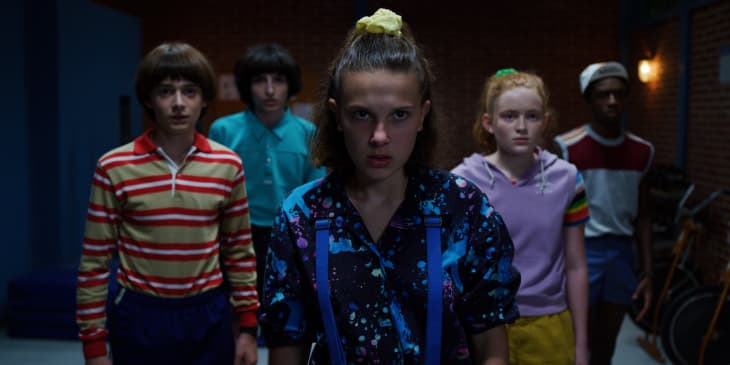 'Tis the season to snuggle up on your sofa and turn on a TV show or two that might provide a bit of scare and help you get into the Halloween spirit. If Netflix's hit "Stranger Things" — a show about a group of kids battling monsters and shadowy government plots in a 1980s small suburban town — is usually your go-to for screams (both of the scary and delightful kind, because let's be honest, "Stranger Things" is a whole lot of fun), but you've plowed through all three seasons multiple times, have we got news for you.
First of all, it was recently announced that "Stranger Things" has resumed production for season four after pausing earlier this year due to the coronavirus pandemic — which means we're on track for getting Steve Harrington's (Joe Keery) hair back on your screens in the near but yet-to-be-determined future.
Second, if you're missing the magic of monsters, 80s nostalgia, Hopper (David Harbour) dancing in his cabin, and determined kids taking matters into their own hands, there are shows out there that might fill some of that void. Okay, nothing can fill the void of Hopper, but you get what I'm saying. Here are four shows to stream if you're counting down the days to more "Stranger Things" (warning: some spoilers below!).
An angsty teen with uncontrollable telekinetic powers trying to keep her secret quiet in a small town? No, we're not talking about our favorite waffle devouring government experiment Eleven (Millie Bobby Brown), but rather Syd, the protagonist in another Netflix series, "I Am Not Okay With This". When we first meet her, Syd's (Sophia Lillis) dealing with a lot: Her father's recent suicide, a contentious relationship with her mother, blossoming feelings for her best friend Dina (Sofia Bryant), general high school terribleness, and oh yeah, she can cause enormous destruction with her mind. On top of being a coming-of-age story with some mysterious superpowers mixed in, "I Am Not Okay With This" might help you with your nostalgia needs, too — you'll be able to spot some references to iconic movies like "Carrie" and "The Breakfast Club" right away.
Streaming on Netflix
Hawkins, Indiana is not the first small town with some mysterious shenanigans going on – in 1990 there was a little town called Twin Peaks, Washington. Thanks to series creators David Lynch and Mark Frost, "Twin Peaks" is a creepy, supernatural, and surreal mystery that follows coffee and doughnut loving (people love breakfast foods on mystery shows, it's like a rule) FBI Agent Dale Cooper (Kyle MacLachlan) as he arrives to investigate the murder of high school homecoming queen Laura Palmer (Sheryl Lee). Things get weird. The first two seasons of the series aired in the early 90s (and are now streaming on both Hulu and Netflix), and a third season arrived as a precious gift in 2017, set 25 years later and aired on Showtime — so there's a lot of Twin Peaks content available for your viewing pleasure.
Seasons one and two streaming on Netflix and Hulu; Season three available through Showtime
Oh, you want monsters, you say? HBO's new big budget pulp drama "Lovecraft Country" has monsters. The series is based on Matt Ruff's novel of the same name and follows Tic (Jonathan Majors), his friend Leti (Jurnee Smollet), and his uncle George (Courtney B. Vance) as they travel from Chicago in the 1950s in search of Tic's missing father. While making their way through Jim Crow America, the team and others in their orbit must overcome gruesome monsters both supernatural, and — even more terrifying — human. The series is produced by Misha Green, Jordan Peele, and J.J. Abrams among others, so you know you're in good hands when it comes to compelling horror stories.
Currently airing on HBO and streaming on HBO Max
Apple TV+'s "Home Before Dark" is less monsters and conspiracy theories and more true crime, but at the center of this small town mystery is nine-year-old Hilde Lisko (Brooklynn Prince) and her young friends who are determined to uncover the truth about a murder in their neighborhood and a mystery that has haunted the town (and Hilde's dad) for years. If young people being determined in their pursuit of the truth doesn't remind you at least a little bit of our merry band of buddies in Hawkins, Indiana, maybe Hilde using her bike to get around town will. The series is loosely based on the true story of young journalist Hilde Lysiak and has already been renewed for a second season.
Streaming on Apple TV+