Twitter Is Obsessed with Japan's Milk Carton House (and Other Milk-Related Buildings)
We independently select these products—if you buy from one of our links, we may earn a commission. All prices were accurate at the time of publishing.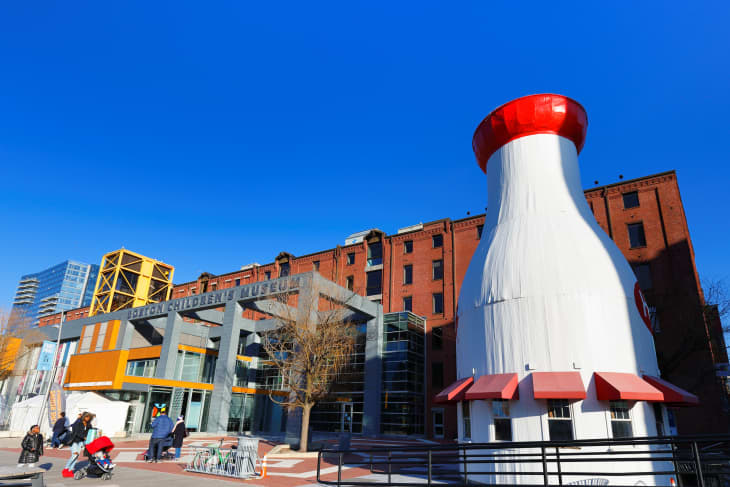 Things can and often do go viral on Twitter seemingly at random, and this house that looks like a milk carton in Japan is no exception. After Twitter user @thatsgoodweb tweeted a photo of the "milk house," the unique, dairy-inspired home began picking up steam on social media, with plenty of newfound fans delighted by it.
Follow Topics for more like this
Follow for more stories like this
Back in 2016, Japan Today reported that the home can be found in the rural town of Mirasaka, which is in the Futami district of Hiroshima. The family who built it sells milk for a living, giving the home a red, white, and blue design modeled after the country's famous "Mainichi Gyunyu" ("Daily Milk") milk brand. The home serves as both a store and a residence, as the family delivers dairy goods to the local community and has been a beloved part of the area for at least 35 years, the outlet reported.
And now, it's quickly racking up thousands of likes and retweets. Other users also shared similarly delightful dairy-inspired homes, such as the "Melbourne-based milk house," an "udderly charming" carton-shaped house in Australia designed by architects Simon and Freda Thornton. Along with being "organic" and "low-fat," the home "expires" on Feb. 30, which Simon noted to ArchitectureAU in 2012 adds to the home's "fiction architecture." It also includes kitschy features such as a path of white pebbles that looks like spilled milk and white indoor light fixtures in the shape of milk drops.
Also in Japan — albeit slightly more subtle — is another, tinier carton-shaped house. It's in Tokyo and designed to efficiently utilize every inch of the home's 556-square-feet. Architect Tomoko Sasaki of Tenhachi Architect & Interior Design told Dwell in 2020, "This is a very small house, but [it includes] workspace, storage, and a comfortable living space. I maximized the usable area [by employing] open-plan rooms without set functions that give the home flexibility and a cozy atmosphere." And while it doesn't have an expiration date painted on it or a milk pebble path, it does have plenty of impressive features, including a loft-style bedroom space, two bathrooms, a private utility space, and a pantry.
Of course, other Twitter users also pointed to the famous Hood Milk Bottle in Boston near the city's Children Museum, and the one-time promotional Oreo car, because what pairs better together than everyone's favorite chocolate sandwich cookie and a glass of cold milk?