Twitter Is Divided Over This "Floating" Staircase
We independently select these products—if you buy from one of our links, we may earn a commission. All prices were accurate at the time of publishing.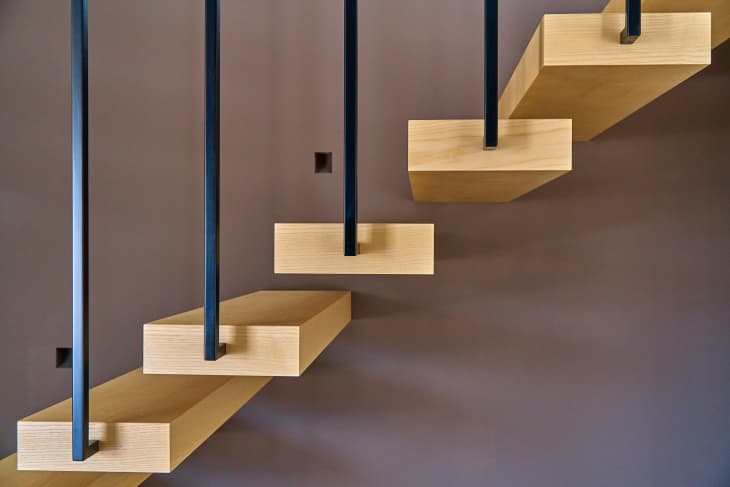 Twitter user @rottengirl recently sparked a debate on the app, sharing a photo of what appears to be a "floating" staircase — a set of what seems like metal panels installed directly into the walls, with the user asking: "These stairs are stunning but would you put them in your home?"
A fellow Twitter user shared a picture of the "finished job," which includes wooden steps over the metal panels, giving the staircase a more, well, staircase look. Still, people had thoughts about these "shin buster" stairs, with plenty noting that while they look amazing, they're hardly practical for families with children, elderly residents, or even just people prone to moments of clumsiness.
"What's stunning is the concussion I'll get after tripping down those stairs getting a glass of milk at 3am," joked one person, while another aptly noted, "socks ≠ these stairs," adding, "you're gonna die." Another person added: "One glass of wine and I'm meeting my ancestors." Plenty questioned whether or not the design would be up to safety regulations and standards, especially with the wide gaps between each stair and a lack of handrails on both sides.
One person joked, "To me it looks like I'd take two steps, trip, fall forward, and get sliced like deli meat," with another user summing it up perfectly, writing: "this is an obstacle course, not a set of stairs."
Of course, if you are brave enough to include a set of steps like this in your home, there would hopefully be a more practical staircase in another part of the room that's more user-friendly… and since, you know, moving furniture down these stairs would be downright impossible.
It's unclear where exactly this floating staircase is located, but it's pretty clear why this unique design is taking Twitter by storm — it's certainly not for the faint of heart, that's for sure.