Two Ways to Style a Patio: Which Works for You?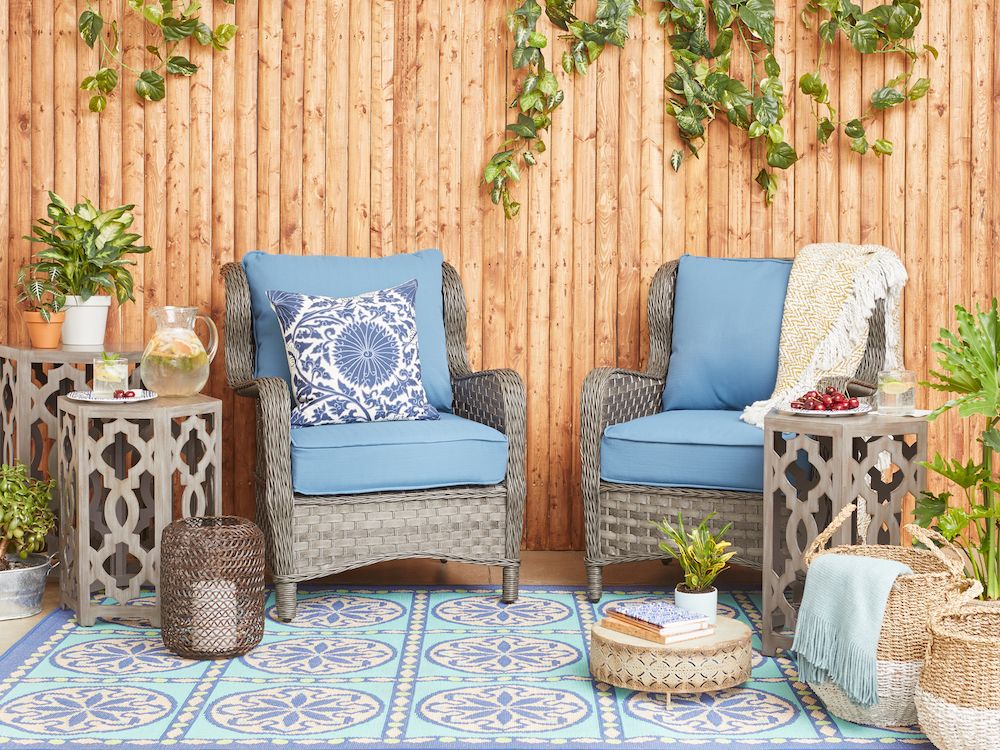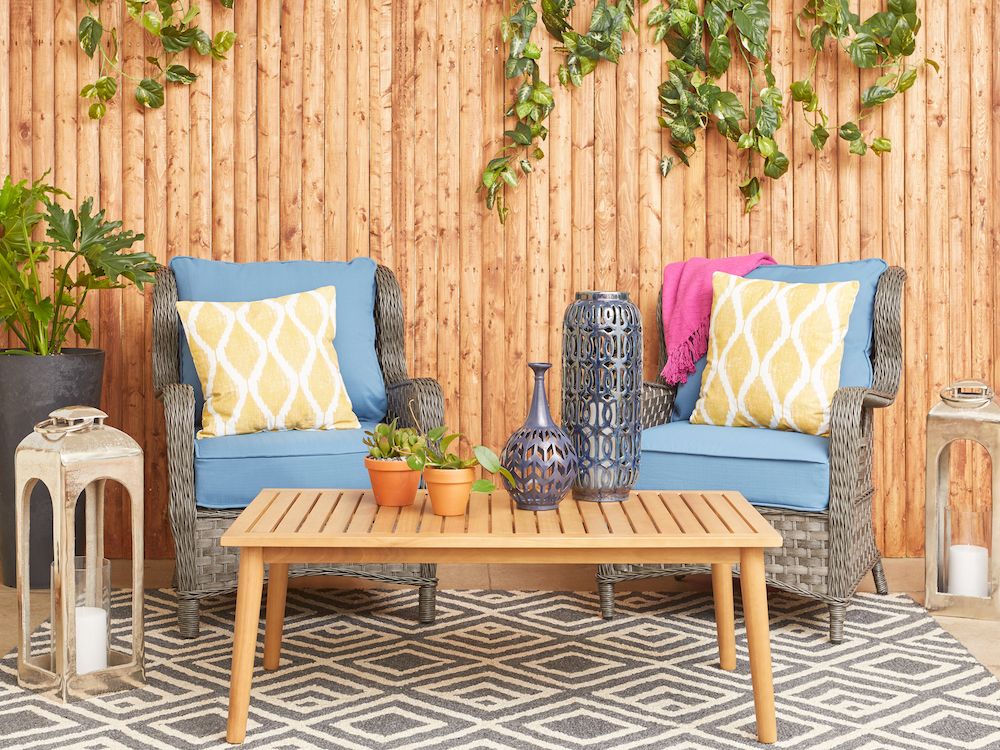 One outdoor space, one pair of outdoor lounge chairs...infinite possibilities for creativity! We asked two style experts to put their distinct personal touches on one patio setup using pieces from Ashley HomeStore, and the results are in. Each created a stylish summer escape and offered their own advice for styling your outdoor "room." Check out their looks, then choose which one works best with your own style; everyone who votes will be entered to win the setup they voted for!
Now, let's meet the style experts!

Krystle DeSantos
Krystle DeSantos is a NYC-based blogger at
krystledesantos.com
where she writes about interior design, vintage style, and her own numerous DIY projects.
Her Guyanese heritage shines through in a distinctive "Tropical Glam" style, which often features banana leaf prints, flamingoes, and anything else that brings warm sunny climes to mind.
Hey Wanderer
Nashville-based duo Casey Freeman and Savannah McNeill are the fashion designers/bloggers/interior stylists behind
Hey Wanderer
, where they create and inspire dreamy looks for every room and every occasion.
With a style best described as "Boho Maximalism with a touch of Glam," these best friends are out to break every design rule.
So what did our style experts come up with for this summery outdoor space? Check out their galleries and top tips for outdoor entertaining below:
Krystle DeSantos
Krystle's love for tropical flourishes make any outdoor gathering a sunny affair; here are her favorite tips for doing the same in your space:
Bring the indoors out!
Don't be afraid to use indoor pieces for your outdoor space. Toss pillows, throws and even small decorative objects like ceramic dishes and candle holders can definitely work outdoors. Store everything in a straw tote or basket for easy transport back inside.
Lighting is key
After the sun sets, use pretty globe or fairy lights to brighten things up. If an electrical source is not readily available use battery operated lights or a combination of candles and fire torches for warmer hues. Put some bug-repellant candles in the mix and your guests will love you forever.
Mix it up
Outdoor decorating is the perfect opportunity to go bold with color as well as mix prints; especially if you're a city dweller with a small outdoor space or rooftop area. The easiest way to do this without going overboard is to choose a color palette of about three colors and work within that palette. Try some patterns and prints in that color scheme but be sure they differ a bit from each other. The key is to make it effortlessly chic by not being too matchy-matchy.
Hey Wanderer
Nashville's hot summers have made the girls at Hey Wanderer warm-weather entertaining experts. Heed their advice for successful summer shindigs:
Choose a theme
We've always had the best parties when there was a theme. It helps the guests know what food to bring and helps you to narrow down your options for decor. You can get lots of great paper/plastic plates that look a lot better than your basic white ones. You can also create a signature cocktail that goes with your theme, adding a nice touch to your gathering.
Consider bug control
In our opinion, bugs are the #1 problem when entertaining outside. Lighting tiki torches is an inexpensive and cute way to help keep mosquitoes at bay. Or, find some stylish citronella candles that you can light. Also, consider having a station for bug spray so that your guests can have the option to spray themselves. Don't let mosquitoes ruin your party!
Keep Cool
Don't schedule your party for the hottest part of the day — unless you have a pool or water feature to combat the heat. You can do a mid-morning brunch or start the party in the late afternoon. Also, keep fans around. Your guests will appreciate the breeze and this will also help keep the bugs away.
Ice, Ice Baby
Make sure you have plenty of ice (and a place to keep it frozen) — this is something we always seems to forget. Also, check your grill and make sure you have enough propane or charcoal, and make sure it's clean. A day before, do a quick inventory of your condiments and disposable utensils to make sure you have the basics.
---
So whose style are you digging? Visit ashleyfurniturehomestore.com to vote, which will enter you to win that patio setup!

---
This post is sponsored by Ashley HomeStore and was created by the Apartment Therapy Creative Studio.
Thank you for supporting the brands that make Apartment Therapy possible.
Apartment Therapy supports our readers with carefully chosen product recommendations to improve life at home. You support us through our independently chosen links, many of which earn us a commission.
Comments have been disabled.