You Forgot Your Toilet Seat and 22 Bundt Cakes: The Weirdest Items Found In Ubers This Year
We
independently
select these products—if you buy from one of our links, we may earn a commission. All prices were accurate at the time of publishing.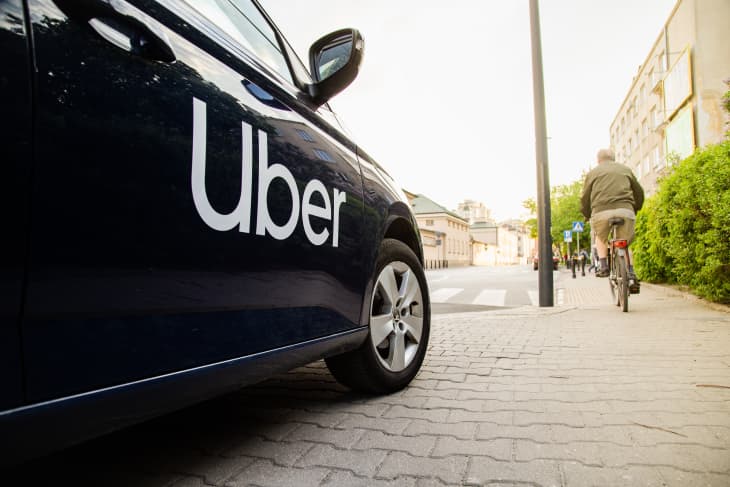 Who hasn't left something in an Uber before? Usually, it's just your phone, keys, or a pair of sunglasses. But it turns out that some pretty unusual stuff was left behind in Ubers over the last year, and a quick glance at the 2021 Uber Lost & Found Index will have you gasping before you can say "22 bundt cakes and a pan of macaroni and cheese."
As for the weirdest stuff left behind in Ubers, the index — which includes data from March 2020 to April 2021 — has plenty of candidates for most bizarre items. One person who left behind a tooth wrote "it was in my pocket, and seems to have fallen out." Apparently, dental-specific items were commonly left behind, because Uber said more than sixty riders forgot their gold grills, Invisalign retainers, and full or partial sets of dentures, as well as a handful of folks who left behind single teeth. Another person left behind 22 bundt cakes and a pan of macaroni and cheese, which is a serious tragedy in our eyes.
Some other interesting forgotten items? "A toilet seat and welcome door sign shaped like a lemon with a blue ribbon on it," a "large painting of Kate Middleton and a small painting of the grim reaper," "my bath set and a sack of potatoes," and "frozen meat, a lot of it." There was also "my birth certificate that was inside an Ugg earmuff box," because that's an ideal spot for storage, as well as "raw chicken and 20 pounds of salt" and "my dog's ashes." Other interesting picks included a corset, an FBI bullet proof vest, and part of an ankle monitor. Sounds like someone's parole officer might not be too pleased. 
During the COVID-19 quarantine period, there were several coronavirus-specific items left in Ubers too. Vaccine paperwork, Lysol wipes, plenty of hand sanitizer, and 5 COVID rapid tests were all found, as well as board games and a 1000-piece puzzle of a lake. Oh, and a rolled-up poster that said "end this bummer" with Endless Summer artwork, of course. 
As you'd expect, phones were the top item forgotten in Ubers. They were followed by cameras and wallets, as well as keys and backpacks or luggage. Headphones, glasses, vapes, IDs, and water bottles rounded out the top 10 most commonly forgotten items. And while it's not particularly unusual to drop a buck or two from your pocket, Uber said riders left behind more than $60,000 in cash, with seventeen riders forgetting wads worth more than $1,000. 
When it comes to forgetfulness based on location, Austin, Texas scored the number one slot for most "forgetful" city. It was followed by Fort Myers, Florida and Nashville, Tennessee. Rounding out the top five were San Antonio, Texas and Tampa, Florida. 
If you do happen to leave something, tooth or other, in your Uber, your first step should be to call the driver. But since that item we often forget is our phone, you may need to rely on your computer for this one. Login to your account on a computer, and tap "Your Trips," then select the trip where you left something, and scroll down to where it says "find lost item." Tap that, and then tap "contact driver about a lost item." Scroll down and enter the phone number you would like to be contacted at, and tap submit. If you lost your personal phone, enter a friend's phone number instead by logging into your account on a computer, or using a friend's phone. Your phone will ring and connect you directly with your driver's mobile number. If your driver picks up and confirms that your item has been found, coordinate a mutually convenient time and place to meet for its return to you. If your driver is busy and doesn't pick up, leave a detailed voicemail describing your item and the best way to contact you. You can also watch this video, which outlines the steps to take the next time you leave something behind.