I'm a Snacker and Soup Lover and This Is the Single Best Thing I've Ever Bought for Myself
We independently select these products—if you buy from one of our links, we may earn a commission. All prices were accurate at the time of publishing.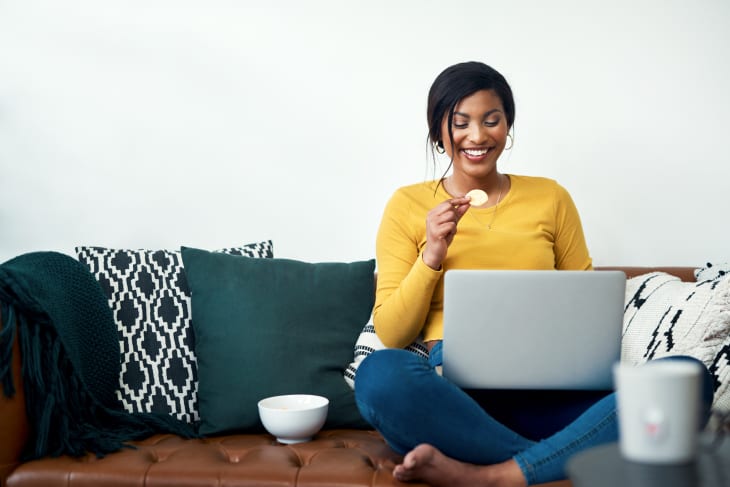 It's the time of year when it seems like there are events happening back-to-back, from the hectic holiday season to Super Bowl Sunday. With the big game coming up, I was already shopping around for snack bowls and other entertaining essentials.
Do I have any plans of actually hosting an event? No — but it's always good to be prepared for company. I didn't think I was going to find anything I hadn't seen already, but a little (virtual) window shopping never hurts. While making the rounds on a few of my favorite home goods sites, I stumbled upon the Ooma Bowl and got so much more than I bargained for.
Created by Thomas Both and exclusive to Uncommon Goods, the Ooma Bowl is an ergonomic two-sided dish that can be cradled in one hand for the ultimate snack companion. The stoneware bowl is available in six colors and is designed to keep your favorite food pairings separate but within arm's reach — think chips and dip, yogurt and granola, cheese and crackers, and more. It's a much nicer option than disposable dishes, and at $28, it won't break the bank.
I was super excited when my Ooma Bowls arrived diligently packed with plenty of bubble wrap and protective cushioning. I got four colors out of the six — Avocado, Aqua, Burgundy, and Harvest Gold — and they're as beautifully saturated in person as they are in the photos. The bowls are high-quality and even have a little weight to them, so you know they're well-made. They fit the natural curve of your hand for easy carrying, but can also be placed flat on the table and nest within each other for easy stacking storage. As happy as I was to finally have the bowls in my possession, I really didn't think I'd use them until I actually had snacks or additional guests at home. Oh, how wrong I was.
I love soup, especially in the colder months, but I typically eat it in small batches and don't have the right bowls to accommodate it (yet). That usually means I either eat way more soup than I want in one sitting or I have to pour it into a mug (and I'll have you know, not all soups are mug-friendly). The Ooma Bowl solved all that for me. Just when I was preparing to have one of my big soup dinners, I remembered my newly-purchased bowls. The larger side of the bowl was perfect for a cup-size serving of soup, leaving room on the smaller side for my steamed veggies without having to use more than one dish. Since then, it's become my go-to soup bowl, even if the side dish changes from veggies to crackers or a small salad.
The Ooma Bowl is not just for snacking, though. There are all sorts of food pairings for any meal of the day, which means it can be used all the time, and not only for hosting occasions. While I rarely have enough people over to justify having six of them, I'm going to get the other two colors as soon as possible to complete my set. They're just too good to pass up!