These New Candles Will Make Your Home Smell Like a Resort
We
independently
select these products—if you buy from one of our links, we may earn a commission. All prices were accurate at the time of publishing.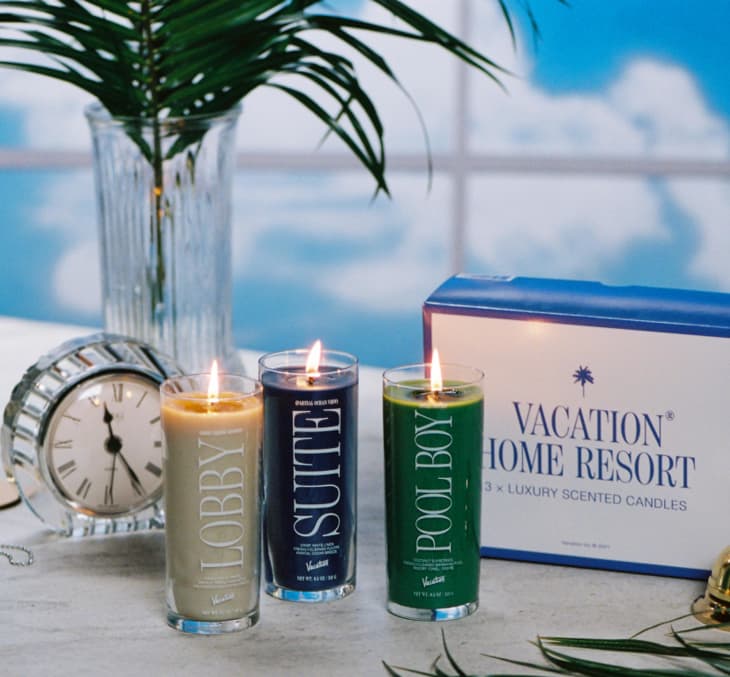 If you'd love nothing more than to escape the chill of winter and go somewhere tropical (if you can make it happen, then do so), this new set of candles from Vacation brings the tropical resort vibes to you.
Vacation, known for its best-selling (and best-smelling) sunscreen, dropped a set of three candles that scream "luxury tropical resort." The first candle in the line up is dubbed "High Ceiling Resort Lobby" and smells of fresh cut flowers, trifold travel pamphlets, and ocean air.
"Partial Ocean View Suite," is a blend of crisp linen notes, partially obstructed ocean breeze, and freshly-cleaned surfaces. And "Well-Tipped Pool Boy" smells like coconut sunscreen, resort towels, recently de-leafed pool water, and desire.
All three candles in the Vacation Home Resort set are massive tumblers with 85-hour burn times. They're vegan and cruelty-free and are made with a rich soy blend wax and 100 percent cotton wick.
You can also buy the candles individually for $34 each.
Just like with the brand's best-selling sunscreen, Vacation partnered with Carlos Huber of ARQUISTE Parfumeur to create the Home Resort scents. Huber makes sure each scent ARQUISTE Parfumeur makes is "meticulously researched and crafted" to "restore the aromatic experience of another place in time."
So if you can't escape the winter doldrums this year, treat yourself to an at-home vacation with this set of candles. You may just trick yourself into believing you're somewhere much warmer and a lot more fun.