15 Designers Share Their Favorite Vacation Spots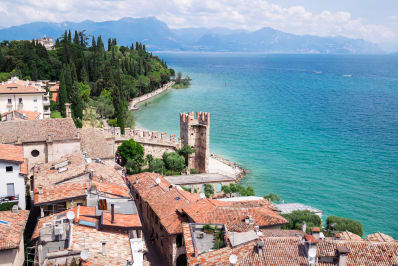 (Image credit: Westend61/Getty Images)
Maybe it's the beautiful weather—or maybe it's the surge of long weekends—but there's something about summer that makes us want to pack our bags and go somewhere fabulous.
To help get your summer off to an awesome, jetsetting start, we asked 15 designers about their favorite vacation spots. Whether you're craving an all-American road trip or a week abroad, consider your summer travel plans set.
Lake Garda, Italy
"Lake Garda is the largest lake in Italy—and lesser-known than the more touristy Lake Como. We love driving to different towns and finding new beaches and restaurants. You can also rent a boat for the day which is the best way to see the lake. The perfect day would be spending the day on the lake and then going to Locanda San Vigilio for a drink at sunset. It's an amazing villa built in the 16th century and has a long dock you can jump off! Bardolino is known for its wine, and some vineyards offer tours and tastings." —Caroline Grant, co-founder of Dekar Design
Panarea Island
"My favorite spot is the island Panarea in Sicily. It has an incredible boho vibe and attracts people from all over. No cars are allowed, which makes it peaceful. Besides being absolutely beautiful, it has an attention to detail I rarely see. Not only do the shops have beautiful handmade pieces, the shops themselves are also designed beautifully. Last time I was there, I purchased half of my summer wardrobe!" —Dolores Suarez, co-founder of Dekar Design
Napa Valley, California
"For me, Napa is the perfect convergence of low-key and sophisticated. My favorite vineyard is Kenzo Estate, which has delicious wines and spectacular views. I also never miss a lunch at Archetype. The Howard Backen-designed interior could be in a Nancy Meyers movie and the food is fabulous. I also love the charming stores on Main Street in St. Helena—it's a welcome break from all the drinking and eating!"—Paloma Contreras, interior designer
Southampton, New York
"Every August, I head out to Southampton to a house full of sisters, children, and grandparents. The decor is casual—almost like a fraternity house—but it's a great reminder that the people you love are what really matters. After a long year of decorating, it always helps to remember beautiful places are meant to be used, loved, and (accidentally) spilled on." —Lilly Bunn, interior designer
Atlantic Beach, North Carolina
"I spend every weekend of the summer with my family at our home in Atlantic Beach on the North Carolina coast. It is a barrier island bordered by the Atlantic Ocean and the Bogue Sound. A boater's paradise, we spend days boating to various sandbars and islands. I also enjoy biking, sightseeing, sport fishing, or snorkeling at Cape Lookout." —Ma Allen, interior designer
The Berkshires, Massachusetts
"We used to live in the Southern Berkshires and now spend our summers there. The whole area is covered with forests, lakes, and rivers. There are grange halls, endless farms, and some of the most beautiful pastoral settings I've ever seen. One of my favorite spots is Inside/Out at Jacob's Pillow. Bring a blanket, bottle of wine, and watch free nightly dance performances on an open air stage in the mountains." —Michaele Simmering, creative director of Kalon Studios
Newport Beach, California
"As a recent transplant to LA, I'm into discovering all of the incredible vacation spots across California. One of my favorites is Pelican Hill in Newport Beach. The grounds are very zen, but it still has that classic, Americana vibe. The Coliseum pool is insane! The spa is amazing, with the best Hammam I've ever experienced. Fun to go with family, a group of friends, or by yourself when you need to restore." —Donna Feldman, co-founder of Dmitriy & Co.
Muskoka, Canada
"Muskoka is like the Hamptons of Canada but, unlike the Hamptons, it's a rolling expanse of forests and lakes. There's something very meditative about the crystal-clear water, soaring white pines, and outcroppings of rugged gray granite. In my opinion, the best time of day to enjoy Muskoka is in the morning: I would recommend visiting Abbey's Bakehouse for coffee or tea and breakfast treats. Located on the shores of Lake Rosseau, it's in a 19th Century church that was rebuilt and repurposed from its original location in Nova Scotia. Following coffee, I would take a yoga class next door at Power Yoga Canada. They run their classes in a screened in boathouse!" —Anne Hepfer, interior designer
Cartagena, Colombia
"Ever since I visited Cartagena two summers ago, it has become one of my all-time favorite vacation spots. Cartagena is a destination that it is almost always warm, beautiful, and filled with an abundance of bright colorful buildings. The architectural and design aspect of the old city can't be beat!
While the old city is small and easily explored via foot, one of the best things about Cartagena is how easily you can access the most beautiful, remote islands. It feels like you are in a completely different place!" —Nicole Gibbons, interior designer
Sardinia, Italy
"Torre di Barì has a few secluded houses that make you feel like you have a private beach. There are these charming farmhouses in Sardinia, where you can take the time to have a home-cooked meal with the families. If you are a hiker, you must go to Cala Gonone. There is an exquisite hiking trail that takes you from Cala Fuili to Cala Luna. After, you can kayak through crystal clear water the entire way back to Cala Gonone." —Susan Clark, founder of Radnor
Icaria, Greece
My mother's father was from Icaria, so my introduction to it was through the warmth and intimacy of family. The days are quiet and slow, but the nights are filled with local music and dancing. The hiking and the mountain drives are breathtaking, while the lengthy meals on the waterfront are transformative. It's not a place for tourists, but for travelers who want to absorb themselves in an ancient and authentic island." —Michele Dopp, founder of Fabric & Steel
Lagos, Portugal
"The beaches here are stunning. The food and wine are fresh and so good—especially the local Vinho Verde! Airbnbs abound in Portugal and they are so inexpensive. With so much to do, it's a great family destination. I can't wait to return with my kids!" —Jessica Davis, founder and creative director of Nest Studios
Watch Hill, Rhode Island
"If we are not in the Catskills at our weekend house then our favorite summer getaway is a simple one, back home to New England by the seaside. If you can find the secret entrance, the beach at Napatree Point is among the best on the east coast. You can't miss the Flying Horse Carousel, as it is perfectly preserved and among the oldest in America." —Nick and Rachel Cope, founders of Calico Wallpaper
Mustique
"Mustique is an ideal location for kids, who can roam freely around the island and watch movies under the stars. I love having the option to relax by the crystal blue beaches or explore. The island has wonderful paths for morning walks or runs. Later in the day, I enjoy heading to the equestrian center to go swimming in the sea with the horses.
For dinners, each house staff cooks the most amazing variety of fresh fish or beachside barbecues. My favorite villas to stay in are Grasshopper, Aurora, and Antilles. I am always so sad to leave the tiny island and head back to the busy hub of London, but excited for our next visit." —Katharine Pooley, interior designer
Mexico City, Mexico
"I lived in Mexico City for a short time years ago, and try to get back once a year. I love walking around the residential neighborhoods for an incredible architectural tour. See Art Deco in Condesa and La Roma, then vibrant plazas in Coyoacán—and that's just what you see from the outside. The galleries and shops blend artisanal craftsmanship with modern design sensibilities, and architect Pedro Ramírez Vázquez's Museum of Anthropology is truly incredible. I'm also a sucker for Luis Barragán's work—his house is a must-visit. Lastly, don't miss the hole-in-the-wall find El Turix for some of the best, greasy, delicious cochinita pibil ever." —Andres Modak, co-founder of SNOWE