Serene, Simple Style in Stockholm
We independently select these products—if you buy from one of our links, we may earn a commission. All prices were accurate at the time of publishing.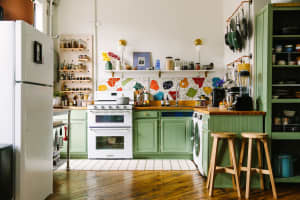 Can't-Miss House Tours Straight to Your Inbox
Keep up with our latest house tours each weekday with our House Tour of the Day newsletter
Name: Mina, Sumit, Alec, Louis & Léonie
Location: Bromma, a suburb to Stockholm, Sweden
Size: 168 square metros square feet
Years lived in: 1 month
In the suburban neighborhood of Bromma, outside the city of Stockholm, Mina and Sumit have created a beautiful space for their young family in their newly built home. Mina loves this home's large windows and open concept floor plan, and her minimal, casual approach to design maximizes the airy feeling of this home. This is a home that truly blurs the line between indoors and out.
The home is grounded by mid-century Scandinavian furniture graciously passed down from Mina's parents and grandparents, and it's this collection of family pieces that adds depth and history to the abode. But there's a not-so-serious playfulness that flows throughout the space, too. The children's playroom has a cute cooking corner, the family room has a fantastic DIY reading nook and the kids' room has colorful pompoms hanging from the ceiling. Getting to design for their three kids and for themselves has helped Mina and Sumit create a home full of style and gaiety.
Apartment Therapy Survey:
Our Style: I want to create a home that is a sanctuary and a place for the whole family to relax and recharge. A place where we can really breath and be ourselves. Our style is bright and airy, a little minimalist in the main living areas and a bit maximalist in the children's spaces. We have a bright white and light wood foundation with a bit of colour sprinkled in here and there. It's a mix of classic Scandinavian—light and simple—and influences from our mixed backgrounds and years of traveling and living abroad (India, Italy, USA, Canada, etc).
Much of our furnishings are classic Scandinavian designs and many of the pieces were handed down to us by my parents, especially the mid-century pieces. We try to create a home that feels balanced and harmonious, with places for the eyes to rest. I always try to create little nooks for sitting down with a book or a cup of coffee (even if it doesn't happen that way very often!). We have three small children and that really shows in our home—and we want it to show. It's important to us that it is just as much two-year old Léonie's home as it is ours. But that doesn't mean we want toddler paraphernalia all over the house. We try to create spaces for the children in all of the main living areas so that their stuff is there but also a little bit contained.
Inspiration: I spend way too much time on Pinterest and Instagram. I follow Emily Henderson and love her designs and styling. I also follow a bunch of Swedish interiors blogs and instas like Trendenser, Emma Solveigsdotter, Lotta Agaton, Seventeen Doors, The Way We Play. And I love to browse R.O.O.M., Svenskt Tenn and other classic Swedish furniture stores. But my main inspiration is just our little family I think. And creating a home that is a sanctuary for all of us is what drives me. I also love how my children help me to see things differently and make me consider options and furnishings and just whole new ways of thinking that I wouldn't have on my own.
Favorite Element: I think what we love most is just the gigantic windows that sort of blur the line between indoors and outdoors. I love that feeling of being so close to nature and fresh air, even when I'm in the kitchen making dinner. I also love the little plywood house reading nook that we put together for the kids! I think it's the sweetest little corner to curl up with a book in the morning or when you're waiting for your turn to brush your teeth in the evening. And I think our dining space is fabulous. I'm looking forward to so many family meals shared around that table! Also our gigantic sofa.
Biggest Challenge: I think the biggest challenge has been getting it right from the start. I really wanted us to this house "done" quickly and not live in an unfinished space forever. But it's always difficult to make the right design decisions all at once and without sort of feeling our way to how our life is going to be in this new home. Also since the house is brand spanking new (it is completely newly built and we're the first people to live in it) we had to be careful not to put too much new-feeling stuff in it. And also to choose fewer pieces of better quality instead of filling our home with too many budget items—I think that was necessary in order to sort of "ground" this space. Too much IKEA could have made it feel more like a showroom than a home.
What Friends Say: We haven't really had many friends over yet since we just moved in! On Saturday our daughter turns two so we'll have family and godparents over for the first time and we can't wait to entertain in this new house. Our friends do think it's funny how we really bought this house on a whim. So many of our friends have been desperately looking for a house in the suburbs for months and months. We had decided to stay in the city and were not looking at houses at all when I happened to see this house. It was the first and only house we've looked at in the last few years.
Biggest Embarrassment: I don't know if I'm really embarrassed about it, but I feel like we didn't really get the curtains right. We were really keen to get curtains in right away because the windows are so big, the neighbors are relatively close, and we didn't want to feel like we were living in a fish bowl. But after living here for a couple of weeks we now realize that all the neighbors houses are really turned away and we don't feel at all like we need to hide out behind curtains. We might just get rid of them.
Proudest DIY: I love the kids' reading nook. It's a DIY but I had help (I guess I mostly just envisioned and then had help with the actual build). The "built-in" low bookshelf in the family room is actually two IKEA Nornäs sideboards (but again, I just envisioned and then had help with the actual build). I love the rain drops that I cut out of contact paper and put up on the wall below the puffs in the kids room. And I was up last night painting the house on the wall in the playroom. I think the truck parking on top of the toy storage in there is pretty fun as well (and such an easy DIY!). We have also made a sweet dress-up closet for the children. It's a Stuva piece from IKEA and we just wallpapered the inside and added self-adhesive hooks on one door and are going to put a mirror on the other door.
Biggest Indulgence: Undoubtedly the sofa. I have tried out this sofa at R.O.O.M. a bunch of times and always swore I would never get up ever again because it's so so comfy. A week before we took possession of the house R.O.O.M. posted on instagram that they were selling this floor sample sofa at a bit of a discount and somehow I managed to talk Sumit into buying it. It's huge and so ridiculously comfortable and I think we will love it for many many years to come. The Panton pendant lamp over the dining table is also a piece that I have been coveting for years and years since I first saw it at Illum in Copenhagen with my cousin almost 12 years ago. It was a bit of a splurge but I think it is so perfect here.
Best Advice: It's a cliché, but I think it's so important not to copy paste someone else's aesthetic or home. It'll never feel right if it doesn't really come from you. I also think it's better to choose individual pieces that you love and work through space-by-space in your home instead of sort of choosing a look and feel and then trying to mould your whole home to that feel. If you just choose things that make you happy and set-up spaces in your home that allow you to do the things you want to do, then you can't go wrong.
Dream Sources: I love everything they sell in R.O.O.M. EVERYTHING. We've ordered a House Doctor Addition daybed and a cream Himla rug for the living room that haven't been delivered yet. I have a couple of Flos lamps on my wishlist, and if we didn't have small kids I'd love a Chatwal Jonsson rug, but otherwise I think we really have everything that we need and want.