This Wine Suitcase Will Safely Transport an Entire Case of Red, White, or Rosé
We
independently
select these products—if you buy from one of our links, we may earn a commission. All prices were accurate at the time of publishing.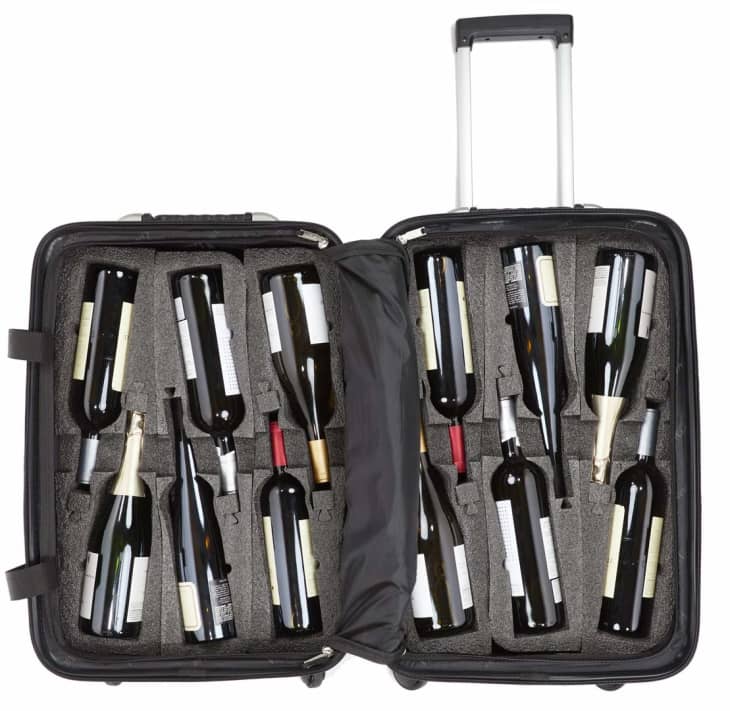 Have you ever traveled somewhere and tasted a wine you loved so much, you wished you could bring home a case with you? Or, have you ever traveled somewhere where the wine is pricey, and wished you could bring your own instead? If you can relate, you'll be very interested in this wine suitcase designed specifically to transport wine bottles.
On the outside, it looks like a regular suitcase. But on the inside, it's an oenophile's greatest dream come true. The VinGardeValise wine suitcase contains specially designed inserts that cradle and protect up to 12 bottles of wine, so you can travel with your favorite red, white, or rosé. The inserts are removable, so if you only need to transport six bottles, you can use the other half of your suitcase for clothes, toiletries, and personal items.
The wine suitcase comes in three colors: black, burgundy, and silver. It has a ribbed hard exterior, reinforcement bar, heavy-duty corner guards for added protection, 360-degree wheels, and a TSA-compliant lock. Plus, it comes with a 10-year warranty, so if anything goes wrong, you're covered. You can also upgrade and get a suitcase with an engraved nameplate, because you definitely don't want anyone stealing this precious cargo.
We know what you're thinking: Surely a case of wine is too heavy to transport in a suitcase, right? It depends on how much your bottles weigh, so you may have to do a little bit of math to make sure you come in under the weight limit. When empty, the suitcase weighs 13.5 pounds. VinGardeValise states that the average wine bottle weighs 3.2 pounds, so 12 bottles weigh 38.4 pounds. That's a combined total of 51.9 pounds, which is just over the 50-pound limit. The exact weight will vary from bottle to bottle, but maybe pack one less just to be safe.
Amazon customers are raving about the wine suitcase and say they had no problems traveling internationally with it.
"Excellent! Perfectly fit 12 bottles of our favorite wines and weight came in under 50 pounds," one five-star review reads. "Saved us a bundle when traveling to St. Thomas where the wines are quite expensive."
Other reviewers note that while the wine suitcase is a bit pricey, it's about on par for what you'd pay for nice, well-made luggage from other brands. Plus, if you use it to bring wine to your destination and save money, it'll pay for itself in just a few trips. And you can always use it as regular luggage without the wine inserts, too.