Here's Your Excuse to Buy All Those Vintage Mirrors You Keep Eyeing
We independently select these products—if you buy from one of our links, we may earn a commission. All prices were accurate at the time of publishing.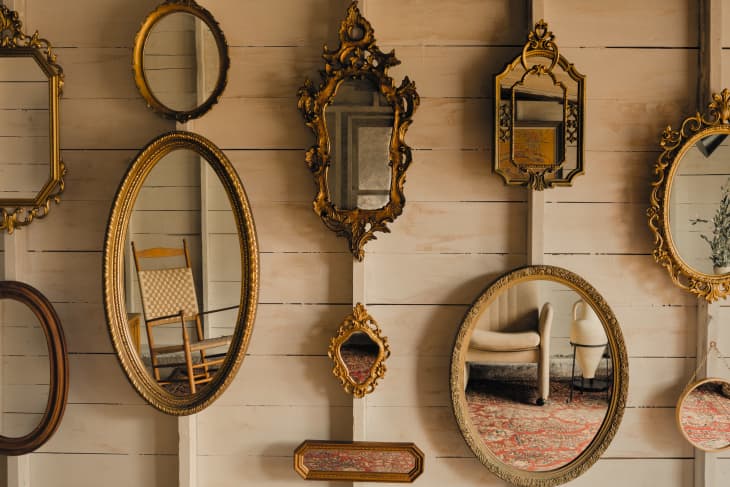 If you've ever been thrifting, then you've probably felt the urge to buy some items that you had zero space for in your home. Vintage mirrors are definitely one of those things. While these mirrors are unique in shape and style, once you have them on all of your open wall space, it can get trickier to find a place for them. The good news is, there's actually a pretty simple way for you to display all the mirrors you want to take home — without even having to hang them.
Frances Berry Moreno is an artist who lives in a fun and colorful 985-square-foot apartment in Memphis with her husband. Moreno considers the style of their home to be "bright, eclectic, unpretentious, unexpected, and playful." It's filled with art, collectables, and unique prints all over the walls — and every horizontal surface too!
"Most of the art on the walls is mine," Moreno says. As an added bonus, her husband is a commercial diver so he's always finding cool things underwater to add to their home. "Scattered throughout the house are a number of collections including dozens of ceramic hands and rocks and other treasures my husband brings back from the bottom of whatever body of water he dives in," she adds.
Moreno has embraced a maximalist design style and finds all sorts of unique places to display her decor and collectables around the house. The landing of her staircase is a perfect example.
If you look closely at the ledge beneath the window, you'll see at least three different mirrors layered on top of each other, leaning against the wall. A lot of times, when people buy mirrors the go-to move is to find a wall to hang it on. Moreno didn't go the traditional route, and it created a space for her to display not one, but three mirrors that she loves. If you find yourself with mirrors you can't live without but don't know where to put them, this might be your solution.
Moreno's biggest piece of advice on creating a home that you love is not to worry about what other people do or have in their spaces. "Your home is for you, not other people," she says. So buy as many vintage mirrors or fun thrifted finds as you like. There's always a way to style them later.