Visible Mending Isn't Just for Clothes, and I Think It Should Become the Next Big Home Decor Trend
We independently select these products—if you buy from one of our links, we may earn a commission. All prices were accurate at the time of publishing.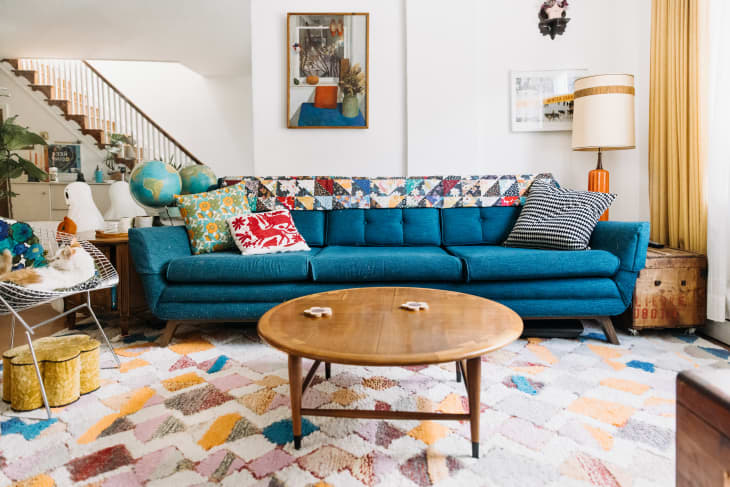 I can't remember exactly when I first saw a visibly mended garment, but I know that it was a pair of patchworked jeans created by textile artist Katrina Rodabaugh, the author of "Make Thrift Mend" and "Mending Matters." There was something about those hand-stitched denim patches that struck a chord. I tried my own hand at Rodabaugh's style of Japanese boro and sashiko-inspired mending, and I was instantly hooked. 
Follow Topics for more like this
Follow for more stories like this
Mending satisfied my desire to live more sustainably, but I also loved the poetry of giving new life to a garment in a way that was obvious, not hidden. The patches of a visibly mended garment tell a story and invite conversation. I've been mending up a storm ever since: Four out of my five pairs of blue jeans now feature patches, and my son now relishes choosing his patch fabrics and thread colors. However, it wasn't until recently that I made the leap to think about mending my home textiles, too. "Methods for mending your clothes translate to home textiles as well," says Jessica Marquez, the author of "Make and Mend." "You can patch and repair bedding, furniture, curtains, and anything you can pass a needle and thread through."
When I reached out to Erin Boyle, the author of the blog Reading My Tea Leaves, to ask about her efforts at mending home items, she wrote back to say, "This is too funny. I literally have patches cut for the corners of my throw pillows right this minute." The resulting patched pillows (shown above) have character a store-bought pillow never could, and as Boyle writes, "Each patch [is] a little signifier of thrift and resourcefulness and simple, honest work."
Rodabaugh points out there is a long tradition of mending home items in an obvious way. "Antique textiles are some of my best teachers," she says. "Just studying the stitches and fabrics and trying to understand the construction is like taking a course in fiber arts." Nina Hitchens, an interior designer on Martha's Vineyard who strives for a low-waste lifestyle, also appreciates vintage, mended textiles. "I love finding textiles that have been repaired in any manner — it's a peak into the history of handwork," she says."I have a vintage duvet cover (pictured below) that has some patches that whoever did the sewing — not me! — didn't even try to match the fabric. I love the contrast and how the repair adds flair to the piece." 
When it comes to mending antique pieces yourself, Rodabaugh says what you do depends on the textile, the maker, and the circumstances of the object. For example, Rodabaugh bought a quilt from her great aunt's best friend. "I had mixed feelings about altering her handiwork," Rodabaugh says of the high-contrast thread she added, "but ultimately decided I wanted to highlight the use through the repairs. This way, it felt like it was an ongoing dialogue between my Great Aunt Florence, her best friend, Nadine, and me. I love the stories and lineage that are embedded in vintage textiles, but I also love engaging in that conversation."
Hitchens also notes homes themselves are often in conversation with their past through mending. Her 1876 Victorian cottage started out as a few rooms, but "over the years rooms were added, and porches were enclosed to form the current house," she says. "The evolution and extension of the space is reflected in the floorboards, which run in different directions in different portions of rooms and even on a slant in places that were once porches.  We made the decision to keep the funky flooring and live with the seams and slants rather than replace it."
You might even start to shop with future repairs in mind. Boyle notes the possibility of patching was a key consideration when choosing upholstery fabric this past summer for her sofa, shown here. "With three kids, there's no question the upholstery will face some significant wear in the next five years," she says. "I'm so inspired by beautiful Japanese boro textiles that have been mended over and over again, and the indigo-dyed railroad stripe I chose for the couch felt like it would be the perfect surface to eventually patch should I need to."
This thrifty thinking is not only money-saving and sustainable, it also guarantees your home will be unlike any other.