Vitamix Just Launched an Immersion Blender—and We Might Like It Even More Than Their Actual Blenders
We
independently
select these products—if you buy from one of our links, we may earn a commission. All prices were accurate at the time of publishing.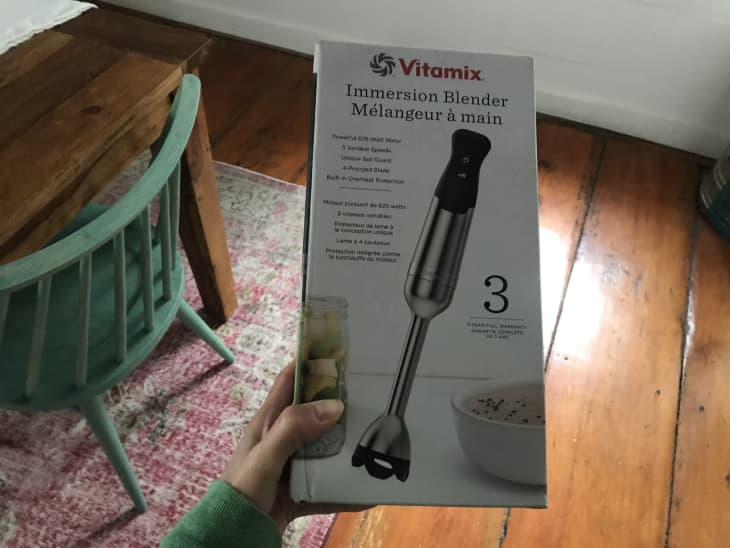 The Vitamix Immersion Blender
When I first heard that Vitamix was coming out with an immersion blender, my first reaction was just duh! Why wouldn't they have an immersion blender? The company has been making top-of-the-line blenders for 100 years, so they clearly know a thing or three about blending, blades, and motors. If I trust anyone to make an immersion blender, of course it's Vitamix!
The machine's stats: It's got a 625-watt motor, five speed settings, and a four-pronged blade. It also has a bell guard that reduces suction, helps to increase ingredient flow, and protect pots and pans while you work. The cord measures five feet long and the top has a soft, comfy grip. Not too different from other top immersion blenders. How would it hold up in my tests?
My Honest Review of The Vitamix Immersion Blender
Upon unboxing it, I was concerned that it was pretty heavy. But when I compared it against the immersion blender I've had for years, I actually realized it wasn't that much heavier. Probably just a matter of ounces. (Note to self: Spend more time lifting weights.) I noticed that the bell guard is tipped with a sturdy piece of plastic (my old immersion blender is stainless steel-tipped, so I do need to be pretty careful when I use it in, say, my Dutch oven). The shaft snapped into the motor easily and I liked how it felt in my hand.
The five settings are adjusted by pushing a button. Every time you click the button the setting goes up by one and there's a light-up counter on the top of the blender, so you can see where you are along the scale.
I was already impressed. Then I started using it and got more impressed! I've noticed that, when I turn on other immersion blenders (the one I use at home and the ones I've tested in the past), they tend to jerk a little bit. It's nothing major, but a little jerk nonetheless. (Another note to self: You may need to work on your wrist strength, too!) The Vitamix blender? No jerk! It clicks on super smoothly. And it's incredibly quiet — even when blending up frozen fruit for smoothies. So far, I've used the Vitamix Immersion Blender for smoothies, soups, sauces, and even pancake batter. The fact that it has four blades (instead of the more common two-blade setup) helps the machine make quick work of blending, and I've yet to find a job that's too tough for it — and I make a LOT of smoothies with very frozen fruit and fibrous spinach.
As much as I love my Vitamix Ascent Blender, I've actually been reaching for my new Vitamix Immersion Blender even more. For starters, because it's quieter (my sweet pup does NOT like the sound of small appliances!), and also because it's smaller and less cumbersome to pull out. Of course, it's not really an either-or situation between an immersion blender or a regular blender; I'm merely trying to say that this stick blender is legitimately great, highly versatile, and somehow getting used almost every day in my kitchen.
I just have one remaining question: What else are you guys working on, sweet people at Vitamix?