4 Things Real Estate Agents Want You to Know About Waiving a Home Inspection
We independently select these products—if you buy from one of our links, we may earn a commission. All prices were accurate at the time of publishing.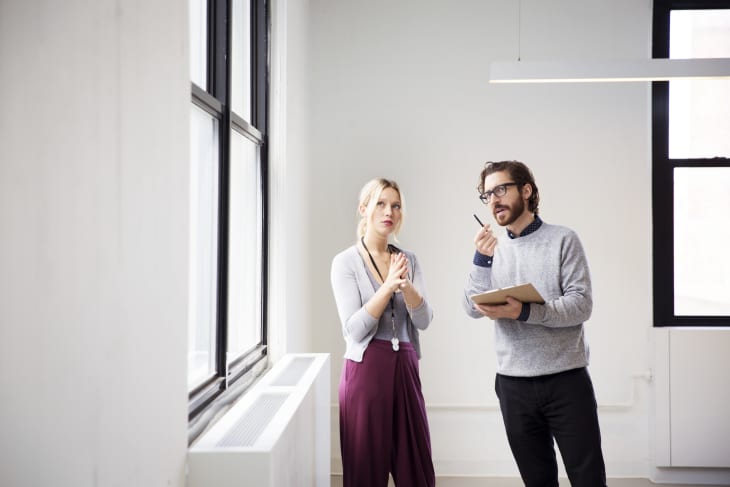 If you're financing a home (translation: you're not an all-cash buyer!), your lender will require you to get an appraisal to make sure the home is worth the price you're paying for it. An appraisal is different from a home inspection, which is an examination of the condition of a home. And ultimately, it's your decision as to whether you should get a home inspection. 
You'd be hard-pressed to find a real estate agent who would advise skipping out on an inspection because this step braces you for any potential repairs you'll need. However, today's buyer's market is Olympics-level competitive, and some buyers are waiving inspections to help their offers stand out and clear the path to the closing table.
Here, real estate agents explain the pros and the cons of home inspections as they pertain to today's market, where inventory is tight but buyers are out in droves. 
An inspection will allow you to budget for repairs.
Inspections are part of the buyer's due diligence process to ensure there are no big surprises once they become homeowners, says Jenny Usaj, owner and broker at Usaj Realty in Denver, Colorado. "Inspectors help identify the life expectancy of the appliances, the roof, and the integrity of the foundation," Usaj says. "It's nice to know the status of the major mechanical components of the home and what the new homeowner will need to prepare for in the coming months and years."
Opting for an inspection might mean your offer could get looked over.
Some buyers might be comfortable taking a big risk and waiving the inspection in hopes that their offer will shine to a seller who is motivated to close quickly. If you insist on a home inspection (which most buyer's agents will advise you to do, unless you've got deep pockets to fund repairs), it could be a drawback, since your offer may not be as competitive as the offers that are willing to skip this step. But inspections don't need to be all or nothing. 
Oftentimes in today's market, buyers are asked to limit the inspection, if not waive the option all together, Usaj says. Some sellers will provide a pre-listing inspection report for buyers to review, she says, which allows buyers to feel more confident about waiving or limiting an inspection. "Buyers have the opportunity to make their offer more competitive by waiving the inspection option, limiting the requests to health and safety, or major mechanical components only," Usaj says. Depending on the property type, the realtor can help guide the conversation and level of risk being taken, she explains. 
An inspection can prevent buyer's remorse.
The scenario: You waive the inspection, move into a home, then realize it needs a new roof. All of a sudden, you're looking at an expense that's in the neighborhood of $5,000 to $10,000. Cue the buyer's remorse. Inspections are necessary for the buyer because the condition of the home, and any possible effects, will have a direct effect on what's likely their biggest investment, says Andre Holloman, a realtor with Keller Williams Realty in Connecticut. "In the end, the home inspection is a necessary part of the home buying process and shouldn't be waived for any reason as it will more than likely create buyer remorse down the line."
Sure, the inspection report can be intimidating, but it's worth it.
Some inspection reports are doom and gloom. This may depend on the hired inspector's approach, explains Holloman. Seeing a long list of defects can be intimidating, certainly. But there's something to keep in mind: "Not every item noted is a major issue or an immediate expense," Holloman says. Things like a tear on a window screen, crack on a patio, or malfunctioning light switch can appear on an inspection report. Remember that every home needs upkeep, he says. 
The bottom line? A home inspection can cost around $400, but it can save you thousands down the road. Waiving it is a huge risk that some are willing to take.