Here's a Rental-Friendly Way to Fake Fancy Moldings in a White Box Room
We independently select these products—if you buy from one of our links, we may earn a commission. All prices were accurate at the time of publishing.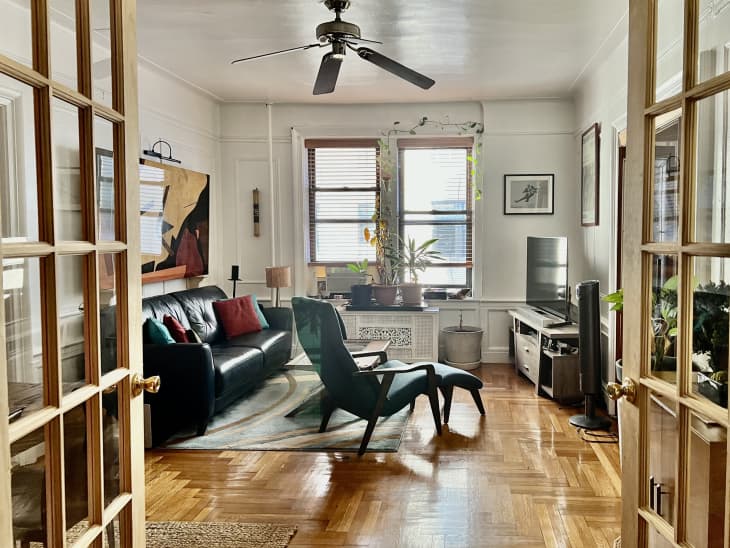 Who doesn't wish that their home had a bit more architectural charm — particularly Parisian-looking character? Just me? I think not! Whenever I browse apartments to rent online, I always linger over spaces that feature ornate moldings and thoughtful plaster detailing. These spaces always strike me as so put together, sophisticated, and romantic. Really, what more could you want in a home?
Follow Topics for more like this
Follow for more stories like this
So if you're like me and dream of spending your days in a chic-looking flat in a charming European city, then I have good news for you. With a quick online order and a little creativity, you can bring the quintessential French look stateside. That's right: These ornate wall panels from Ballard Designs are all you need to add a little oomph to bland walls.
At 48 inches tall, these light blue urethane panels feature raised scroll and scalloped details and are sizable enough to make a major impact in your living room, bedroom, hallway, or all of the above. They come ready to hang — either vertically or horizontally — with D-rings attached to their backs and couldn't be simpler to install. I like idea of hanging one on either side of a sofa, as shown above. You could do the same on either side of a mirror or window, too. They're a great gallery wall alternative if you, say, want something a little more visually subdued but still want to fill up blank wall space.
If you like scrolling on Instagram, Pinterest, or TikTok, maybe you've noticed that picture frame style molding has been a popular project lately. Typically, that involves nailing multiple pieces of trim or molding to the wall (unless you're lucky enough to have it original to your space like Richal Flores, whose Brooklyn apartment is featured at the top of this post), which is not always the most renter-friendly solution. That's where I see these kinds of wall panels offering a more suitable solution for instant charm, since they only require a few holes to hang (and patch) when you move out.
While these Ballard panels are absolutely beautiful, they don't come cheap. So I like that you only really need one or two to revamp your space. That being said, I think you could DIY something like this fairly easily, minus the ornate scroll design part. I'm envisioning two homasote boards with molding (picture frame or otherwise) tacked on and then painted to match your walls or in a contrast color. You could pick any neutral, from crisp white to matte black.
Whether you choose to purchase readymade wall panels or want to create your own, I think the best part is that, unlike other additions of architectural charm, this piece can follow you from place to place — or move from room to room. That alone may make it worth the investment for you. These Ballard panels are the first I've really seen of their kind, but I think we're going to start seeing more rental-friendly, DIY-friendly solutions for adding moldings and other features to our spaces.