The Secret to Easy Faux Shiplap (Plus 3 Other Paint-Only Projects)
We
independently
select these products—if you buy from one of our links, we may earn a commission. All prices were accurate at the time of publishing.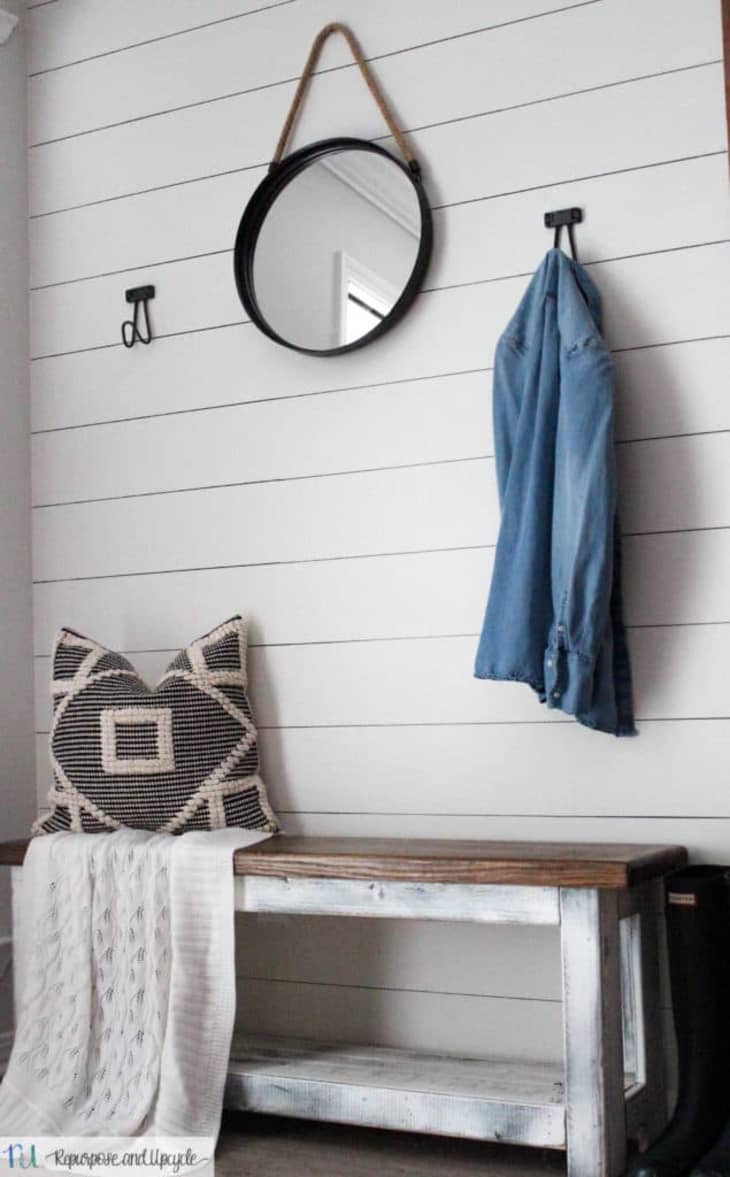 We've said it once, and we'll say it again: Paint is a home decor hero. There's so much you can do with just paint, tape, and brushes, so put those extensive DIY projects on hold for just a moment and take a look at the amazing paint-only upgrades featured below.
If you're longing for shiplap but taking on a major project just isn't an option, you can use paint to recreate the look instead. Blogger Lindsey Manning shares a Sharpie shiplap project on her blog, which is easy to replicate at home—with markers or paint—and can be completed in under an hour.
"I initially created the Sharpie shiplap wall on my entryway just to see if real shiplap would look good," Manning says. "I thought it would look good but my husband didn't think it would. You could say it was my way to show my husband that I was right! After it was up, I was shocked at how real it looked. Needless to say, my husband loved it, too, and we haven't even thought about replacing it with the real thing. Most people who see it (in real life and on the blog) don't know it's not real unless I say something—score!"
Go gingham (with a twist)
I don't know about you, but I've always loved anything with a gingham pattern, so when I came across Jennifer Griffin's beautiful bathroom wall upgrade, I was stunned (in the best way possible!). The Dimples and Tangles blogger provides a step-by-step how-to on her site for the diagonal gingham and spoke with us a bit about her process.
"I originally planned to stencil the walls in a different pattern but was not happy with how it was turning out once I started," she says. "I decided to totally switch gears and am crazy about gingham and buffalo check, so I wanted to try that out but with a twist by turning the pattern diagonally. Any time I post a photo of the room on Instagram, I get a fair amount of questions asking about the 'wallpaper,' and everyone following online and whoever visits in person thinks it's such a fun room! I agree and still love it after three-and-a-half years!"
Get a minimalist look with a half-painted wall
A half-painted wall can make a major difference in any space—just look at the above guest bedroom by Gina Gutierrez of Gina Rachelle Designs! When decorating the space, Gutierrez wanted the space to be calming and feel serene without being all white, so she chose to incorporate a mix of taupe (Intense White by Benjamin Moore) and charcoal (Temptation by Benjamin Moore). Painting just part of one wall in the darker hue is a funkier spin on an accent wall—and the color scheme is a perfect Scandi 100.
Gutierrez says you can play around with where your half-paint job ends. "I found the bed first, and it's a gem," Gutierrez says. "I knew I wanted to use that bed and have the height of my color blocking emphasize it." A lower bed might have a lower border; you can test out the look by applying painter's tape to see how the line falls.
Make like Mar Ward of lifestyle blog To & Fro and pay homage to a favorite place with a mural. We love the moody colors and clean lines she used in her daughter's bedroom, which is now the perfect sanctuary for a young explorer.
"The inspiration for this mountain wall mural came from our love of Alaska, and the time my husband and I spent living there. We have a deep love for the outdoors, and this love is something that we've transferred to our two little girls," Ward says. "It was very simple to make—all it took was a few colors of paint, some painter's tape, and an afternoon."