This Expensive-Looking Console Table Is Actually Made from Walmart Bowls
We
independently
select these products—if you buy from one of our links, we may earn a commission. All prices were accurate at the time of publishing.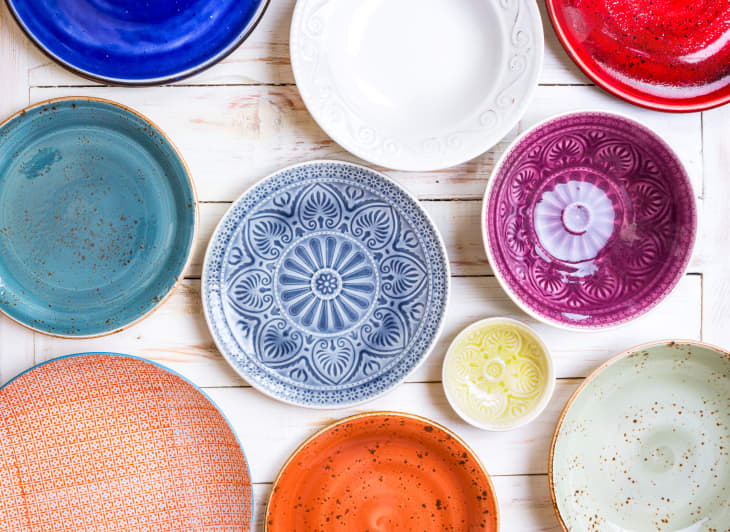 A collection of bowls turning into a table might seem impossible, but with imagination (and lots of glue), it can actually be done.
In a second video, she coats both the legs and the top using a stone spray paint for a natural look. After gluing the two parts together, the result is pretty great: a larger version of a pricey console table, but made at a fraction of the cost.
According to her, the biggest expense was the big, blue planters, costing $20 each, while the rest of the supplies cost about $100. Based on the approximate sizes, colors, and prices, we have a pretty strong hunch that the blue planters are the Better Homes and Gardens Toramina 12″ Speckled Planter, the red bowls are the Mainstays Chiara Stoneware 6.25″ Round Red Bowl, and the white marble bowls are the Better Homes & Gardens Melamine Marble Serve Bowl, all from Walmart. Online prices are slightly higher than in-store, but they're still much less expensive than the real deal. The total cost for the dupe is between $180 and $200.
Many in the comments section loved the final product too, and some even gave suggestions to make it better. For instance, they said that she could have saved more money had she bought bowls at the Dollar Tree or at Goodwill. Another added that she could also make the top thicker and longer for better scale.
And while there were a few who weren't too impressed with her work, citing flaws in the texture and the deviation from the reference photo, everyone nevertheless applauded her effort and creativity. 
"It looks amazing! More expensive-looking than your inspo," said one follower, while another added: "Still love how you are trying and give us all ideas. Keep it up."