4 Ways I Celebrate Holi at Home
We
independently
select these products—if you buy from one of our links, we may earn a commission. All prices were accurate at the time of publishing.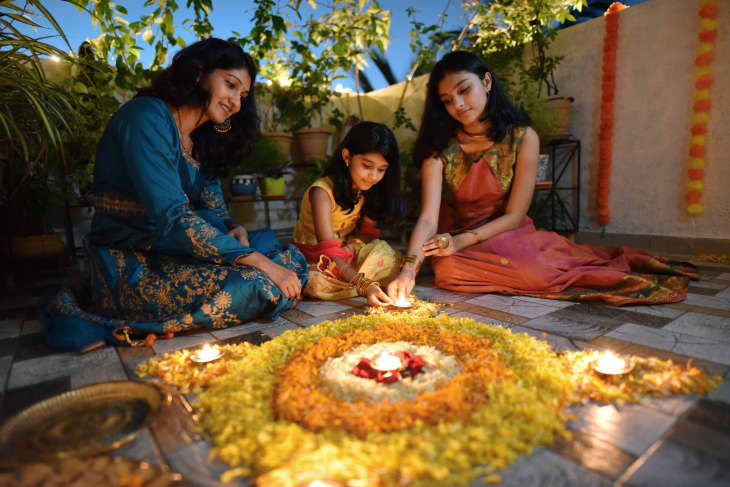 In South Asian culture, welcoming spring means celebrating Holi. Holi is known as the "Festival of Colors," and is symbolic of the good triumphing over the bad. Part of celebrating means friends and family throwing colorful powder on each other that cover faces, clothes, and hair. It's a cat and mouse game where people dodge each other to prevent getting color on them, but inexplicably, it still happens. Streaks of red, yellow, or blue may land on faces or graze shoulders. Mischievous smiles, music, and general revelry set the stage for Holi. 
As a young girl, I remember attending Holi celebrations with my parents at the local temple. It was a chance to run in an open field, play with colors, and eat lunch with my friends. The general vibe was filled with whimsy and delight. As an adult, I've tried to recreate some of these traditions with my daughter, too. Here's a look at the significance of Holi, when it will be celebrated, and four ways I plan to celebrate Holi with my daughter in my own home. 
What is the significance of Holi? 
Holi is a celebration of new beginnings and in the Hindu tradition, it is also a symbolic mark of light pushing out darkness. In this ancient spring festival, people gather around a bonfire and participate in religious rituals with the hope of vanquishing internal evil and letting light prevail. 
People usually make the bonfire the night before the traditional Holi festival begins. This particular ritual is a way to bid farewell to the winter and welcome the new energy of spring. 
When will Holi be celebrated in 2023? 
Holi is celebrated based on the lunar calendar, so it's typically commemorated on the night of the full moon in the twelfth month (called Phalguna) of the Hindu calendar (which usually means it falls in late February or in March). This year Holi will fall on March 8, with the bonfire occurring on the night of March 7. 
4 Ways We Will Celebrate Holi 
There are various ways to commemorate Holi, and of course, South Asians honoring the holiday in the United States will have different ways to celebrate. Here are four ways I've celebrated the holiday: 
Many cities in the United States celebrate Holi at local temples. I've been lucky that every city I've lived in has a vibrant Indian community and my family and I can celebrate Holi with loved ones. Usually you celebrate the holiday the weekend before, and most temples have dry colors you can purchase. At these festivals, music blares loudly, and people wait for the color throwing to commence. The moment that happens, I chase my daughter and make sure she's covered with a rainbow of different colors. Just when I think we are finished with all the color throwing, she will swipe my back with bright yellow. We've also experimented with water guns that shoot out several different hues. Seeing everyone doused with color is a sight that I've never forgotten. 
Hindu holidays are usually synonymous with certain drinks and foods. During Holi, drinks like mango lassi — a liquid yogurt mango-infused cold concoction and thandai, an iced milk with saffron — are popular during the holiday. Foods like pakora (think fried vegetables), puran poli (sweet flatbread), and dhuska (a savory bread) are also traditional eats at Holi festivals. We indulge in some of these items at festivals, and also sometimes take some to-go to enjoy at home. 
Making a rangoli at home is another way we've celebrated the holiday. A rangoli is a sketch of a design, like a flower, that usually welcomes people at the entrance of homes. The sketch is filled with colored dry powder and is an aesthetic way to greet people. In the past, I've done rangoli on my porch and my daughter has helped me fill in the design with fun colors. It is a way to welcome good luck and prosperity for the spring season. 
Talk About the Significance of the Holiday 
Discussing Holi and what it means to our culture is important, especially since my daughter hasn't had a chance to observe the holiday in India. In the past, she's attended gatherings where one person takes the lead to help her and others understand what the holiday means and why it is important to celebrate.