The Weird and Fascinating History of Bundling Boards
We independently select these products—if you buy from one of our links, we may earn a commission. All prices were accurate at the time of publishing.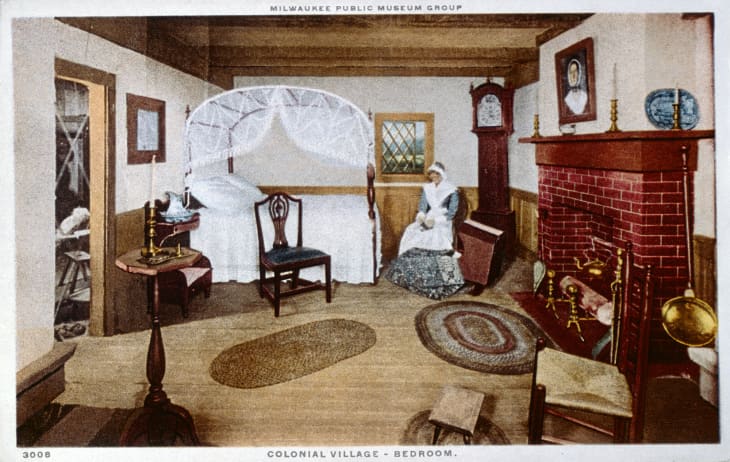 History is chock-full of wild inventions—especially things that were used during courtship to prevent anything "scandalous" from happening before marriage. Chastity belts, courting tubes, and bundling boards are among the many, erm, interesting inventions that made their way across Europe and into the United States to keep intimacy to a minimum. So what is a bundling board?
Well, before diving into what the board is, it's good to know what the act of bundling is. According to Dr. Michaela Kleber, a historian of the early United States at Northwestern University, a bundling board was a tool that helped facilitate bundling—an 18th century practice of pre-marital bed-sharing that lower and middle class families in British North American colonies would take part in.
"Basically, bundling was when courting couples would share a bed for a night, with the expectation that they would remain fully clothed and not have sex," says Dr. Kleber. "If they did, and a pregnancy resulted, it was also expected that the couple would marry." But despite this practice and all attempts at keeping lovers separated, it didn't have a 100-percent success rate. "There's evidence that they did have sex: 30 percent of brides in British North America at the end of the eighteenth century gave birth within eight and a half months of their wedding," says Dr. Kleber. "And that number is higher in certain areas like the Chesapeake."
Bundling allowed young couples (and in some cases, visitors) to share a bed and practice intimacy. But clothes were worn, and oftentimes a bundling board would come into play to literally draw the line.
What is a bundling board and what is it made of?
It's a physical divider, placed down the center of a bed to keep unmarried partners from touching. "Bundling served as a way for courting couples to experience some physical intimacy before their wedding, and was also practical for suitors who traveled long distances to small, isolated homes that didn't have much privacy," says Dr. Kleber. "Sometimes, families would place a 'bundling board' between the couple to ensure that they did not touch during the night"
There's little information on what the boards were actually made of. "If I had to, I would guess that families didn't have a dedicated bundling board, but rather used a piece of wood that they had handy," she says. There are some images out there that portray bundling boards as slabs of wood, but in other cases, bundling bags were used, which were basically makeshift cloth sleeping bags.
When were bundling boards popular?
Bundling was most popular in the 18th century in the British North American colonies, according to Dr. Kleber. "It was also practiced in Europe by Welsh, Dutch, and German peasants, and probably came over with those colonists."
When did the use of bundling boards stop?
While this sounds like something that's from eons past, you may be surprised to learn how long this practice continued. Bundling "came under attack towards the end of the eighteenth century by authority figures who saw the practice as immoral," says Dr. Kleber. "It declined in the late eighteenth century, though was still practiced in rural areas of New England and Pennsylvania into the nineteenth century."