8 Weird Home Trends That We Hope Aren't Coming Back
We independently select these products—if you buy from one of our links, we may earn a commission. All prices were accurate at the time of publishing.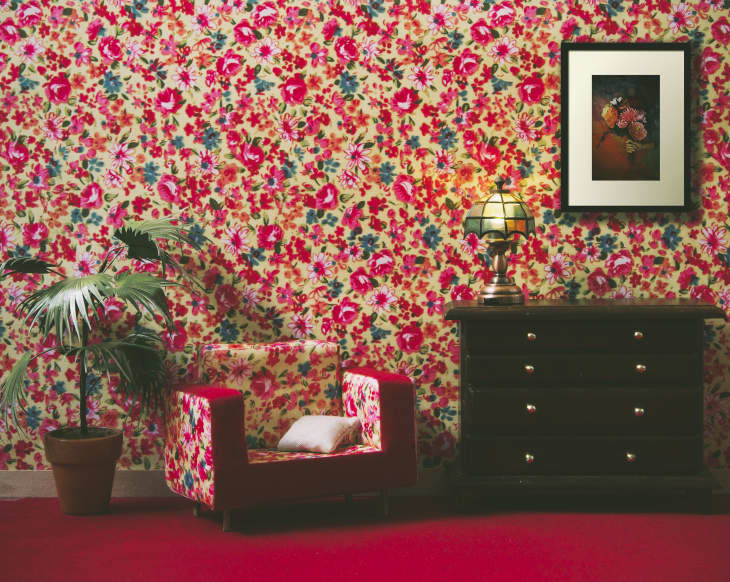 Home trends are fleeting, and what's exciting today might make you cringe a decade from now. But that's part of the fun. We buy the lava lamp and the chintz sofa because it makes us happy in the moment, and then we often look back at photos of our houses and, embarrassed, say, "What was I thinking?" Trends change, but they're absolutely a portal to what was cool decades prior. Even though what goes around comes around, we wanted to share some weird home trends from the past that we hope don't make a comeback anytime soon. And listen, if you have (or love) one of these things, you do you! It's your home, and you make the rules—but we might still be scratching our heads if we see these popping up anytime soon.
Follow Topics for more like this
Follow for more stories like this
Plastic couch covers were a smart invention in theory. You could keep your cushions safe from wear and tear, but at what cost? Exposed skin sticks to plastic in the summer when you sit down, so they aren't exactly comfortable—or quiet, for that matter. And aesthetically speaking, it's no better. Your living room literally looks like a warehouse. Oddly enough, many plastic covers are 4-star products on Amazon with multiple reviews. Maybe it has to do with dogs and cats? If you have pets, plastic furniture covers just might be a necessity that you have to live with, but a regular slipcover would definitely look better, and do much of the same job.
Ruffled Toilet Seat Covers
In the '80s and '90s, folks took inspiration from the balloon valances on their windows and applied that same material to their toilets. Seriously. Bathrooms often weren't complete without ruffles hanging from the sides of the bowl and the tank. Nowadays, we know all that fabric near the toilet isn't the most hygienic of decorating moves. Toilet seat covers are one thing, but we hope these toilet valances never come back!
Speaking of questionable bathroom fads, in the 1970's it became popular to carpet the bathroom. Shag was the look du jour, as seen in the image above, and you often matched your bath mats and toilet covers to the floor. Actress Jayne Mansfield loved the look so much that she famously covered her entire bathroom in pink shag carpeting—floor, walls, ceiling.  Again, wet spaces and rugs don't really mix, so you don't see this kind of thing too much in today's homes. But I'm sure there's a bathroom out there with carpeting that looks chic. I just haven't found it yet.
Plaid was and still is a popular pattern to add to your home, especially during the fall. Plaid wallpaper, bedding, and decorative pillows really nail that preppy, classic Americana look. But one thing's for sure—covering your entire room, from floor to ceiling, in one repeating pattern can be… a lot. Think about it: Any of these pillows or throws would be great on its own, and this image is probably intended to show this brand's full collection of plaid and tartan home goods. But if you had all of these textiles and plaid wallpaper and a rug, it'd be too much. Stick to one or two plaid pieces per room, even if you're the world's biggest Ralph Lauren (or "Gossip Girl") fan.
Glass block walls and windows were everywhere in the '80s, including in kitchens. You'd often see them as wall dividers and accents on bars and islands. And, of course, they were used liberally in bathroom shower surrounds. Glass block features often look dated and a little cheesy, but this is one trend we could see coming back around and not totally hating it. But glass blocks mixed with LED lights? That's another story.
From palm leaves and naked mermaids to random swirls and vines, the 1980s loved a glass shower door etched with a decorative motif. Our take on this one? If you really want a pattern or print in your bathroom, stick to a shower curtain that's easy to switch out if you end up tiring of it.
Seeing yourself a thousand times while on the toilet or washing your hands can feel creepy at worst, trippy at best. This look probably caught on to make a tiny bathroom look more spacious, but we're so glad wallpaper has become the go-to decorative finish for powder rooms. Let's save the wall-to-wall frameless mirrors for fireplace surrounds and other less intrusive spaces.
Carpeted Walls and Floors
You've heard of ripping out carpeting when renovating an old house, but what if you had to strip the walls and doors, too? Yep, you read that right. Wall and doors were sometimes carpeted, and it sounds like a cleaning nightmare. Can you vacuum doors and walls? We'd rather not find out, so fingers crossed we've seen the last of this trend.
Which of today's trends do you think will make us cringe in the future?