The Best Facebook Group on the Internet Is Filled with Old Salt and Pepper Shakers, Grandmothers, and Whimsy
We
independently
select these products—if you buy from one of our links, we may earn a commission. All prices were accurate at the time of publishing.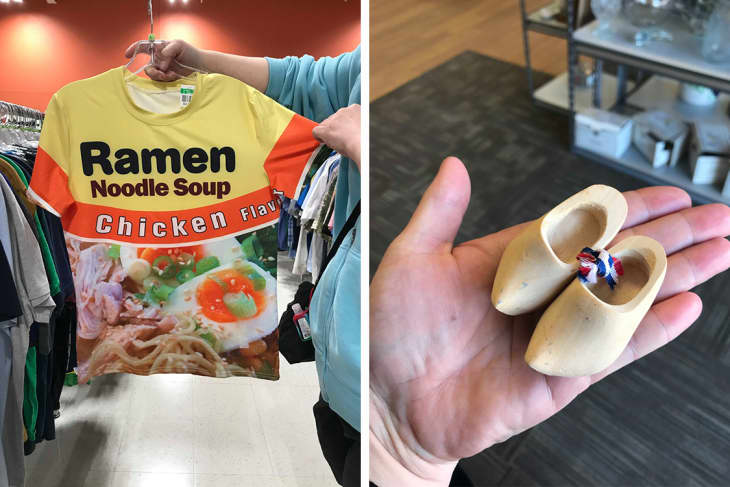 It's powerful when something halts the zombie-like scrolling we do on our phones. The thing that does it for me, without fail, every single time, is Weird Secondhand Finds That Just Need To Be Shared, the most delightful Facebook group on the World Wide Web.
Weird Secondhand Finds That Just Need To Be Shared is exactly what it sounds like: a virtual collection of the strange items folks encounter at thrift shops, yard sales, and beyond. Members are instructed to submit up to three photos of an object, write a brief description of what makes the thing so unusual, and include where it came from. Stuff from a Goodwill store in Arizona, an antique mall in Vermont, and a yard sale in Florida are all fair game. 
Then, post after post, the joy floodgates open. Thousands of likes and comments roll in. Enthusiastic collectors express surprise at rare finds. Grandpas and great aunts reminisce about the good ol' days. Granddaughters post photos of themselves wearing their grandmothers' vintages dresses, which somehow fit them perfectly. It's all very wholesome and wonderful and I will never tire of it. And I suspect the other 2 million members won't, either.
The group started on Christmas Eve in 2016. Malissa Franzen, a customer service representative living in the Twin Cities, Minn., area, created it with her best friend M'Lynn Jamesgaard as a way to share photos of thrifted items with family members.
"We would always text each other pictures and I just thought it would be an easier place instead of blowing each other's phones up," Franzen says. "I only expected it to have, like, a dozen members."
Frazen kept the group public as she began posting photos to it, and almost immediately, she says, people started to join. First it was a hundred members, then a few thousand—and then hundreds of thousands appeared.
"The popularity of this page has truly been a surprise to us," says the 38-year-old. "We have never done anything to intentionally grow the group."
That said, moderating a group of more than 2 million people takes time—and dedication. Franzen spends almost all of her free moments moderating the page; she approves and denies posts in the hours before work, on her lunch breaks, and in the evenings, sometimes until midnight. A total of seven moderators volunteer their time to comb over between 1,000 and 2,000 posts per day. 
Still, even after looking at thousands of weird secondhand finds from around the world, "I'm still constantly surprised by the things we see," Franzen says. "It's pretty amazing."
The group goes beyond gawking at tree-branch figurines with glowing eyes and Tom Selleck portraits—plenty of the items featured have one-of-a-kind backstories. One woman shared her mother's salt and pepper shaker collection, and it garnered such a powerful response that she started her own Facebook page where she can share a salt and pepper shaker set daily. Another woman recently stumbled upon a painting she'd done in the 1980s at a thrift store. When an HVAC installer posted photos of marbles he's collected from heating ducts over the years, so many supportive comments led him to draw a comparison from his collection to a valuable life lesson. ("Even when it's really rough. Someone is looking for you. Someone will appreciate you and cherish you forever.") Another member felt so inspired by a post she saw, she painted it. Everybody revels in the weirdness.
"One of the most common misconceptions that people have is what we consider the word 'weird' to mean," Franzen says. "For us, weird doesn't mean bad. It doesn't mean ugly. It doesn't mean unique, either. Weird just means unusual. I think a lot of people think they need to have this 'I found this weird, ugly, horrible thing.' For us, that's not what weird is. Weird means wonderful."