Here's the Truth About Particle Board
We independently select these products—if you buy from one of our links, we may earn a commission. All prices were accurate at the time of publishing.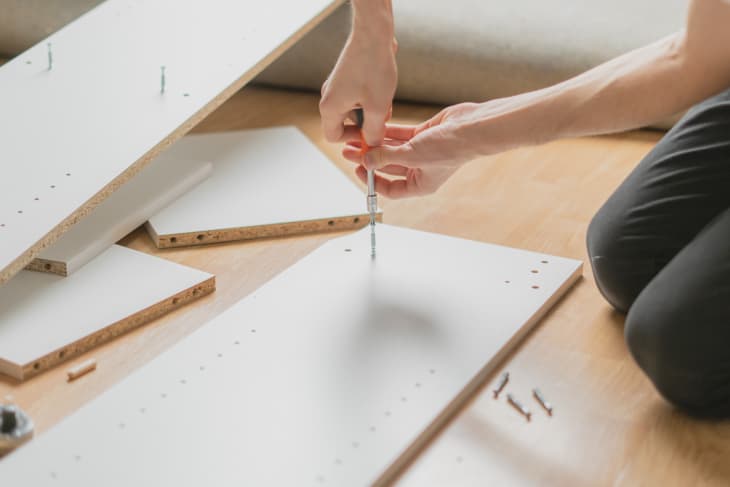 Whether or not you know what it is, you're probably surrounded by particle board right now — in some furniture, under your flooring, in nearby speakers, and maybe even in the ceiling or on the roof of your home.
Follow Topics for more like this
Follow for more stories like this
Even though particle board, an amalgamation of types of wood and wood products, can be found in many different places and products, Robert Haymaker, a General Contractor from Virginia Beach, Virginia, explains that particle board can be used in certain applications, but by no means can it be used for everything. Here's what you need to know about particle board, including the pros and cons of using it in your home. 
Also known as Low Density Fiberboard (LDL), particle board is a building material that is manufactured from lumber scraps such as wood shavings, wood chips, sawdust, and other by-products from lumber mill operations. These materials are glued together and then compressed into boards that can be cut to size and used for a variety of projects.
"Particle board is made from scraps and wood chips that are glued together, says Haymaker.  "It's cheap because it's abundant. Because it is a cost effective material, it is used for a variety of different applications."
Where is particle board used?
Flooring underlayment
False ceilings
Core material for doors
Furniture — often in cabinets, desks, and shelves
Speaker boxes
Wall panels
Particle board is a versatile material, but its abilities do come with limits. "Particle board can be used in roofing and flooring, but it shouldn't be counted on for its structural value but rather as a support material," says Haymaker.
Particle board vs. plywood
Particle board is made with different wood scraps compressed together to form a sheet. Plywood, on the other hand, is made when thin sheets of wood are stacked on top of one another, with each layer rotated to form a cross-grain pattern, and glued together to form a single plywood board.
Plywood is typically more expensive than particle board, but it's stronger and can be stained to enhance the wood grain of the top layer. Particle board is much more absorbent so it is difficult, but not impossible, to finish it with a stain. 
Functional and versatile: Particle board can serve a variety of purposes throughout the home from furniture to roofing material.
Budget-friendly alternative to wood: Particle board can be covered in laminate or wood veneer to create a wood look for a lower cost than actual wood.
Can be used as an underlayment: It can be used as an underlayment for flooring and, in the right conditions as underlayment for roofing.
Not recommended for wet environments: Particle board is prone to absorbing moisture, causing it to warp or grow mold and mildew.
Not as strong as regular wood: As far as shear strength and compression goes, particle board is not nearly as structural as regular wood.
Needs a sealer before staining: Because particle board is absorbent, staining can be difficult. To make the process easier, it's recommended to add a sealer before staining.
Needs a secondary attachment: Particle board cannot be attached at its ends because the layers will split apart, so a secondary attachment, such as a bracket, must be used.
Ultimately, choosing to use particle board depends on your budget, lifestyle, and general aesthetic taste. But if you're looking for something budget-friendly and versatile, then it may be just the right material for you.