8 Things You Should Never Worry About Cleaning Before You Host
We
independently
select these products—if you buy from one of our links, we may earn a commission. All prices were accurate at the time of publishing.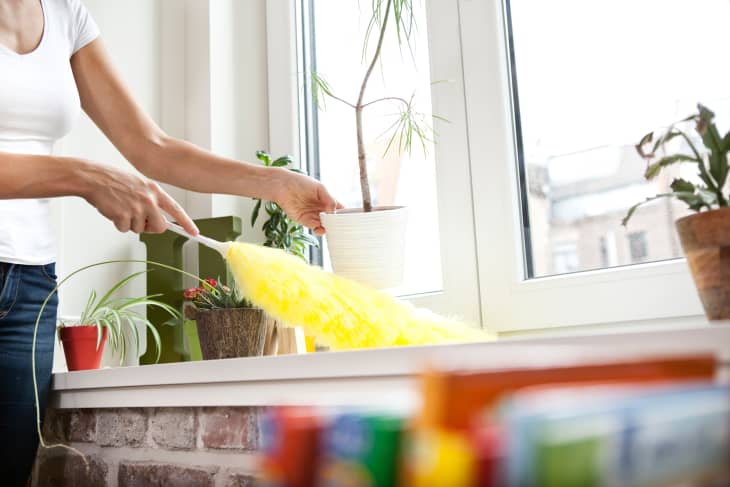 Raise your hand if you've ever immediately regretted your offer to host a party once you realize how much prep work it'll require. Holiday gatherings, with all their merriment and joy, are not without their stressors. It's great to bring your friends and family together to eat good food and "cheers" the night away, but the 12 to 24 hours before you get to that point are hectic. So, what if you could knock a few items off your overstuffed to-do list?
Finding time to get your home in tip-top shape is always a challenge. To help you pare down which spaces in your home need to be sparkling for guests, I asked Kadi Dulude, Colorado-based owner of Wizard of Homes NYC, and Angie Oro, owner of New Orleans-based Angie Nola Maids, to suggest some spots you can skip cleaning before company arrives. This way, you can be the host with the most — without doing the most. 
There's no need to break a sweat cleaning non-guest bedrooms or any other rooms you don't plan on having guests in. "Just close the door and keep [them] off-limits," says Dulude. But if you plan on storing coats on a bed or providing a changing table for parents to use in a kids' room, make sure those spaces are presentable.
Dulude says not scrubbing the tub will save you a lot of time. If you have a shower curtain, you can close it to conceal the tub from guests. However, she notes this tip is a no-go for the guest bath if your guests stay overnight. And if your tub includes a shower with a glass door, give that a quick pass. 
Don't worry about appliance interiors. 
Check the exteriors of appliances for noticeable stains or streaks to wipe away, but you can forgo a deep clean of the interiors. As Oro notes, "Your guests won't open your oven." 
Leave the bedroom closet and linen closet alone. 
This tip is for closets you know guests won't see or have access to. "You can skip that closet and even add as much loose clutter in it as possible," says Dulude. However, do tidy any storage spaces you may open in front of guests, like the entryway or coat closets.
"If someone is going to your home, they won't overthink it and say, 'Let me check her windows,'" says Oro. Of course, wipe away any conspicuous splotches with a quick spray of Windex and a paper towel. 
Disregard (most of) the baseboards. 
Both Dulude and Oro say baseboards are another spot you can skip, as guests usually won't be close enough to floor level to take a good look at them. However, Dulude suggests cleaning baseboards in the bathroom guests will use. "That's the one place someone might be sitting low and staring at your baseboards," she says. 
Ignore the floors — with a few exceptions. 
Dulude says you might be able to skip cleaning the floors — if they're free of crumbs and dust bunnies. Like the baseboards, though, she notes that you'll want to make sure the bathroom floors are clean. You also won't be able to skip this task if you plan to enforce a no-shoes policy. "If you want people to walk on your floors [without shoes], then you must be respectful and make sure your floors won't stain their feet or socks," she says. You also don't want anyone to get injured by stray glass or plastic shards.
Don't bother doing full hampers of laundry. 
Even though you'll be in cleaning mode, Oro says you shouldn't consider your party prep day as laundry day. Wash bathroom and kitchen towels and sheets for overnight guests, but don't sweat anything else.