What We're Loving This Week: Lemon Wallpaper, an Affordable Light Fixture & More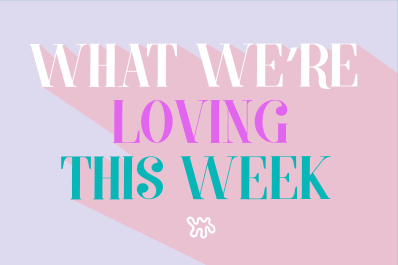 Welcome to the Love List, a new series where Apartment Therapy editors share what they're crushing on this week, whether it's an article, a product, or something else entirely!
Ever wonder what our editors are obsessing over? This week, some of the folks behind Apartment Therapy share their favorite finds, including some lovely lemon wallpaper, star patterned tile, a sports podcast, cheeky clutches, and more.
Novogratz Chromeo Linear Pendant: The Novogratz launched an Amazon collection recently, and I quickly snatched up this simple industrial-style pendant to replace my bathroom vanity's sad track lighting. It came in one day with free shipping (thank you, Amazon Prime!) and looks super great for the under-$60 price tag. It also has a choose-your-own size rod to fit any space. —Taryn Williford, Lifestyle Editor
Chasing Paper's new Lemon Fresh Wallpaper: As a renter, I'm insanely jealous of home owners who can plaster wallpaper on every surface of their home, but thankfully companies such as Chasing Paper exist, who make super stylish peel-and-stick versions. Their newest release is Lemon Fresh, which put a huge smile on my face the second photos of it hit my inbox. I know I love it, the only question that remains is…where do I put it? —Arlyn Hernandez, Design Editor
30 for 30 Podcasts: I've been keeping up with the news, politics especially, perhaps too much lately and it's making my head hurt and my stomach churn. I've needed to find places where my brain could hang out and feel good about being there. The new 30 for 30 podcast series from ESPN has been one of those places. The first, five-episode season revisits niche or forgotten moments in sports and follows up with the main players. Most of the stories, like the build-up to and aftermath of Reebok's 1992 pre-Olympic "Dan and Dave" ad campaign are ones I dimly remember hearing or reading about but whose richness I didn't appreciate at the time. Maybe I should mention — I'm not into sports; I just enjoy absorbing, well-crafted stories. — Carrie McBride, Managing Editor
Amethyst Artisan's Stars Cement Tile: Can I love tile two weeks in a row? Because I love this tile. I shared this photo of a green tile backsplash with black stars in this post about cement tile in the kitchen, and, at the request of one of our readers, went on a hunt for the source of the tile. First I found some more photos of this gorgeous kitchen, and then, over at Amethyst Artisan, I found the tile I was looking for. (They don't have this particular colorway, but most makers of cement tile will let you create custom blends.) —Nancy Mitchell, Senior Writer
This Paris Home Tour from GCG Architectes: This recently remodeled home has a lot going on, but the dining room stood out to me for a couple of reasons: its vibrant colorblocking, the to-die-for Jardin d'Osier Hermès wallpaper (one of my all time favorites), and the steel glass enclosure, which divides the space but still lets light through. If you like a lot of contrast and color, and much mixing of pattern, this place is right up your alley. —Dabney Frake, Projects Editor
Studio DIY's Can't Clutch This Subscription: I'm a huge fan of Studio DIY's colorful style, and ever since founder Kelly Mindell started a clutch subscription back in December, I've been obsessed. From tacos to clouds to bubbles to pop tarts, they are so playful and fun, and I get a ton of compliments when I carry them. They're totally—yes, I'm going there—clutch. —Tara Bellucci, News & Culture Editor
Now, you tell us— what are you loving this week? Share in the comments!
Apartment Therapy supports our readers with carefully chosen product recommendations to improve life at home. You support us through our independently chosen links, many of which earn us a commission.