4 Places to Buy Geodesic Dome House Kits
We independently select these products—if you buy from one of our links, we may earn a commission. All prices were accurate at the time of publishing.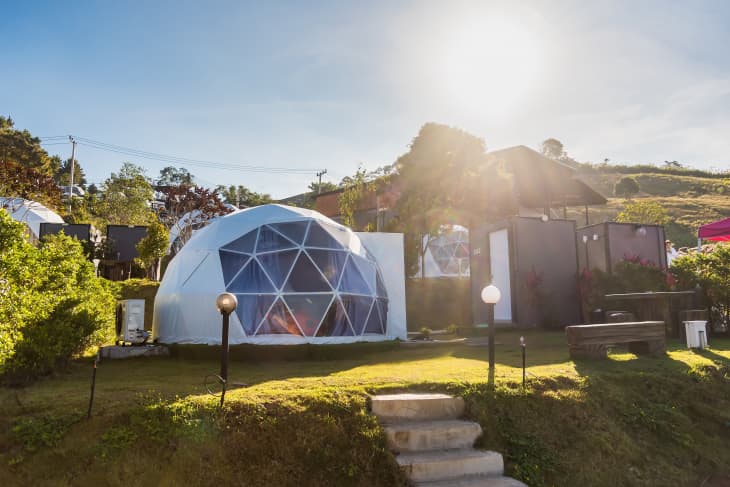 I'm not sure if you've heard, but our gal Earth is really going through it right now. Climate change is the driving force behind an unprecedented level of destruction, and major climate events are forcing people to wonder about how to navigate an unpredictable world. Folks looking to purchase a new house may stop to ask: will a once-in-a-lifetime forest fire/flood/hurricane/tornado/hail storm/blizzard destroy my home? And what, if anything, can I do to prevent this?
Follow Topics for more like this
Follow for more stories like this
I'm not trying to harsh anyone's mellow, here, I swear! I'm setting the scene for a solution — or at least, one very cool way to help reduce your own carbon footprint. The answer is obvious: Geodesic dome houses.
Okay, perhaps this wasn't super obvious to you. Heck, I didn't know a whole lot about geodesic domes until I was tasked with researching these sustainable homes. For ecologically minded house hunters and home kit builders who are committed to combating climate change and environmental degradation from the front lines of their own threshold, look no further than the dome home.
Before I get into where you can buy your own dome kit, here's a brief history lesson: Invented by the architect/designer/futurist R. Buckminster Fuller, the domes were developed as an affordable housing option. And not only do geodesic dome dwellers save on the cost of materials and labor, but also they save on energy consumption. Domes are remarkably energy efficient, with the modest surface area of the dome lending itself to easy heating and cooling. 
Saving the earth while saving money? Yes, please! Here are four places to buy a geodesic dome house for yourself.
This company is the OG of dome dwelling construction. You can utilize Pacific Domes' expertise to order and construct a geodesic dome that fits your household's specific needs. If you're a tiny house movement type of dweller, they've got you covered with smaller, more simplistic designs. 
If you're looking for a full-on glamping or eco-resort experience, Pacific covers those kits as well. With so many options for sizes, this is a good place to check out if you want a truly customized living space. Their dome gallery provides some serious eco-friendly inspo.
Just as the name implies, this company makes constructing your own geodesic dome home simple. Easy Domes' award-winning design firm creates dome kits that produce truly exceptional-looking homes. For folks with larger families, you can actually purchase two separate domes and connect them for a larger living space with the added environmental and financial benefits that geodesic homes offer. 
With two floors, the largest domes offered by Easy Domes resemble a regular ol' house from the inside, with spacious kitchens and living spaces and separate bedrooms on the upper floor. This company offers a solid compromise for those easing into dome living without feeling like you're living in a bare-bones dome.
For households who've seen "Twister" one too many times, (hi, it me), Ai (American Ingenuity) Domes is unique in that the company provides concrete dome kits that are resistant to tornadoes, hurricanes, and the apocalypse. Perusing their photo gallery, I'm particularly struck by how organic these structures look in their natural environment, and especially in the American South and Southwest. Unlike some other companies' structures, these geodesic domes often include wraparound decks or balconies, which is an added benefit for nature lovers among us. And while constructing with concrete can get a little tricky, Ai Domes' prefab kits are available for handy builders with plenty of friends to help.
If you know you want to construct your own dome home but aren't sure where to start, Natural Spaces Domes' extensive experience and catalog of plans can offer you a secure place to start. They've got a whopping 1,600 custom dome plans for you to peruse! Dome elements can be added to more traditional structures as well, providing homeowners some of the advantages of dome living without requiring the entire leap into the geodesic world. Plus, Natural Spaces showcases a variety of customizable pieces like cupola roofs, skylights, and other sky loft options.