Which Lindsay Lohan Had The Better House in Parent Trap?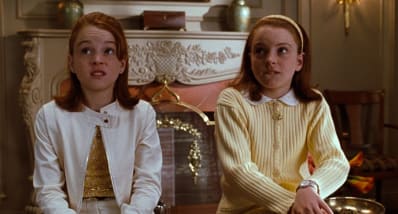 (Image credit: Walt Disney Pictures)
Although I was the grown age of 22 by the time my parents split up, I was still hoping for a fabulous Parent Trap ending. Not the one where my parents reunite, but the one where I get to live on a California vineyard AND in a London townhouse.
If you don't remember, in the 1998 remake of the Parent Trap, Lindsay Lohan plays Annie James and Hallie Parker, twins separated at birth and fortuitously reunited at summer camp. They make plans to swap lives so each can finally meet their other birth parent and, more importantly, creep on each other's homes. As luck would have it, both parents are loaded and both, inexplicably, have servants.
Each home is so baller that I've never definitively been able to say which Lindsay Lohan has the better home/which one I'd like to rent on Airbnb more. That is until now. It was a tough call but I've made my decision.
Rustic Country Estate
Twin: Hallie
Dad: Dennis Quaid
Occupation: Vineyard Owner
Location: Napa Valley, California
House Style: Spanish style ranch
Top 5 Selling Points
1. Swimming pool
There's nothing like seeing a pristine in-ground pool in a movie, to make you forget what a nightmare they are to clean in real life. This pool is featured in the famous showdown scene between Hallie and her almost step-mom, Meredith. Threatening someone from inside a pool is the ultimate power move. Nice job, Hallie.
2. Horses
Dennis Quaid is about that ranch life. So much that he owns horses, presumably to carry him from one end of the property to the other, because it's that big. I've never ridden a horse but I like the idea of having them at your disposal in case you drink a bit too much wine and can't drag yourself home. Which brings me to my next point.
3. All the wine
Hallie lives on a vineyard and has a massive wine cellar in her basement. Dennis Quaid brings Natasha Richardson down there when he's laying on his ultra-1998-Dennis Quaid-charm. This access to vintage wine is amazing and dangerous.
4. Ivy-covered
The main villa on the ranch is covered impeccably in ivy. It's a style that realistically requires a level of upkeep no human is capable of, but here in this magical universe, you can pretend for a minute that this is the Ivy League college of your dreams.
5. Chessy
Chessy is Hallie's nanny, cool aunt, and stand-in mom all mixed together. She has this confident, ageless aura about her like she's been there and will continue to be once everyone else is gone.
Cons
1. Maintenance and upkeep fees
This is a gigantic property so the maintenance and upkeep on it has to be a full-time job. Drinking the wine is probably not worth all the pruning and picking you have to do in the vineyard.
2. Geographically isolated
If you're ok never leaving your property, however big, and not seeing anyone outside your family for days on end, this is the place for you. I imagine it's easy to feel isolated after you hit that 3-day mark up in your ivory ranch tower.
Posh City Mansion
Twin: Annie
Mom: Natasha Richardson
Occupation: Wedding Dress Designer
Location: London, England
House Style: Townhouse
Top 5 Selling Points
1. Grand staircase
The staircase in this ritzy European mansion is what dreams are made of…if your dream has always been to make a grand entrance in front of your dumbstruck prom date like mine is. Descending this staircase on your way out the door would make even Monday mornings feel like an affair to remember.
2. Gigantic bed
We get to see Natasha Richardson's enormous bed (and all white sheets and duvet) during a heartwarming scene between the reunited mother and daughter. This bed looks so comfy and indulgent you can imagine staying in it all day and occasionally calling for tea refills.
3. Giant well-placed closet under the stairs
I'm a sucker for closets and this one has it all. It's built under the stairs and has a slanted door so it's super quirky and inherently magical. This is the closet where one twin receives an S.O.S. call from the other, and the curly phone cord (remember those?) sticking out from under the door, almost blows her cover.
4. Walking distance to iconic Abbey Road
In one scene Hallie (posing as Annie) is at home with her mom and then in another we see the two recreating the iconic Beatles Abbey Road cover photo. We never see them get into a car or taxi so I have to assume their home is walking distance to this cultural landmark. Being able to take photos here on the regular could rack you up some major Instagram follows.
5. Martin
To keep things fair, Annie also has an adult person who lives with her family and waits on her hand and foot. His name is Martin and he legitimately wears a suit and walks around carrying a tray. He wins points for being extremely ride or die when he discovers Annie is really Hallie but keeps her secret.
Cons
1. No elevator
This is the kind of vertical city mansion that needs an elevator. And not just any elevator, but one of those dumbwaiter freight elevators that is as terrifying to ride as it thrilling.
2. No yard
Living in the city you're going to be hard-pressed to find a big plot of land to call your own. You can say the city is your playground but it's still nice to have somewhere sprawling to escape the hustle and bustle at the end of the day.
(Image credit: Walt Disney Pictures)
And the winner is…
Hallie Parker on the vineyard with the maid! Annie James may live in a super hip European Capital City but Hallie's sitting on a wine fortune. This may not mean anything to an 11-year-old, but to a 30-year-old in desperate need of a girl's weekend, this is EVERYTHING.
Which would you choose?