Before and After: IKEA Cabinets Set the Stage for this Cozy $5000 Kitchen Redo
We independently select these products—if you buy from one of our links, we may earn a commission. All prices were accurate at the time of publishing.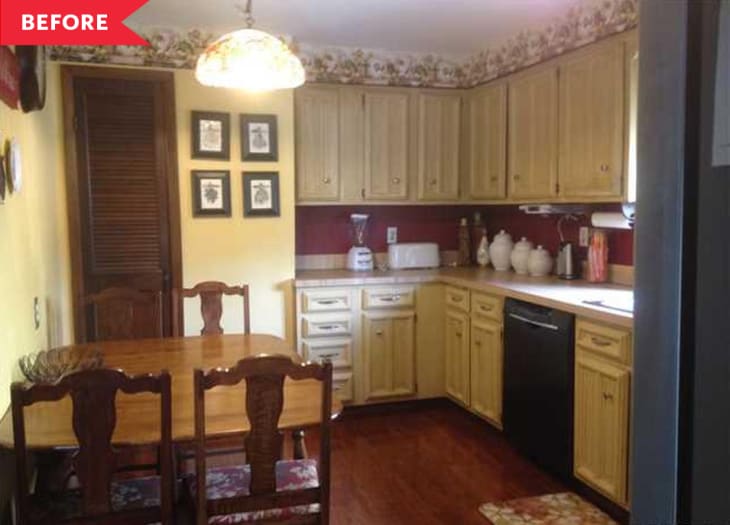 It's hard to find a home that's exactly perfect in every way. Maybe the living room has a cozy fireplace but the bedrooms are tiny, or maybe the bathrooms are freshly renovated but the closets are nonexistent.
Follow Topics for more like this
Follow for more stories like this
While there were many things that Jill Mansfield liked about her home when she moved in, the kitchen, she says, "was never a selling feature."
"It was dark, and the layout made it feel cramped, not to mention the cabinets had seen better days," Jill says. "The first thing I did when we moved in was scrape off that wallpaper border."
A year later, she was ready to take on a full renovation. "By then, we knew what worked and what didn't," Jill says. For instance: "We loved the sink placement under the window but felt cramped walking through a small doorway from the dining room into the kitchen right into the side of a refrigerator."
So with a flow-improving plan in place, Jill shopped IKEA for new white cabinets in a classic Shaker style. She also picked up the wood countertops, the apron-front farmhouse sink, and the faucet from IKEA. "We picked everything up in our SUV in one trip," Jill says.
Jill also hired out a structural engineer to help widen the doorway between the kitchen and dining room and install a beam for stability. "We knew we couldn't open the walls up completely, but just widening the doorway has made a world of difference," Jill says.
Jill brought her brother, a professional carpenter, to help with demo and cabinet installation. With his help, she also laid a peel-and-stick vinyl floor from Home Depot and installed new lighting.
Jill is thrilled with the results. "We LOVE our IKEA cabinets and huge farmhouse sink," she says. "I especially love the cabinet next to the oven, which has our pots and pans in drawers and has a hidden drawer within the top drawer for all our spices, measuring cups, and extra knives."
The best part is that she was able to achieve her dream kitchen without spending a fortune. This redo cost just $5,000, and the transformation is dramatic. "Kitchen renovations don't have to cost a tens of thousands of dollars!" Jill says. "We didn't move any gas lines or water lines, we didn't hire out anything (except adding the beam), we DIYed the flooring, cabinets, countertops, and tiling. You can, too!"

Inspired? Submit your own project here.