All "The White Lotus" Season 2 Filming Locations You Can Visit in Italy
We independently select these products—if you buy from one of our links, we may earn a commission. All prices were accurate at the time of publishing.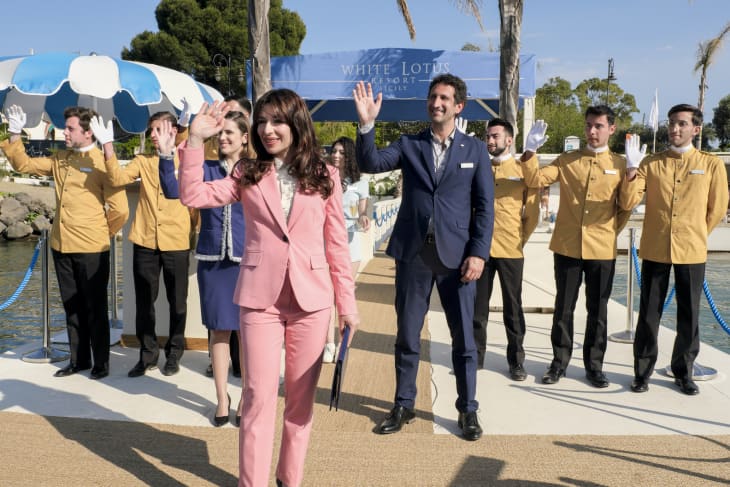 HBO's "The White Lotus" is back for another season of sharp satire and truly enviable vacation destinations. While Season 1 took place in Hawaii, Season 2 moves the picturesque drama to Sicily, Italy. Below, find a list of five filming locations from "The White Lotus" Season 2, all of which can be visited by fans of the series.
Four Seasons San Domenico Palace
Season 1 was primarily filmed at the Four Seasons Resort Maui, so it's only right that "The White Lotus" returns to a new Four Seasons hotel for Season 2. In this case, much of the action takes place at the Taormina Four Seasons Hotel in Sicily, Italy. Situated on a rocky promontory high above the Ionian Sea, the convent-turned-luxury hotel overlooks Mount Etna and the ancient Greek theater, Teatro Antico di Taormina.
With amenities ranging from a cliff top infinity pool to luxury dining, expect to see plenty of onscreen drama unfold within this lavish hotel.
Since the San Domenico Palace is perched right above the Ionian Sea, it's only right that some of the show's resort drama take place there. Official HBO stills show several of the season's new characters enjoying drinks aboard a yacht near their hotel.
Although most of "The White Lotus" Season 2 was shot on location, Deadline reports that the series wrapped filming at Lumina Studios, which lies just north of Rome. While the studio doesn't offer tours, it's a great excuse to swing by the country's capital city during your next Italian vacation.
This southeastern Sicily city is known for its baroque architecture, including a reconstructed 18th-century cathedral. According to a Vulture set report, "The White Lotus" filmed at a piazza and a villa in hills south of the city.
Vulture also reported that "The White Lotus" filmed in the Sicilian capital city of Palermo. Although the outlet didn't say much about the actual scenes being filmed there, Palermo is full of royal catacombs, world-renowned opera performances, and appetizing street markets to warrant a day trip.