Snail Mucus Isn't the Only Reason Korean Beauty is Big Right Now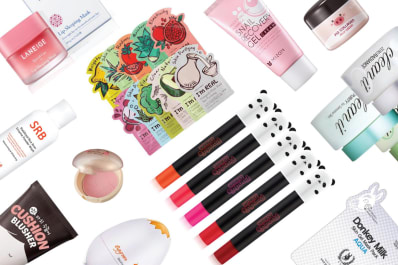 If the words sheet mask, Peach & Lily, 10-step skincare routine, and BB cream are familiar to you, then you're probably up on the Korean beauty trend, which continues to grow in popularity in the US—partly because it's lauded as a more natural, intentional approach to skincare, and partly because of the ridiculously cute packaging. I mean, moisturizing face mist in a pink bunny bottle? You had me at bunny!
K Beauty Is Everywhere
Korean beauty (K Beauty) products and Korean skincare practices, which have steadily gained a global following in the last few years, are now part of the mainstream U.S. beauty market. If you're interested in trying K Beauty products—they are now as mainstream as you can get:
If you don't know where to start, Korean beauty boxes are a good introduction to the trend. There are a number of companies where subscribers can sign up to receive sample sizes of beauty and skincare products that are beautifully packaged in pretty gift boxes. Most are monthly, but there are some single-box options out there.
Why is K Beauty So Popular?
According to Alicia Yoon of Peach & Lily:
More consumers are becoming aware of Korean skincare brands and how effectively and gently they're formulated - then they try some and they're hooked!
It also helps that beauty editors and bloggers love to buzz about the K Beauty products that they've also fallen in love with. Korean beauty products are incredibly advanced when it comes to ingredients and formulations because the Korean beauty R&D labs are pushed to extremes as Korean women continue to raise the bar for beauty products – in a culture where skincare is an extremely serious pursuit and the standard for "flawless skin" is unparalleled.
Online distributors, like Soko Glam and Peach & Lily, have helped grow the U.S. audience for K Beauty products.
And beauty Vloggers like Jen, aka MeejMuse have been promoting K Beauty for years. These videos are quite a fun rabbit hole, and after staying up way too late learning about K Beauty, I now want to be friends with these vloggers, so you know, Jen, Leah, Joan, if any of you are reading this, can we go makeup shopping together sometime? Is that creepy? Probably.
What Makes Korean Skincare Special?
Ok, so we've covered K Beauty's popularity, but in the words of my grandpa, what gives? As an out-of-the-loop beauty junky (I have two little kids that greatly limit my Sephora time and greatly increase my laugh lines...and wow, that was a genuinely terrible Mom Joke), I've heard about K Beauty from the exaltations of friends over the years. But now it's everywhere.
I figured I had a lot to learn about this sea change, so I was eager to dig beyond Internet bandwagonning and set out to do some IRL investigating at Chicago-based brick-and-mortar K Beauty store, Choc Choc, where I learned the ropes of K Beauty from owner, Leah Park.
Q: What are some differences between the Korean approach to skincare and the way we approach skincare in the U.S.?
Leah: In Korea, we learn to start preventative skincare when we're young instead of waiting until we see issues. So we'll start using a protective eye cream at 18 instead of when we start seeing wrinkles. We also use more products at once and products with natural ingredients that aren't typically used in U.S. skincare (ie., snail mucus, donkey milk, bee venom). Most Korean skincare products are milder and can be used by people with sensitive skin—when I first moved to the U.S., I was surprised at how perfumy a lot of the skincare products are.
Q: While beauty is serious business for Korean women, the packaging of K Beauty products is often really cute and playful.
Leah: Yes, we think beauty and skincare should be fun! It's a chance to play around with different products and find what works best for you—it doesn't have to be so serious all the time. Most of the products are pretty affordable as well, so lots of customers can buy high-quality products and it won't be too expensive for them.
Q: I've read a lot about the Korean 10 Step Skincare Routine. What are the 10 steps and are they really necessary?
Leah: Yes, there is a 10-step routine but that doesn't mean every woman uses it or uses all 10 steps all the time. It really depends on the person, what their issues are and the needs of their skin. I don't use 10 steps everyday. It's more just taking extra time to care for my skin with good quality products.
This sentiment is echoed by Charlotte Cho, co-founder of Soko Glam:
While Korean women do typically have more products in their routine than their American counterparts, it's not like they are using all 10 products, twice a day, every day. Whether it's daily, every other day, or weekly, each product enters the rotation for a specific purpose. Some you might even only use once a month, or only during a certain season.
I asked Leah to break down the 10 steps and how each of these products work:
The 10 Step Skincare Routine
Oil Cleanser: Massaged onto a dry face, this first step removes makeup, sebum, and sunscreen.
Water Cleanser: Water, or foam cleanser, is used after oil cleanser to remove sweat and impurities. (Hence the term "double cleansing" used in Korean skincare.) **Water cleansers are not recommended as makeup removers.
Exfoliator: Sloughs off dead skin cells.
Toner: Hydrates skin and prepares skin for further treatments.
Essence: A watery lotion that is part toner and part serum (but not a cleanser), it delivers hydration and helps with cell turnover.
Serums and Ampules: Concentrated gels specific to individual needs; acne, anti-aging, brightening, etc.
Sheet Mask: To be applied once or twice a week, sheet masks deliver concentrated serums to address specific issues.
Eye Cream. Hydrates and protects the delicate area around the eyes.
Moisturizer: Designed to seal in all of the previous steps and address individual moisture needs.
Aaaaand drumroll....Sun Protection: Because all of the other steps won't be effective if our skin is exposed to harmful UV rays.
We were especially curious about sheet masks, so we asked a bunch of people to try them out and report back to us:
Apartment Therapy supports our readers with carefully chosen product recommendations to improve life at home. You support us through our independently chosen links, many of which earn us a commission.