Here's Why This Furniture Staple Actually Makes the Best Bedroom Nightstand
We independently select these products—if you buy from one of our links, we may earn a commission. All prices were accurate at the time of publishing.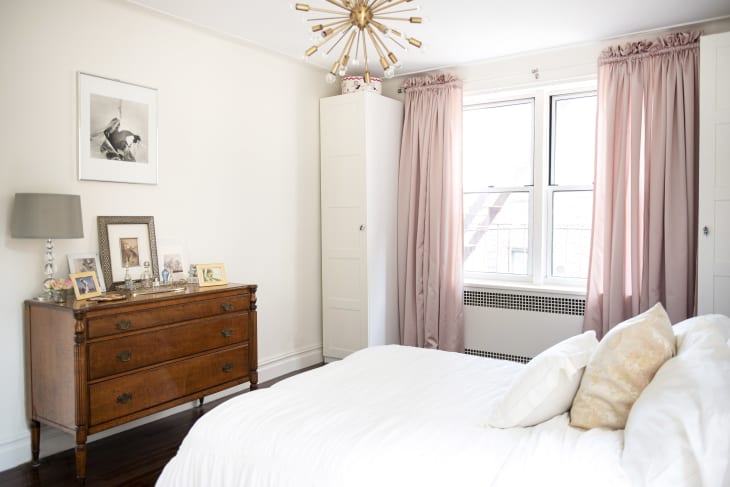 February is Bedroom Month on Apartment Therapy! We're sharing stories all month about bedrooms — from how to decorate them, to the fascinating history of them, and so much more. Head over here to see them all!
Follow Topics for more like this
Follow for more stories like this
As a small-space dweller, I'm all about pieces that go above and beyond the call of duty. A vintage brass trunk that not only looks stunning but can also serve as storage for my off-season dresses? Sign me up! A rolling kitchen island cart with lots of interior shelving to accommodate my glassware obsession? Yep, I'm in.
Because I'm always looking to maximize storage space where possible, the nightstand situation in most of my apartments has been a little outside the box. Don't get me wrong: I most definitely love the look of traditional, matching nightstands on either side of the bed. Personally though, I've found that bedside tables with one or two small drawers just don't make the most sense for me — a person who may not be a maximalist but definitely isn't a minimalist either. In most apartments, I've opted to place a desk or vanity on at least one side of the bed in order to properly fill the room and accommodate all of my beauty products, stationery supplies — you name it.
However, everything changed when I started to realize how adorable small, three-drawer dressers can look when placed next to a bed. Whether you pick up a piece from IKEA and give it a bit of a makeover or splurge on something high-end, so many petite chests like these can be found out in the market. Three-drawer dressers offer loads of storage space compared to the average nightstand, and opting for two of them may even eliminate the need for a larger sized dresser in your bedroom altogether!
I recently bought two three-drawer dressers of my own from One Kings Lane to use next to my bed, and I love the look. That said, I did consult a bunch of photos of similar setups before going all in on this purchase. In studying bedrooms with three-drawer dressers next to the bed, I found the key when using these types of pieces as nightstands is to ensure that they don't overpower a space.
Three-drawer dressers are generally taller than the average nightstand, and to ensure that everything will appear in sync in your bedroom design scheme, consider your bed size in relation to the pieces you plan to purchase. My bed is relatively high off the ground and features a tall headboard, so it can handle larger than average nightstands being placed next to it. If you happen to own a platform bed or are without a headboard, for example, this may not be the setup for you. In some spaces I came across online, everything just looked off-scale and clunky. So definitely do your due diligence and evaluate your existing pieces before placing an order.
Now that the above disclaimer is out of the way, I have to say that I couldn't love my bedroom setup more. I wanted my room to have a sort of Parisian, hotel-like vibe with vintage touches, and I think the nightstands play into that vision wonderfully. I use the drawers to store everything from sleep masks and pillow mists to my never-ending collection of greeting cards and desk supplies. It's so nice to not have to cram all of these things into a storage bin in the back of my closet!
One other note about nightstands: I absolutely love having a matchy-matchy setup in my space now, but you definitely don't need to purchase two identical dressers to go beside your bed if that isn't your jam. What I will advise, though, is that if you're going to go the mismatched route, it's best to opt for one three-drawer dresser and one smaller nightstand. Choosing two bulkier pieces that happen to be mismatched is likely to overwhelm your sleep space too much. If you can only find one three-drawer dresser that you love or that falls within your budget, don't hesitate to pick it up. Then just go ahead and incorporate a one- or two-drawer counterpart that falls within the same color family. Super-simple, sure, but it'll work like a charm and give you all the extra storage you need!