One TikToker Totally Transformed These Common Thrift Store Figurines
We
independently
select these products—if you buy from one of our links, we may earn a commission. All prices were accurate at the time of publishing.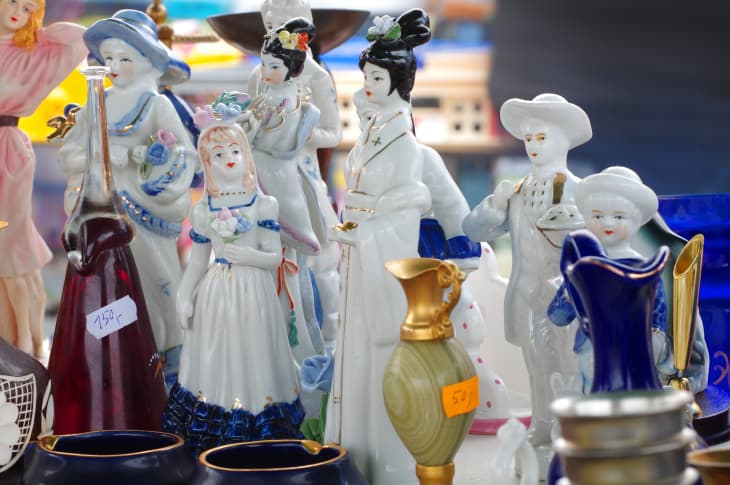 How many times have you been at the thrift store and seen a plethora of those Willow Tree figurines in the home goods section? To some, they're collector's items. To others, they're gifts no one really asked for and therefore, they end up at the thrift. But one TikToker came up with a way to upcycle these figurines for Halloween, and after seeing the final result, you're going to go into collector mode the next time you go thrifting.
TikTok user Robin White came up with the idea to transform her Willow Tree figures into witches by painting their traditionally white robes black.
"Oh these are so much better now," one person commented on White's post. Another Willow Tree figurine collector added, "Runs to her display and starts painting!"
The creator behind the Eye Put A Spell On You TikTok account was inspired by White's original post and did the same thing to her collection of Willow Tree figurines, but she added modeling clay hats and crows to her display. 
"I picked these up at thrift stores and yard sales," they said in a voiceover. "Using Crayola Model Magic, I sculpted the witch hats. It dries in 72 hours." They even made a mini Book of Shadows and brooms using little bits of dried hay.
"Thrift stores are about to be real surprised with the sudden demand for these," one TikTok user commented.
Perfect for Halloween or year-round spooky displays, Willow Tree figurines have never looked better! Keep your eyes peeled next time you're at the thrift store and prepare to do some witch crafting.