I Spent a Year Tracking Down My Secondhand Silverware — and It Was Worth It
We independently select these products—if you buy from one of our links, we may earn a commission. All prices were accurate at the time of publishing.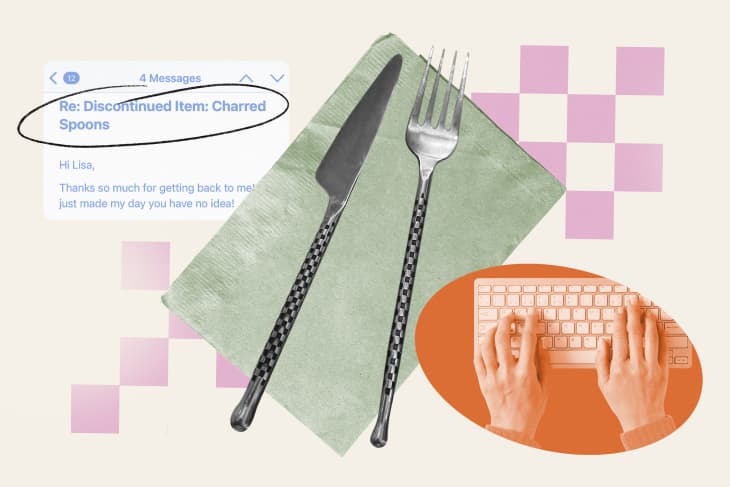 If I have one superpower, it is my ability to obsessively fixate on things and go to all lengths to find them. I long thought this maybe just a shopping problem until I started the account @ilovecraigslist. All of a sudden, people started reaching out, asking questions, and wanting help finding furnishings. I began sharing my best secondhand finds, ways to negotiate, and why there's no reason to buy furniture new — and with a lot of time and patience I too began redecorating my space entirely secondhand. As a result, I found a $3,000 designer coffee table for $300, an LC4 chaise that was listed as a replica (which turned out to be real), and even a CB2 bar cart that I had long fawned over for one-third of the retail price. And then there was the longest and my gratifying hunt of all: the yearlong search for my silverware.
Follow Topics for more like this
Follow for more stories like this
It all began on a hot summer evening in New York. I was with my dear friend and talented artist, Erin Miller, and we were headed to her show in Gowanus. Along the way, we decided to stop at a tiny restaurant for dinner, where the owner greeted us in Italian and welcomed us with wine and cheese. It was cozy and delicious, but the thing that stood out to me the most was the silverware. It was sterling silver, engraved with a black checkered print, and a ball-like shape rounded out the end of the handle. They were thin and delicate but heavy and tasteful at the same time. I had been wanting a new set of silverware but was wary of following the trends I was seeing online and definitely did not want to buy them new. These were everything I'd been looking for.
When I asked the owner where he got them, he said they were from a dealer and fully discontinued — he himself could not find any more. So I took a picture of the brand name etched on the back and when I got home, I went straight to work (by work I mean searching the internet, and by internet I mean eBay). I am typically a Craigslist girl when it comes to hunting, hence my Instagram account, but for this kind of thing I turned to eBay. The brand, Walco, was founded in 1910 and began making silverware in 1952 after WWII. With 70 years of silverware to sift through, I learned I was looking for the Walco Charred Flatware collection. I looked and looked and found none available. I was devastated but determined. 
Months passed, and I moved from New York City to Los Angeles, getting rid of everything I owned but keeping our terribly mismatched silverware in hopes that one day I'd find the Walco set. Then about six months later, my eBay alert went off. A new Walco listing had arrived. From an estate sale in Florida, I opened it to find they were the exact set I had been looking for. I hit buy almost immediately. They arrived and they were perfect — the only thing missing was spoons. I was fine with that, though, because in my mind I was 80 percent of the way there. 
This time, I didn't wait for eBay because I know lightning rarely strikes twice. Instead, I emailed every restaurant supplier that had them listed for sale and asked if they were available. Without fail, every single place canceled my order and wrote back saying they had been discontinued. Several more months went by, and then one day I got an email response from Walco, the original manufacturer. They had one 12-piece set left. 
I gasped and emailed back to say I'd take them. In a few weeks, my paper-wrapped parcel arrived on my doorstep: I had my spoons and had finally completed the set. Now every time I open my utensil drawer I get a little bit of joy seeing my checkered cutlery tucked into place. I think of my best friend, the hot summer evening in New York, and how a little bit of secondhand determination can go a long way — because sometimes the journey can bring just as much joy as the item itself.