6 Zero-Waste Habits My Abuelita Taught Me
We
independently
select these products—if you buy from one of our links, we may earn a commission. All prices were accurate at the time of publishing.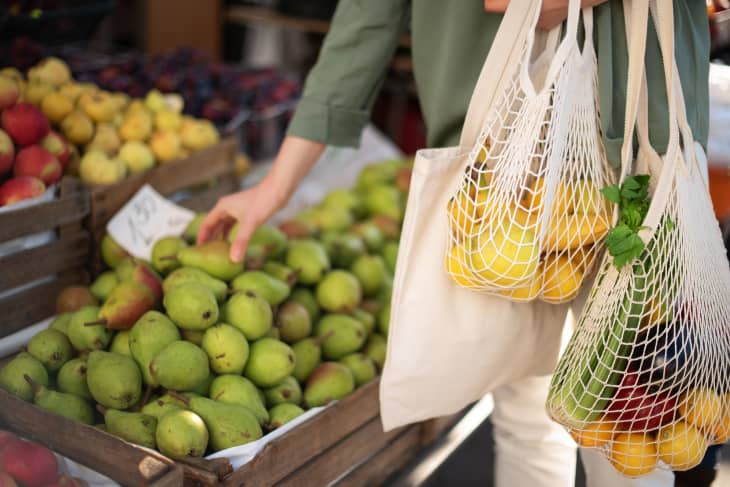 As the daughter of immigrant parents, I spent summers growing up in Mexico with my abuelita while my parents worked. From the impeccable Spanish grammar, to her hojarasca recipe, to the home and kitchen hacks she passed down to me, I feel truly blessed by the invaluable lessons I gained from Pita through the years. One of which I am proudest, and Mexican households are famous for, is being a cultural environmentalist. My abuelita tries to embody zero-waste habits, and teaches us to do the same. 
If you're wanting to establish a more zero-waste lifestyle, here are some simple, solid lessons from abuelita to lead a lower-waste way of living. 
Never forget your bolsa de mercado.
Abuelita never leaves the house without her market bag. If you haven't already established your rotation of reusable bags, you should do so. Keep some at home and stuff some into your car for those forgetful days. Say no to plastic bags when checking out, but when you inevitably do collect some, do what Pita does, and reuse them to line trash cans or for storage. 
Clean naturally when you can.
Abuelita resorts to harsh chemicals for cleaning only when necessary, and instead prefers using homemade cleaners. 
Squeeze lemon juice over stubborn dish grime, and sprinkle it with baking soda to form a paste. Let it sit for 15 minutes, and then easily scrub away the gunk. Another method is to cut a grapefruit in half and sprinkle the exposed side with salt, then scrub over rings and residue in the shower and tub. The acid in the fruit breaks down the grime and the salt acts as an abrasive, buffing it away. To clean glass and mirrors, mix two parts of white vinegar with one part of warm water inside a spray bottle.
And remember, sometimes all it actually takes is warm water and soap.
Give the AC and heat a break.
Take advantage of good weather and open the windows. Turn on the fan instead of the AC. During winter, ask yourself if the heater is truly necessary, or if you could do well enough wearing a sweater. As my grandma would say, ponte los calcetines. Sometimes all you really need to do is put on socks and grab a blanket. 
I turn off the TV, lights, and other electronic devices when I leave the house, or exit a room. There's no reason a lamp should remain on in the office while you're enjoying a movie in the living room. Abuelita stresses the importance of conserving energy and water when possible. Don't leave the fan on while out. Turn off the shower while you deep condition your hair. It really is the little things that make a difference. 
Don't let anything go to waste.
Eat all your food, freeze leftovers, and use what you have before buying new. Check your fruits and vegetables often. Those bananas looking overripe? Make banana bread. If your berries are starting to go bad, freeze them for smoothies. Throw what you've got into a stir-fry for dinner. Be creative, and never wasteful!
Abuelita taught me to upcycle everything possible, especially glass and plastic. In her garden, she showed me how to convert old coffee and food cans into planters and flower beds. I remember sipping lemonade from repurposed Doña María mole jars and fully appreciating the lesson as a little girl. 
It's a running joke in my family that you're more likely to find frijoles or caldo in the yogurt tubs in the fridge than you are likely to find yogurt inside of them. Anything can be repurposed: peanut butter, spaghetti sauce, butter, and jam containers. I store my extensive lipstick collection inside old candle jars, making abuelita proud.
This piece is part of Green Week, where we're talking about ways to make eco-friendly choices and contributions at home. Head over here to read more!