10 Dorm Room Design Tips That'll Help Reduce Stress
We independently select these products—if you buy from one of our links, we may earn a commission. All prices were accurate at the time of publishing.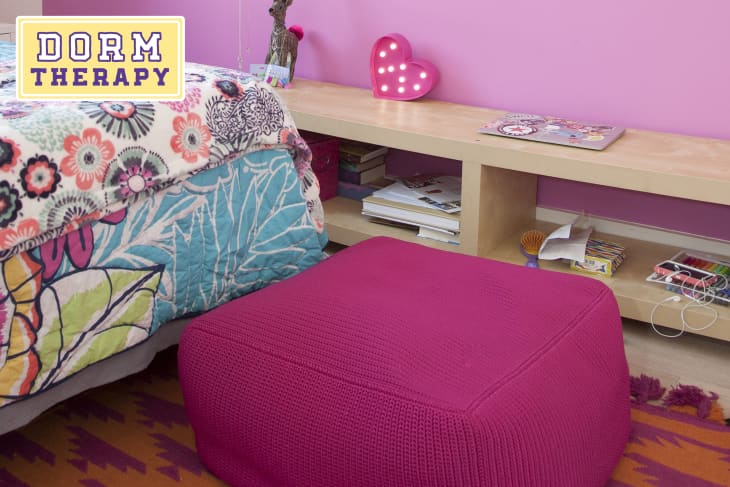 College is all about new and exciting experiences. But between the exams, social pressures, internships, and more, it can undoubtedly be a source of stress, as well. One place that should be a refuge is your dorm room. Here are 10 ways to make your space work for you—reducing stress and anxiety and providing you with a sense of calm. 
Follow Topics for more like this
Follow for more stories like this
When packing, remember you'll accumulate more stuff
A stress-free foundation is key—and the way to create that foundation is to plan to bring to school only what's absolutely essential. After all, clutter and unnecessary items is stressful to even look at. Making a list so you see an itemized lineup laid can be a good place to start, Laura Cerrano, president of Feng Shui Manhattan, says. If you're getting ready for a move to college, it's a good idea to start clearing out your home bedroom now and organizing the essentials. Cerrano also suggests using labeled storage bins to easily find and organize items, giving yourself a super-organized start. 
Create a soft, physical barrier between you and your roommate
Sharing a room means compromising space—and potentially getting into stress-inducing arguments about whose stuff belongs where. Cerrano suggests using a gentle barrier, like a fluffy rug in the center of the room. "Having that visual helps with that respect," she said. It might be a first step to clarifying personal boundaries within the room, something she says is critical in the dorm setting. 
Aside from keeping your phone or laptop on your desk, Elana Kilkenny, a New York-based designer with Sacred Space Design, recommends keeping your desk as vacant and organized as possible. "Clutter affects your stress level a lot," she says. Students should think of the best way to organize papers that might accumulate on the desk, either through the use of metal or plastic bins or a small filing cabinet. 
Create a space for your electronics—away from your bed
It can be difficult, but it's best not to bring your phone anywhere near the sacred space of your bed, Kilkenny says, adding that students should create a docking station for their phone or laptop. "That'll help eliminate that feeling that you're constantly plugged in." 
Adhere to Feng Shui principles when it comes to storage
Cerrano warns students not to clutter their rooms and instead create "pockets of breathable energy," aka spaces that have little or no furniture or decorations. She recommends making this the center of the dorm room. Cerrano also advises being mindful of how you place things around your bed. In the world of Feng Shui, she says, putting storage under the bed is not ideal. "Whatever is stored underneath that energy is said to rise above," she says. But if you must, she suggests keeping storage under the bed away from the head and more toward the lower half of your body. She also says students shouldn't "max" out the walls around their bed with too many decorations, which will allow for more breathing room.
Add a plant into the space 
Your dorm is simply sure to get smelly. As an antidote, Kilkenny suggests saging the room, which she says can also help reduce stress. However, she warns that it's critical to ask your RA if sage and candles are allowed. If not, a fragrant plug-in could do the trick.
Mirrors should be placed to avoid literally reflecting anything stressful back to you, Kilkenny says. You can also use mirrors to make your space appear more spacious and even brighter. Or, just ditch them altogether! Read more about small space mirror hacks here. 
Manage your temperature with your bedsheets 
Nobody wants to get hot and bothered, but it may be hard to manage your temperature in your dorm room. Kilkenny suggests getting bedsheets that can either keep you cool or warm, depending on your personal preferences. "Also, get sheets that can handle abuse well," she says, because dorm room laundry can be unforgiving. 
Decorate with calming images 
Kilkenny recommends pieces of art that inspire or empower you, and reminds students to think of how their decorations might reflect their lives. Whether it's your favorite color scheme, a piece of home, a photo collage, a passion, or just something pretty to look at—use decor to contribute overall happiness and comfort to your space. 
Want more dorm ideas, inspiration, and stories? Head over to Dorm Therapy HQ!