10 Things You Didn't Know You Could Recycle or Compost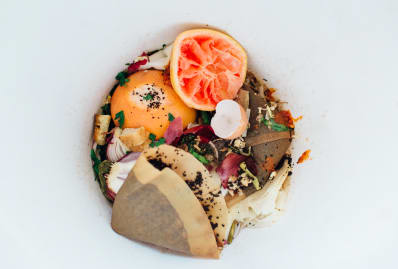 (Image credit: Cara Dolan/Stocksy)
Want to be more mindful while you're cleaning? You've probably got a good handle on the items you can toss into your recycling bins—paper, plastics, glass, aluminum, etc.—but there are also a lot of specialty programs that allow you to recycle other household items to reduce waste and even help people in need. And if you compost (or if you're thinking about starting) it might surprise you to know that you can add more to your compost pile than just food scraps, coffee grounds and leaves.
Recycling
Glasses
Have an old pair of glasses or two lying around with an old prescription that you can't wear anymore? Turn them over to One Sight or Lions International so they can be recycled and used to help people who need glasses and vision care.
Crayons
Don't throw out old, broken crayons that your kids don't use anymore—Crazy Crayons has a recycling program that takes your old unwanted crayons and turns them into new ones for organizations that help kids, like hospitals, orphanages and women's shelters.
Cigarette Butts
If you smoke but want to be more conscious of cigarette waste, you're in luck—TerraCycle actually has a cigarette butt recycling program. The cigarette butts they collect are used to make industrial items like plastic pallets, and leftover tobacco gets composted.
Packing Peanuts
Shipping companies will actually reuse packing peanuts from packages you receive, so there's no need to throw them away. If you want to know where you can drop them off locally, search your neighborhood on this online directory from the Plastic Loose Fill Council.
Old Keys
Stuck with old keys that don't actually open anything anymore? Key For Hope is a non-profit organization that will collect your unwanted keys and sell them to scrap recyclers, using the money to help feed homeless people in need.
Wine Corks
Your wine corks don't have to go to waste—ReCORK, North America's largest wine cork recycling program, will take them (so long as they're natural cork) off your hands and put them to new uses to help positively impact the environment.
Composting
Fireplace Ashes
You can actually compost the ash from your fireplace—just make sure that 1) you're only doing so in small amounts, since too much ash can turn your compost heap too alkaline, and that 2) you're only using ash from burning grasses, papers, cardboard, and untreated unpainted wood.
Paper Towels
You can totally add paper towels to your compost heap, just be aware of what you've used them for—if you've used them to clean up pet waste, soak up oil, put chemical cleaners on them or anything else on this list of things not to compost, don't add them to the pile. But for most spills and food messes, you're fine to compost them afterwards.
Select Clothing
Of course, you should donate anything that's still wearable, but some items that aren't can actually be added to your compost heap. Clothing that is made out of natural fibers (so 100 percent cotton, pure wool, silk, linen, hemp or any blend of those) can be composted—so long as it's not stained with anything that can't be composted (check that list again!). Also, make sure you rip or cut items up and mix them in with wetter items to help them break down easier.
Dryer Lint
Along the same lines, you can compost dryer lint—so long as you haven't used commercial dryer sheets (this is because of the perfumes and synthetic fibers, so if you use dryer sheets but want to compost your dryer lint, try switching to dryer balls instead) and you're mostly drying natural fibers like the types of clothing above.
Wine Corks
Yes, along with recycling them, you can compost them too! Just make sure they're actually cork and not plastic that looks like cork, that they haven't been painted, and that any non-cork materials are removed from it first.
Apartment Therapy supports our readers with carefully chosen product recommendations to improve life at home. You support us through our independently chosen links, many of which earn us a commission.