This Family of Four Shares an Incredibly Organized 170-Square-Foot Pink Converted School Bus
We
independently
select these products—if you buy from one of our links, we may earn a commission. All prices were accurate at the time of publishing.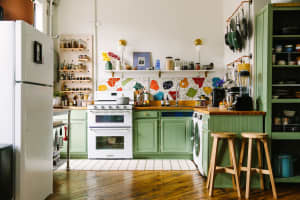 Can't-Miss House Tours Straight to Your Inbox
Keep up with our latest house tours each weekday with our House Tour of the Day newsletter
Families come in all shapes and sizes, and they don't even have to be the one you were born with. I firmly believe you can choose who you call "family." If your type of family involves one or more kids, you know that fitting everyone into a small home is a particular challenge. This month at Apartment Therapy, I'll be showcasing just that—families finding clever, beautiful, and inspiring ways to squeeze everyone (and everything) into a small space. From RVs to tiny homes to petite apartments, you'll be able to see how real families organize, decorate, and inhabit real-life homes. You'll maybe even get some organizing ideas for your own family's home. Up first is a family of four who have been living in a converted school bus named "Someday" for a year.

"There are seven days in a week, and someday isn't one of them" once read the letter board hanging in the kitchen of "Someday" the bus, which is home to Jennifer Bateman, her wife, Kaitlin Porter, and their two kids, Canyon (age 14) and Oakland (age 4). After downsizing from a 4,000-square-foot home, they now share a 170-square-foot school bus conversion (or "skoolie"). There are three beds—moms sleep in one fold-out, queen-sized bed and there are two bunk beds for the kids.
Tell us about how and why you chose this home and why it works for your family: Before we hit the road, we were leading a happy and comfortable life in a 4,000-square-foot home in Atlanta. We were longing to take our kids on a big adventure, to downsize, and give more energy and attention to our bucket list. We loved the idea of a tiny house on wheels and wanted a small space with a charming, homey feel. We also wanted a space that would let us go anywhere with an emphasis on spending most of our time outside. We chose a school bus instead of a RV because, when we learned about the skoolie (aka converted school bus) community, we felt like we could relate to the stories and experiences of bus families. We also loved the idea of a bus because it's quirky, charming, more affordable, and we could influence every aspect of the design.
Is there something unique about your home or the way you use it? We are not the first converted school bus, but we are one of a few who chose to paint our bus pink. The color is definitely polarizing—some people don't like it, but others love it and stop us at a gas station to tell us their granddaughters want a pink bus when they grow up. A year later, and we are still obsessed with this color.
The other feature of our bus that is unique is the motorized drop-down deck in the back. It adds so much space to our living area when we put it down and when we are ready to move, we just pull it up. We also like to pick up local art that represents the places we've been. For example, we purchased a beaded skull by a talented Indigenous artist in South Dakota.
What's the biggest challenge you've had to overcome? When you live on a bus, you essentially live outside and just sleep inside. When the weather is bad or it's cold outside, it makes living in a small space more challenging.
The biggest challenge was how to make 170 square feet feel big enough for a family of four. We chose a handicap bus so that we could have an extra door we could open on the side and we added a one-of-a-kind deck that can fold down, so you can walk out the back. When the deck is down and all the doors are open, it feels like the best of indoor-outdoor living. The other related challenge is not having a dining room table. We've solved for this with portable TV trays, but it can get really crowded if we have to have dinner inside due to weather.
What are your small space maximizing and/or organizing tips? Each of our kids has a bin of toys, and we have a strict 1-in-1-out policy. They can get new toys but then something has to go. The majority of the "toys" we have for our children are actually arts and craft and maker supplies, like paint, pipe cleaners, yarn, and popsicle sticks. It's a better use of space because it can be used in multiple ways and it fuels imagination.
We also personalized their bunk beds. We added fairy lights, stuffed animals, and bookshelves to our daughter's bunk bed. Our son has a light and a disco globe in his bed.
Do you have any advice for raising a family in a small space? Living small means living coordinated. It has forced us to reexamine routines and structure, and has given us an opportunity to craft new ways of being together. A firepit has become our new living room and our nightly ritual. Hiking is our new Saturday morning ritual. In one year, we have sat around the same (picnic) table having more meals together than we did in the previous eight years.
When you throw out all of the familiar structures and routines that defined your life, it creates so much more freedom in how you can parent your children. We ripped the band-aid off with things that made our life comfortable, like a basement full of toys and a normal school structure. We were worried about the transition, but the kids have really adapted. We have seen our 4-year-old become much more creative. She works with what she has and is constantly inventing new toys and gadgets.