A 216-Square-Foot San Francisco Studio Impressively Incorporates Southern Italian Motifs
We independently select these products—if you buy from one of our links, we may earn a commission. All prices were accurate at the time of publishing.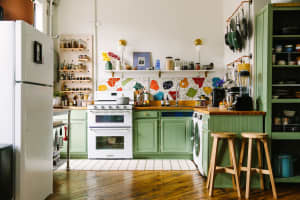 Can't-Miss House Tours Straight to Your Inbox
Keep up with our latest house tours each weekday with our House Tour of the Day newsletter
Name: LeAnne Smith and senior foster dogs from Muttville Senior Dog Rescue
Location: Marina District — San Francisco, California
Type of home: Studio apartment
Size: 216 square feet
Years lived in: 5 years, renting
Tell us a little (or a lot) about your home and the people who live there: I live in 216 square feet of self-curated space in San Francisco's Marina District. I took the apartment due to the proximity to a spacious backyard garden (a novelty in SF), but I grew to love small-space living.
At one time, I shared my home with my late dog, Weezer. Now I host a revolving door of senior foster dogs from Muttville Senior Dog Rescue. As you can imagine, this small space has seen some stuff!
I spent years living out of a suitcase and returned home to San Francisco with a good idea of what I liked. Traveling allowed me to live in other spaces, which helped me understand how I use and move in a space.
When I moved into my home, it was hideous. It had heavy terracotta-colored floors with thick dark brown grout, loud yellow walls, faded track lighting, and iron pipe shelves. But the garden was unbeatable, and I was ready to execute my ideas.
It took years to get it to where it is now. I taught myself how to do things, change electrical, tile a floor, install a barn door, wallpaper — to be my own handyperson. I consider this space to be a trial canvas for a bigger future.
I'm Italian American, lived in Rome for 10 years, and studied Humanities and Classics at university; these attributes reflect everywhere in my world. I love stone sculpture, architecture, pencil sketches, and gardens.
The southern Italian in me fuses classical motifs with paganism and the macabre. The more macabre elements of my personality are featured with little whiffs: a fallen marble limb picked from the grass at a cemetery now used as a bookend, a bundle of dried herbs, the evil eye hanging at my front door, and texts on cemetery iconography tucked between novels. The closer you look, the more things aren't exactly what they seem.
I don't do color well outside of various hues of neutrals. I really, really like Italian ceramics and tablecloths — those brilliantly painted citruses with ornate patterns — but I have to pepper those mismatched items in limited quantities.
Describe your home's style in 5 words or fewer: Dramatic. Antiquity. Usable. Cozy. Nature-infused.
What is your favorite room and why? The seating area is my current favorite. I inherited the gold chair from a famed San Francisco Victorian home where friends of mine became heirs. The amber pendant light and dramatic wallpaper make for pretty moody evenings. At night, I play into it with candlelight and some opera (or Kendrick Lamar).
The bed corner is another favorite. It's romantic and cozy. The gallery wall gets a lot of attention, and the light installation above I made from a dried rose tree in the backyard.
Each piece of art is significant: a portrait of my great-grandfather, a Roman marble slab inscribed, "In Rome, you cannot die," a silk bird painting my young grandfather purchased for my grandmother (when he really could not afford it), and little treasures from my travels. Every piece is a component of my story, as art in your home should be.
What's the last thing you bought (or found!) for your home? My late dog, Weezer Bleu, was no ordinary dog. We traveled the world together for 17 years but parted paths two years ago. I wanted to keep his remains in our home, but no vessel felt right. I went to Biordi Art Imports, who have been importing Italian ceramics for decades, and had a custom canister made for him. I chose a design by artisan Eugenio Ricciarelli. The azure hue immediately conjures memories of our remarkable life traveling the Mediterranean together.
Any advice for creating a home you love? Just because it looks good on a blog doesn't mean it's for you. Pull pieces of what you like about other spaces and envision how your home would accept those. Don't pressure yourself to cultivate a style in one big shopping event. Stop buying junk. Be selective. Style evolves. Test paints. (But, for the love of God, make a decision — paint is cheap and easy!) Get samples of wallpapers. Go with your gut; your initial reaction usually is the right choice (for you and your tastes). Frame unconventional things. Move stuff around in lieu of buying; it's like a new home every time! And never, ever buy carbon-copy art just to fill a wall.