This 300-Square-Foot London Flat Is a Great Example of How to Organize a Super Small Space
We independently select these products—if you buy from one of our links, we may earn a commission. All prices were accurate at the time of publishing.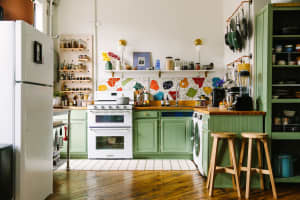 Can't-Miss House Tours Straight to Your Inbox
Keep up with our latest house tours each weekday with our House Tour of the Day newsletter
Name: Julia Sahin
Location: Marylebone, London
Size: 300 square feet
Years lived in: 2 years, owned
This flat was the first place I'd bought and lived in on my own for over a decade. I thought it might be overwhelming, but I found out very quickly that I really enjoyed being able to make my own decorating and DIY decisions. It's on the fourth (top) floor of a building with no lift. The flat is tiny—but I love being in the center of London and the compromise works well for me. The flat has some lovely features too: big sash windows (including two windows in the bathroom), high ceilings and, perhaps because it's purpose-built rather than converted, sensibly-proportioned rooms. There's a bath, not just a shower, and I like the fact that that bedroom is not so small that I have to push the bed up against the wall and only be able to get out of one side—surprisingly rare in teeny London flats.
Having a flat that was attractive but also very functional was important to me—I'd sometimes look at beautiful tiny spaces and think, "But where's their bin? And their vacuum cleaner?" For the record, my kitchen bin has to be hidden in plain sight, which is why I chose an Orla Kiely design, and I found a space to store my vacuum cleaner inside of one of the wardrobes in my bedroom.
With this in mind, I've relished the creativity of finding solutions to the space restrictions (thank you Apartment Therapy and Pinterest!) The kitchen was the biggest and first problem to address—although there's a full-size oven, four ring hob, and washing machine, the flat had almost no kitchen storage space: the lower cupboards provide a bit of storage, but also hide considerable pipework, and the higher cupboards are hard to reach. You'll notice there are no drawers. The cupboard doors were a dirty cream and had a laminate finish—it took five coats of primer and paint to achieve the current color, but was well worth it. I put in all the hanging kitchen storage, wall shelves, magnetic knife rack, spice pots, and draining rack, and while the resulting space might still make a real cook cry, it's a functional and appealing kitchen for me.
The flat was tenanted before me and needed a bit of love and attention as well as various alterations to make it more usable and appealing. Formerly off-white, I painted all the walls real white and replaced the flooring (previously very old carpet with an iron-shaped burn mark!). A shelf in the hall and a larger cabinet in the bathroom provide a bit more storage space and the shelf to the left of the kitchen, with the pig money box on it, is actually a pull-out laundry rack that I added. And I say 'I' … [but] all the work has been divided between professionals, competent friends and family, and fellow enthusiastic amateurs! I'm proud of it all.
The wall art is mainly a mixture of my photography from my travels, watercolors by my grandmother, and photos of friends and family. The print in the corner by the bookcase is by London artist Tom Lewis—it's called "Megan and the City" and was sold out but I managed to track one down on eBay. I love its colors, energy, and feeling of joy.
Describe your home's style in 5 words or less: A nest above the city
What is your favorite room and why? The living room in summer. I like the view over the rooftops, and having the window wide open when it's hot. It feels safe and private above the city, but always very much part of it. I recently moved the sofa from the opposite wall to under the window and it's now my favorite place to work or read.
If you could magically change something about your home, what would it be?Magically? I'd love a teeny balcony. Realistically? The next big project is likely to be getting the bathroom re-tiled.
What's the last thing you bought (or found!) for your home? The sofa was a fairly recent purchase from made.com. You'll probably notice from the other furniture that I owe quite a style debt to them!
Any advice for creating a home you love? Living in a very small space can feel like a compromise too far for some. But by thinking carefully about how you use your home, and what's actually important and useful in your life, means that going without some objects, furniture, or spaces doesn't feel like deprivation. As you can probably tell from the comments above, I'm not a keen cook so was fine with the small kitchen. I also don't own a TV or a kettle—I know this wouldn't suit everyone—but I don't miss either (although I think friends sometimes find the latter hard to understand!)