4 Ways to Spot a Worthwhile Fixer Versus a Money Pit
We
independently
select these products—if you buy from one of our links, we may earn a commission. All prices were accurate at the time of publishing.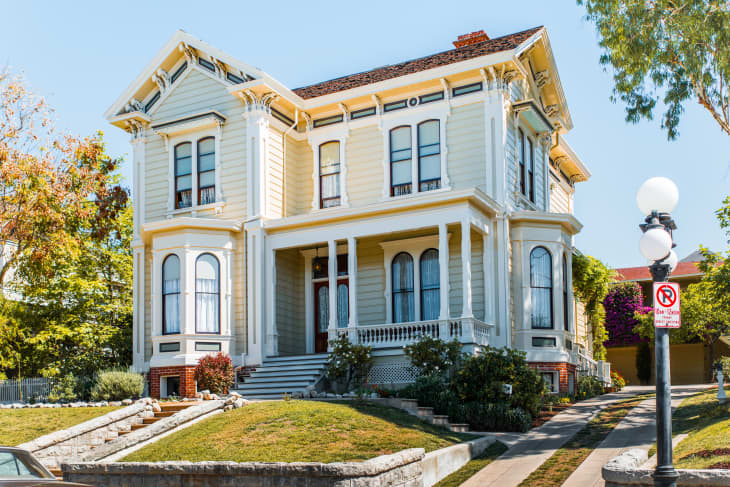 Picture this: You find an old house for sale that's full of historical character but is definitely in need of a little TLC. Immediately, you start imagining what the rooms would look like with some fresh paint and new flooring. So much charm, so much potential. This scenario can seem like an enticing opportunity for home buyers, thanks to the plenitude of television shows that romanticize the process of renovating fixer-uppers. And while the outcome could be a dreamy one, it could also devolve into a buyer's worst nightmare, if the property turns out to be a money pit instead. 
But how's a buyer to know whether a house is one or the other? It's a question to which Jenna LeBlanc from Jenna Sue Design learned the answer the hard way. When she and her husband Lucas first began investing in real estate, they purchased an older home that had been converted into five units. "We thought it was a killer deal at the time, but the building had been neglected and was riddled with maintenance issues," according to LeBlanc. Though she had the property inspected prior to purchase, a contractor later discovered a major electrical hazard the inspector had missed. This discovery made the investment far too risky for LeBlanc, and she and her husband ultimately sold the property to another investor.  
A fixer-upper should not require repair or replacement of "major items such as the foundation, roof, sewer, or electrical," says Sharon Swinford, a real estate sales consultant with Keller Williams. Any work required on the house "should be categorized as cosmetic, such as painting, replacing appliances, flooring, or clearing the yard." LeBlanc has since embraced this wisdom, chalking her early experience up to a valuable opportunity to gain hands-on insight, and she and her husband have gone on to successfully renovate numerous properties. "After dealing with the stress and unwanted surprises of old houses, we prefer to stick with newer — 80s or later — homes," she said. "If the basic systems are in good shape, we can allocate our budget to improvements instead of repairs." 
On the flip side of that strategy, Garrett Poshusta from The Grit and Polish and his wife Cathy prefer to renovate older houses with original details and woodwork. "The real stores of value in an old house are in the materials and craftsmanship," says Poshusta. "Even if there are some updates needed in a turn of the century house, with original moldings, flooring, doors, and building materials in place, the end result can be valuable and desirable." Poshusta also feels that "money pits versus fixer-uppers are to an extent market dependent. The same house with the same issues in one location versus another can result in completely different financial outcomes." 
Essentially, it all boils down to what kind of financial return you can expect to see after spending money to fix up a house. "A money pit would be something that has so many expensive issues that whether you live there or are just flipping it, you'll never get the money back that you put into it," according to Jeremy Ford, a Realtor with RE/MAX Real Estate Group. 
Below are four red flags you can look for to help determine whether a property is a worthwhile investment or has the potential to drain your bank account. 
"Always look for water stains on the ceilings and around the interior baseboards and trim of the home," advises Craig Williams, a real estate agent with Coldwell Banker Vanguard Realty. Any water marks are a big red flag because they can "indicate uncontrolled moisture intrusion," according to Poshusta. "Depending on how long this has been occurring, rot and structural damage can result." Mold is another big concern with water damage, not least for its health implications, but also because it can be costly to remediate.
"Foundations can be expensive to fix," cautions Poshusta, which is why it's important to look for any signs of structural damage — sloping floors, cracks in the ceiling, and windows and doors that won't open or close properly.
"If the home has a crawl space underneath, it likely has wood floor joists," Williams says. He recommends this be a main area of focus for inspection. "Newer homes will likely have a slab foundation, so keep an eye out for cracks in the drywall from settling," he continues. "Minor cracks are not always major, but your inspector can usually tell."
Roofs are an item that "costs thousands to replace, and if it hasn't been maintained, can result in downstream issues," warns Poshusta. The average lifespan of a shingle roof is between 20 to 25 years (metal and tile roofs last longer), so it's imperative that you ascertain the age of the roof before buying a house. Keep in mind that most mortgage lenders and home insurance companies will also require a roof that has at least two-to-three years of remaining life. "It's important to be mindful of what your lender expects," says Williams. "It can be challenging to get a loan on homes in rough condition."
Outdated Electrical or Plumbing
"Old original kitchens and bathrooms usually mean original plumbing and electrical, so expect to replace all of the pipes and wiring when you update these spaces," says Poshusta. "Mechanical systems like plumbing, electrical, and heating can all be expensive to update and have finite lifespans." Having to gut the space in order to access the pipes and wiring is one of the biggest factors associated with the high costs. On the bright side, offers Poshusta, "Even if the house is old, if these have all been replaced, there's a lot less that can go wrong."