6 TV Shows with 4th of July Episodes
We
independently
select these products—if you buy from one of our links, we may earn a commission. All prices were accurate at the time of publishing.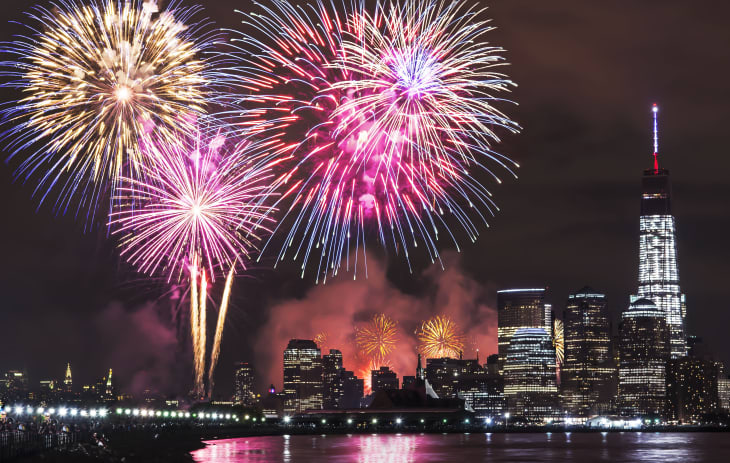 TV shows love a good Thanksgiving ones, and plenty of New Year's Eve plotlines. But when it comes to America's birthday, television sometimes lags behind. In honor of the Fourth of July, here are some TV shows that celebrated in style. 
[Editor's Note: spoilers ahead]
Mad Men, "Guy Walks Into an Advertising Agency": It's all fun and games until someone brings out a lawn mower in the office. In one of the most notorious episodes of "Mad Men", "Guy Walks Into an Advertising Agency," Joan is preparing to leave her role at Sterling Cooper. Naturally, her departure is celebrated with a party in the office. Unfortunately, the tipsy staff get a little rowdy on a John Deere riding mower, and end up barreling over Guy MacKendrick's foot. If you didn't scream at the image of blood splattering up on the faces of Sterling Cooper employees, we're not sure what will shock you.
Saved by the Bell "Fourth of July": In the alternate universe that is the Malibu Sands Beach Club, life can get a little chaotic. Zack Morris, is, for some reason, chosen as a replacement judge of the beach club's Miss Liberty pageant. As each of the Bayside gals push him to vote for them as the pageant winner, the club's owner, Mr. Carosi tells Zack that his daughter Stacey should be picked as the winner. Kelly wins and Stacey is heartbroken, until Kelly makes it clear that Zack has the hots for her. The episode concludes with Stacey and Zack kissing as the fireworks go off behind them. 
Stranger Things, "The Bite": What's the 4th of July without a carnival and fireworks? In this season 3 episode, things start out peaceful enough with the squad riding the ferris wheel to catch the fireworks at the local fair. Naturally, things go a bit haywire. The episode concludes with Eleven's mysterious leg wound pulsing and moving, as the piece of Mind Flayer is now inside of her.
Boy Meets World, "State of the Unions": Corey and Topanga forever. When Topanga tells Corey that a wedding hall has opened up for the 4th of July, she wants him to jump at the opportunity. However, Topanga's parents show up in town and tell her they're getting divorced, hurting her faith in the possibility that her and Corey could be in love forever. We all know the couple triumphs, and even Mr. Feeny gets some love when he marries Dean Bolander in the Matthews family's living room. Love conquered all!
Little House on the Prairie, "Centennial": If you know a thing or two about reruns, you know "Little House on the Prairie" still reigns supreme. So it's no surprise that the beloved series chronicling the early life of Laura Ingalls and her family on the frontier features a 4th of July episode. In "Centennial," the town is pumped to celebrate America's 100th birthday, until everyone realizes their taxes are going up. Luckily, the Walnut Grove residents get their act in gear in time to celebrate. 
The West Wing, "Jefferson Lives": Well, not all 4th of July episodes are joyful ones. As Zoey Bartlet recovers from the kidnapping on the night of her college graduation, things are hectic at the White House as they search for a new Vice President. But there are touches of the holiday's meaning during the episode, as President Bartlet goes to meet a group of new American citizens whose original citizenship venue was compromised by a bomb threat.