5 Famous Architects Who Loved Millennial Pink Before it was Cool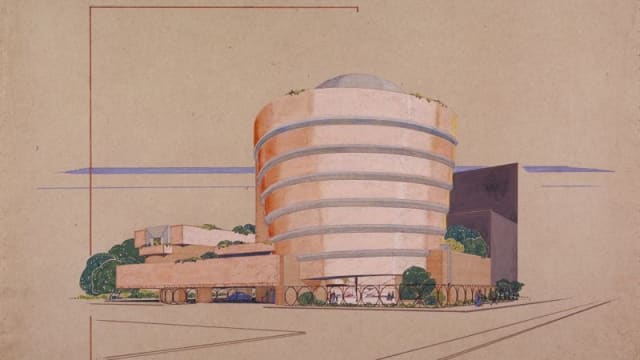 (Image credit: via The Frank Lloyd Wright Foundation Archives (The Museum of Modern Art | Avery Architectural & Fine Arts Library, Columbia University, New York).)
While Millennial Pink might feel like the color story du jour, paint choices ranging from coral to deep fuchsia are far from a recent design phenomenon. Turns out, renown architects ranging from Frank Lloyd Wright in the pre-war years to Ricardo Bofill in the get-weird 60s were huge fans of pink in all its incarnations, swathing some now-historic landmarks in its cheeky hue.
Here are just five designers and architects who, even 50 or more years ago, were thinking pink in big, iconic, and lasting ways.
(Image credit: via The Frank Lloyd Wright Foundation Archives (The Museum of Modern Art | Avery Architectural & Fine Arts Library, Columbia University, New York).)
Frank Lloyd Wright (1959)
Yes way, rose: New York's landmark Guggenheim Museum was almost Millennial Pink, according to Jezebel. Wright, a famous naturalist, developed two similar hues — Wright Shell Pink and Wright Flesh Pink — into a palette inspired by the natural landscape, rocky terrain, and sunsets of Arizona. While we'll never enjoy Wright's vision of the nautilus-shaped museum in its rightful rose, Curbed does have this 2013 map of NYC's pink buildings, from Julian Schnabel's controversial Palazzo Chupi — a stucco condo building painted in what the artist called "Pompeii Red" — to various townhomes around the boroughs you can walk and gawk at and Instagram.
Henry H. Dupont (1928)
With the Jazz Age and its opulence in full swing, Dupont's "Pink Lady" is just one iconic instance of how popular (and masculine) blush was considered in the flush, pre-war years. The historic Don CeSar hotel and resort on St. Pete Beach in St. Petersburg, Florida is as grand, Gatsby-esque, and Floridian as they come. Elsewhere in the state, Art Deco masterpieces from to Miami to Key West were also made of stucco in shades of coral and pink pastels in the era, possibly taking cues from Havana and the entire swathes of Cuba painted in peachy-pink hues.
Robert Thompson (1927 - 1948)
Myths abound about who actually made the choice to coat two of Oahu's most visible destinations in a pale shade of hibiscus, one on Waikiki Beach and one in the center of the island's lush jungle, but the most popular give the credit to their shared landscape designer. The Royal Hawaiian Hotel, aka the "Pink Palace of the Pacific," and Tripler Army Medical Center, a beacon of rose in the center of the island, each greet more than half a million residents and tourists alike each year with their romantic, cheery facades. (That's right: even the US military loves Millennial Pink.)
Ricardo Bofill (1972)
Spanish for "The Red Wall," La Muralla Roja is a literal pink fortress on the Mediterranean cliffs of Alicante, rising from the sea like a sanguine, cubist casbah. Bofill, Spain's most prestigious contemporary architect, was inspired by the Arab influence on the area as well as Soviet constructivist architecture to create the apartment complex's labyrinthian layout, and chose the color palette of pale pink, red, blue, and lilac for striking contrast against the azure ocean below. See for yourself: you can actually stay here on Airbnb.
Elsewhere in Spain, pretty much the entire city of Santa Cruz (on the popular Euro-holiday island of Tenerife), is coated in virtual paint chip of the pink hues that make up what's considered "Millennial Pink."
W. M. Rapp (1920s)
One of Santa Fe's most important Spanish-Pueblo revival architects, Rapp is credited with designing and building the Pink House (also called the Leonard Smith House), the La Fonda Hotel, and Santa Fe's New Mexico Museum of Art — all in shades of earthy pink. Book a stay at Pink House and discover more modern pink-loving architects in the area, such as Ricardo Legorreta's new Visual Arts Center for the College of Santa Fe and the early 20th century Scottish Rite Temple built by the freemasons, while you're there.
What do you think of pink buildings? Tell us in the comments!
Apartment Therapy supports our readers with carefully chosen product recommendations to improve life at home. You support us through our independently chosen links, many of which earn us a commission.